We are influencers and brand affiliates.  This post contains affiliate links, most which go to Amazon and are Geo-Affiliate links to nearest Amazon store.
Welcome back to the #FoundItOnAmazon series. Today, we will focus on technology that will improve our outdoor experience. First of all, we will start with a health tracker from Fitbit. Move on, we will need some portable energy bank with solar charge feature. Last but not least, we will finish off with a telescoping magnet stick LED lights.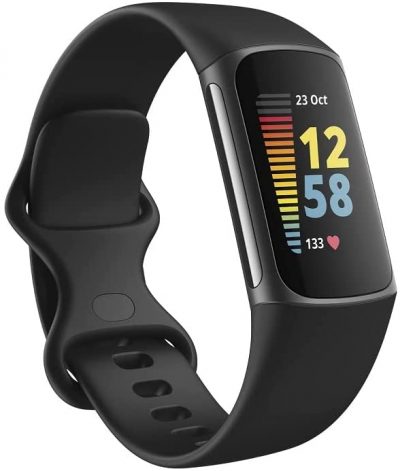 Wearable devices have become very popular for the last couple of years. The market is getting more crowded and competitive. However, when it comes to Fitbit, customers can fully entrust the brand. In Today's Deals, it showcases one of their latest product, the Fitbit Charge 5.
There are so many features that this tiny little wearable device offers. For any health-tracker wearable device, calorie tracking is a must-have feature. The Fitbit charge 5 can do track your heart rate 24/7. It also comes with the Active Zone Minutes, which can guide you toward your desired intensity level. It is not only a watch with heart monitoring, but it is a real health assistant. With the built-in GPS, users will be able to see their real-time pace, as well as the distance without relying on their phone. Also, they will be able to see a map of their workout route in the Fitbit app. Moreover, the device also comes with 20 built-in exercise modes. This will help users to set personal goals for their activities. You will get the real-time stats to maintain your target heart rate zone.
In addition to be a physical activity tracker, Fitbit Charge 5 can also provide a Daily Stress Management Score thanks to its EDA sensor. This will show how our body response to stress as well as provide steps to improve our stress levels. If you really want an in-depth analytics of your workout, you can also purchase their Premium membership. With this membership, you can have a complete personalized insights, advanced analytics, guided programs and much more. The best part is the Daily Readiness Score. This will reveal if you are ready to exercise or just focus on your recovery. Don't worry. If you still have concern about the effectiveness of the program, you can always try their free 6 month membership upon purchasing the band.
With almost 6k reviews on Amazon, Fitbit Charge 5 has made its name on the Wearable device market. You can purchase the product at this link.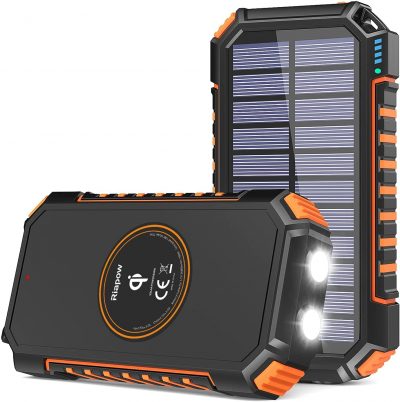 Next on the list is another Amazon's Choice product: the Solar Charger from Riapow. Riapow is motivated by sharing passion they have to technology and outdoors exploration. They are committed to solving energy problems for outdoor enthusiasts. With that being said, if you are one, this portable solar charger is for you.
This is a truly cable-free solar power bank. With QI-certified, this Solar Power Bank can wirelessly charge all the QI-enabled phones. Moreover, it can charge up to 4 devices simultaneously at full speed. With a built-in feature, it can auto-detect the device's current to deliver the fastest possible charging speed. For instance, it will take roughly 1.3 hours to charge an iPhone 11. Moreover, with 26800mAh – a really high capacity, it is cable of delivering multiple charges for your handheld device. Let's use iPhone 11 as an example. With one single charge of the power bank, it can delivery 8 charges for the phone. For iPad Mini, it can delivery 3 charges.
Another amazing thing is it can have up to 8 days of reliable power with just a single recharge. With this much of capacity, surprisingly it does not take long to recharge the bank. You can fully recharge it in 7 hours, which is about 2.5 times faster than 1A input. If you happen to have a USB C cable around, you can also charge your USB C device as well. 
The outstanding feature from this device is its solar panel. It can recharge via sunlight. Moreover, with the built in LED flashlight, you can use it with three different modes as well. It can be in Steady – Flashing – SOS mode. This is perfect for outdoor activities. 
You can buy the Riapow Solar Charge at this link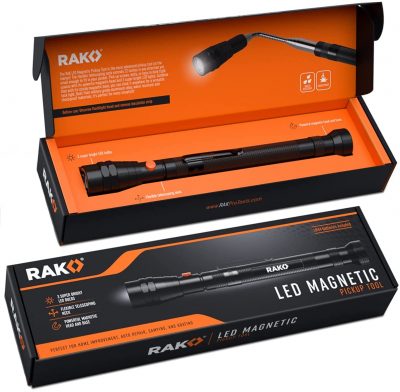 Last on the list is a very interesting product, a Telescoping Magnet Stick from RAK Magnetic Pickup Tool. Want to fix something but not a skilled tradesmen? RAK sets out to create innovative hand tools that turns the Average Joe into the Everyday Professionals.
Thanks to the powerful magnetic tool, users can easily retrieve items such as nuts, bolts and screws. The strong magnetic base also allow hand-free use when it is placed on a magnetic surface. It is very convenient in multiple purposes. Customers can use it for automotive repairs, HVAC, boating, home improvement and other applications.
The most unique feature is its adjustability. It has a 360º, flexible, telescoping neck that extends up to 22" for maneuvering around hard-to-reach places. This is perfect for any mechanic or handyman around the home. The tool also has a 3 LED lights to provide greater visibility in dark spaces. In the package, it also includes spare batteries as well. 
The RAK Magnetic LED Pickup Tool is an awesome tool for both the Professional and the Do-It-Yourselfer. It can be used for home improvement, electrical, plumbing, and auto repair. A great gift idea for family, friends, and co-workers! You can buy the product at this link.
We are influencers and brand affiliates.  This post contains affiliate links, most which go to Amazon and are Geo-Affiliate links to nearest Amazon store.
If you can't find me at the table coding, then you can find me at another table playing boardgames. I want to share the fun, the intense, the `ah-ha` moments, the sabotage, the nerve wracking experience … that Boardgames can offer to the community.