I'm always making lists: to-do lists; grocery lists; contact lists; all sorts of lists. I'm also always losing lists. I'll write it up and won't be able to find it. I will drop it in an isle, (this happens a lot). I will give it to someone else to use, and they will lose it. Not any more! Now, with AnyList, these issues are obsolete.
"I can't find my list!" AnyList is all your lists in one. No more searching around trying to find lists that have slipped under the fridge or behind a desk. Just check your phone! AnyList allows you to keep all your lists neat and tidy and, most importantly, right where you can find them.
"I'm out shopping and I have lost my list/forgot my list at home." As long as you don't lose or forget your phone, you can't lose or forget your list. Also, because AnyList is designed as a grocery list app, shopping gets easier! Add all your grocery items to the list and AnyList automatically sorts them by section so you don't have to search up and down your list each isle, and you don't find yourself having to return to an isle you've already been down.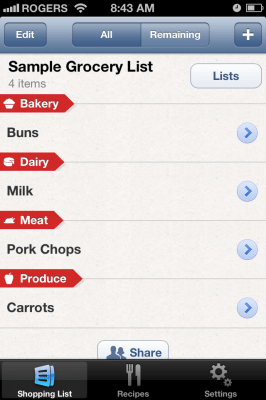 "I gave the list to my husband and he lost it/forgot it." One of AnyList's greatest features is the ability to share it. iPhone users simply need to add a contact to the list and that person will be able to access the list, (and be able to check off items that they were able to get so there is no more double buying). You also have the option to send a copy of the list via text message or email. My husband currently uses Android and I use iOS so the email option is what we use.
The developers have lots of things planned for AnyList too. In the future you can expect the ability to add specific quantities to your list, more 'Note' options on each list item, and even an Android version which would include the ability for iOS and Android users to share list accessibility.
As I have mentioned, AnyList is designed and marketed as a grocery list app but I have found it useful for other lists as well. For example, I have a list for my morning paper route. Each house is an item on my list. I can make a note if there are special delivery instructions, such as 'on vacation', 'weekends only', or 'use side door', and once I've delivered a paper, I can mark that house as done. The ability to share the list comes in really handy if I were to get sick. I would simply need to email the list to my husband and he has all the houses on my route and all the notes that go along with them.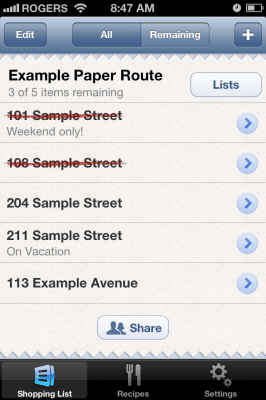 AnyList is available for free in the iTunes store, so, if you're someone who makes a lot of lists, I definitely recommend giving AnyList a try. Come back and let me know what kind of lists you make, I'm sure there are a lot more uses than those I have given!