We are influencers and brand affiliates.  This post contains affiliate links, most which go to Amazon and are Geo-Affiliate links to nearest Amazon store.
In December of 2015, early in the morning, I was driving down a street in front of a school. The sun was right at eye level behind me. I stopped at the stop sign and was just getting ready to turn when a car turned the corner. Normally when someone does this, they turn into the correct lane of traffic. This guy did not. The sun blinded him, and he turned short. Very short, and he hit me head on.
Besides my daughter who was in the front seat with me, there were no witnesses. No one saw the wreck. I am thankful that the guy was honest and admitted fault, and hopefully by the time this goes live, the settlement will be done, but what if he had not been honest? What if he tried to make claims that is was my fault? I would have no defense at all.
Having reliable visual confirmation as to who is at fault in a car wreck is sometimes the only way to prove who is at fault. You either need witnesses who saw everything and who may have gotten their cell phones out in time to capture everything all at once, or you need a device inside of your car that will record events for you even when everything is fine.
A company named TopBrandBox has such a device, and I got the chance to test it out for you, and I can say without a doubt that I love this device.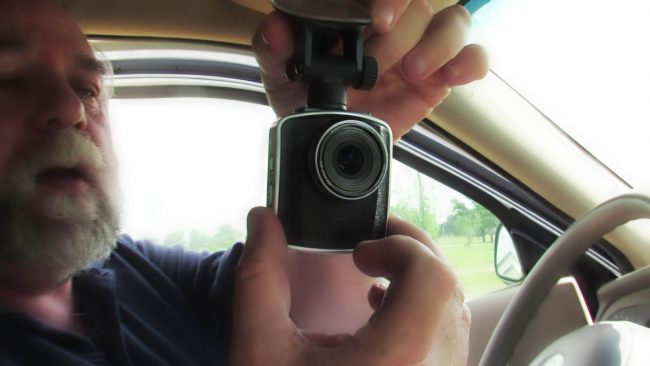 The device is a small car camera that can easily be attached to the inside of your windshield, and in next to no time at all, you can begin recording everything that happens on the road in front of you while you drive. The full description of the device says volumes; ANYTEK 2.4 LCD Full HD DVR Car Camera Recorder 170 Degree Wide Angle Viewing with G-Sensor WDR.
Ok, so let's break this down a little. First of all, the camera has a built-in 2.4-inch LCD screen so that you can see what it showing in the lens. This Anytek camera offers full HD recording that can be played back via the device or through your computer. The lens captures 170 degrees in front of and somewhat to the side of your car.) You will see the full road, and all lanes of traffic on the screen. It also has a G-Sensor WDR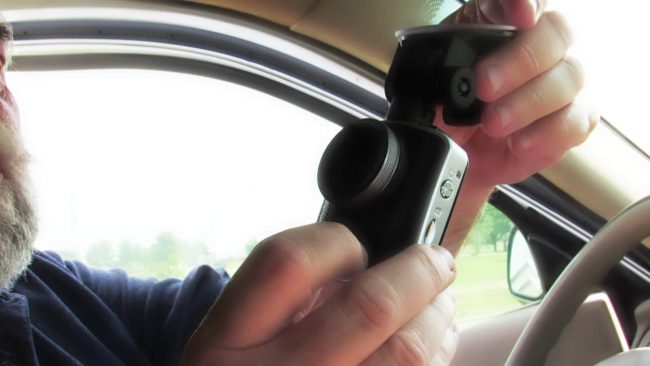 For me, the G-Sensor and WDR threw me as I was not familiar with this so, I took the time to look it up. Thankfully I did not have to go far to find the answer. G-Sensor: Senses sudden acceleration, braking, and collisions in order to automatically capture current videos surrounding an accident, then the important files won't be deleted from loop recording. What that means is your video will be safely kept on the camera and will not be overwritten when the card gets full. I will talk a bit more about looping and the card in a bit.
WDR is a little less dramatic but it allows the camera to capture images even in low light environments. This is not infrared, it simply means that when this setting is on, the camera will do a better job of low light images than it might do otherwise. WDR stands for Wide Dynamic Range.
In order to be able to edit WDR footage, you will need a high-end video and photo editing PC, so keep that in mind.
Ok, now that I have that out of the way, I want to address something that took me a little bit to get past. When I took my camera out of the box, the first thing I did was plug it in. This is important if you wish to not only use the camera but also if you desire to be able to understand the words you are seeing on the camera. I say this because the default language is not English. I cannot say for sure but I think it is by default set to Chinese, which for me is not a language I understand, and as I discovered through trial and error, what you plug it into when first trying things out is also key.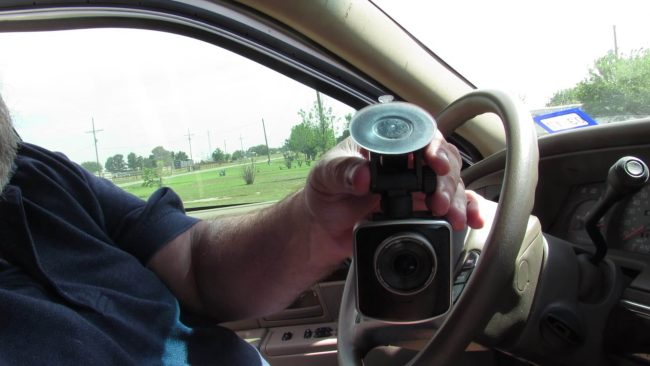 If you attach the camera first to your computer, you need to unplug it and connect it to a USB wall charger or a USB battery backup/power bank. You will not be able to get into settings on your PC.
With the camera connected to a battery backup/power bank, or wall charger, you will get a screen that does let you set things up, but the initial language is still not English. So what do you do? The first thing to do is relax, and follow these steps carefully.
Remove the film that covers the lens and the LCD screen on back
Insert Micro SD card into the Micro-SD card slot. (there is an illustration that shows the correct way to insert the card)
Plug the camera into the non-computer power source.
Look for the 1st of 4 buttons on the bottom of the LCD screen. The one on the far left is the menu button. Press it twice. This will get you into the menu and to the settings tab.
Using the 3rd button which scrolls down, the second scrolls up, scroll down to locate the icon with the ABC inside of a speech bubble. Then press the 4th button which opens the language settings.
Use the scroll buttons to find the desired language, and press the 4th button again to select it.
You will be able to read the displays and know the options available to you.
At this point, I am going to briefly go over the settings. On the first menu, you will have 4 options. Scrolling down will show others, but the first 4 are as follows.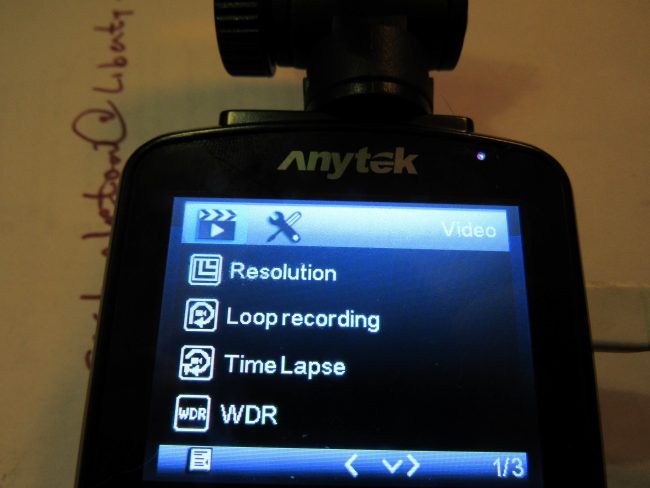 Resolution: This allows you to set the record resolutions of the camera. There are only 4 options. 1080 FHD, 720P, WVGA, and VGA. The setting you choose will affect how large the file will be when a video is recording, along with the quality of the recording.
Loop recording: Loop recording means the camera will take short videos of a certain duration save it to the Micro SD card, and then record again, repeating the events and saving as a new video. Once the card space is full, it will record over the oldest file and so on. You can turn this off, or have 2, 3, or 5-minute-long videos. I would say normally if you are just driving around, any of the lengths would do fine. If the camera detects a possible accident, the video will be locked to keep it from being over-written. When set to off, the camera will make one long continuous video.
Time Lapse: You can set time lapse for various FPS settings. Ranging from off, 10FPS, 5FPS, or 2FPS
WDR: Simply an on/off option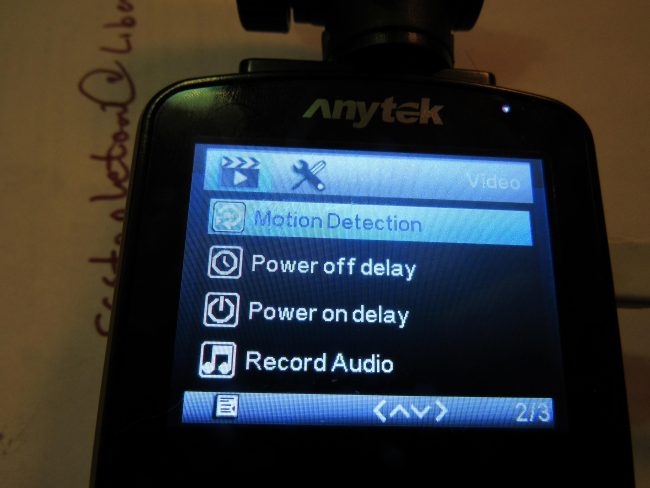 Motion Detection: On/off option
Power off delay and Power on delay: You can set the device to wait for a set amount of time to turn on when you start your car and turn off when you turn off your car. (This option will work only when you have a connection that does not have power until you turn on the ignition to the car. This way it can start shortly after you turn the engine and shut off shortly after power is turned off.
Record Audio: There may be times when you do not wish to have what you say, as a part of the video.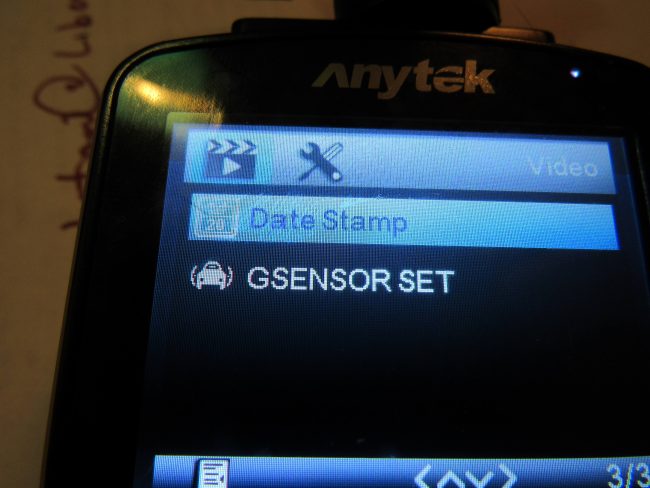 Date Stamp: You can have the date showing on the
G-Sensor set: This is the sensitivity settings of the sensor. Since everyone's driving styles are different, there are a variety of settings for that.
On the next tab, we have other settings that will probably not be changed as often.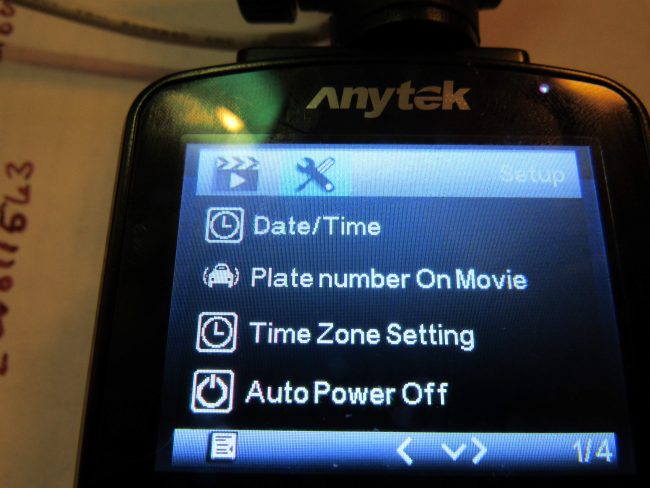 Date/Time: It might be a good idea to have the proper date and time on a video if and when an accident takes place.
Plate number on movie: You can further identify the video being recorded to the vehicle you are driving, by adding your license plate number. This option supports up to 8 characters.
Time Zone Setting: What time zone are you in?
Auto Power off: This can be set to various times. Off, 3 minutes, 5 minutes, or 10 minutes. This can allow the video to go one for a little longer after the engine is turned off, or as I am learning, no movement is detected by the cameras G-sensor.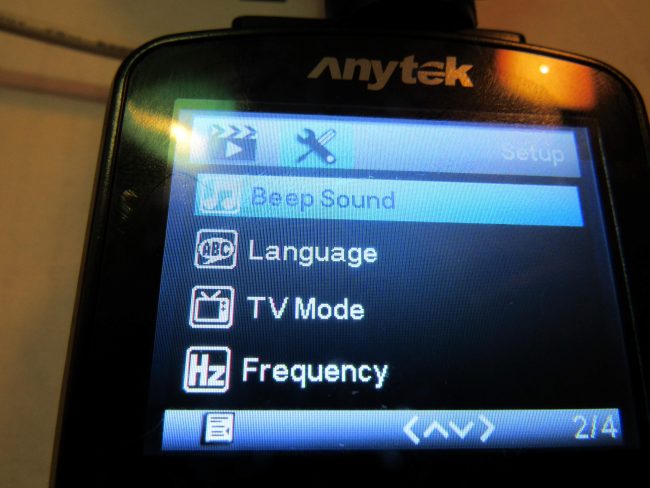 Beep Sound: Increase or decrease the intensity of the beep when pressing buttons.
Language: Already discussed, but is where you change and set the menu language.
TV Mode: Pal or NTFS
Frequency: 50 or 60 HZ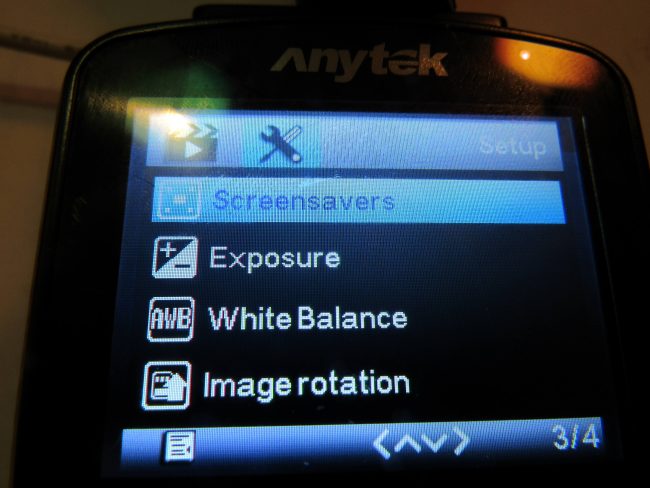 Screensavers: Allows the screen to blank after a period of time.
Exposure: Alters light exposure.
White Balance: Increases or decreases the brightness based on light conditions.
Image Rotation: The image can rotate according to how you position the DVR camera.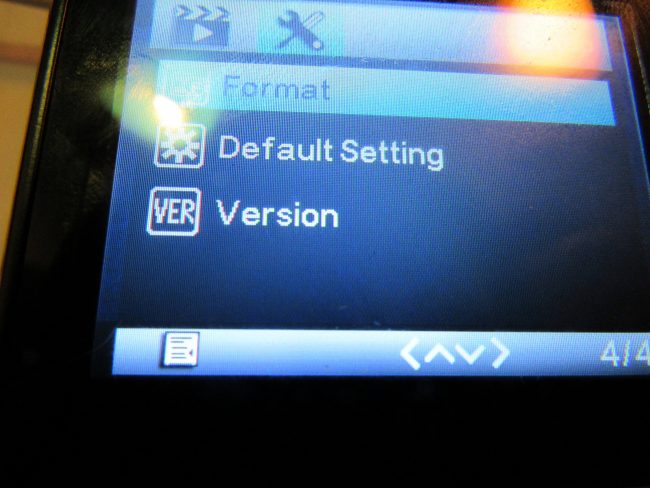 Format: Format the inserted micro SD card.
Default Setting: Basically resets everything.
Version: Version number
This is a great amount of information. In a nutshell, this car camera is easy to use, delivers exceptional video recordings, and works well. My initial test was to install it in my son's car and go on a 300 + mile drive. The entire trip was recorded to and fro, don't worry I will not bore you with the full video. Needless to say, the camera worked as advertised and as expected.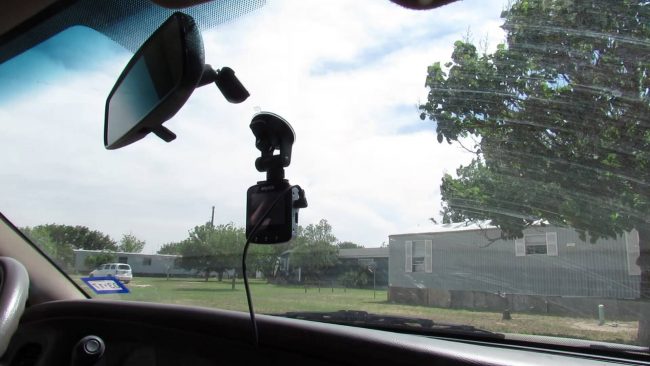 There are a few features that work differently while actually recording that make use of the same buttons that do other functions when not recording. When recording, the menu button locks the recording. The second and third buttons zoom the recording in and out. The fourth button stops and starts the recording.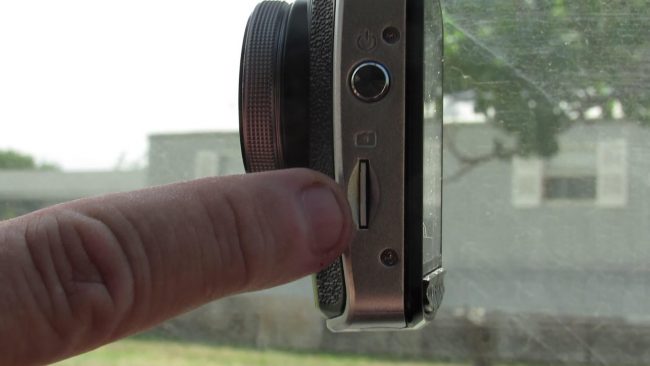 When plugged into the computer, there is a very different menu selection. The first being "Mass Storage". This allows the device to connect to the PC so that you can view the videos on the Car Camera, removing them as needed or adding if you desire.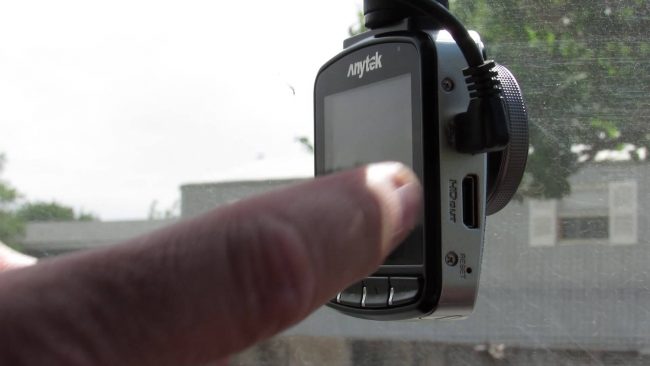 The second mode is "PC Camera". With this one, you can use the Anytek Camera to record yourself or other things from your computer. I tested this feature using two recording different programs. Neither one allowed me to make any alterations to the features of the camera but that was ok. It did provide a nice image to work with.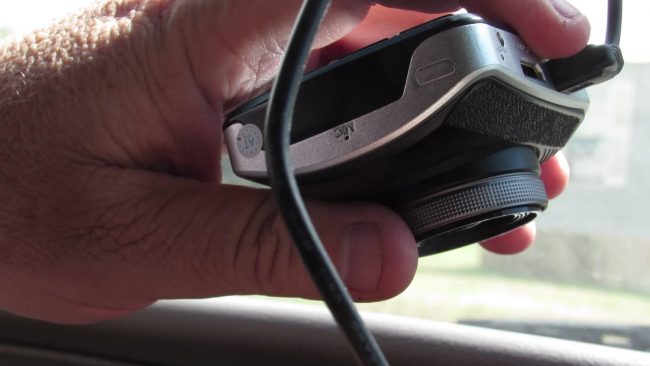 The last option is "Video". Using this option simply allows you to set this as if it were connected to a non-PC USB connection to record like you would in the car. It functions exactly the same and allows recording whatever the lens sees.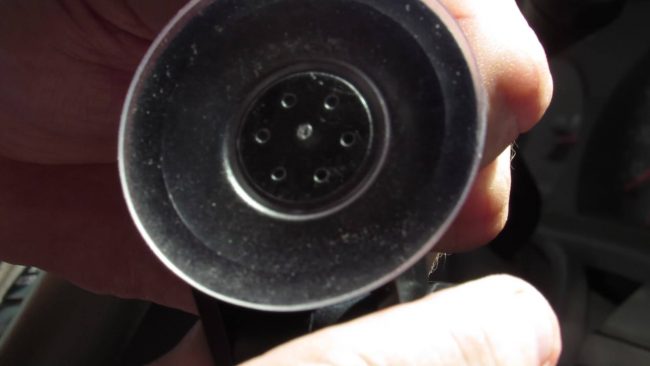 I can see myself using this each and every time I drive. For the times that may turn into a bad trip, or a nice family outing, this DVR Car Camera is a great tool to use. I can easily see using it when taking trips through such places as a forest, a canyon trip, a drive near the beach, or anywhere that the drive is a part of the magic of the day. I plan to go to a place called Palo Duro Canyons soon and can't wait to record what I see.
Before I leave you, I want to point you to their Facebook page. You can let them know I sent you, and tell them how much I love their product.
Disclaimer: Anytek provided me with this product to review. All opinions are 100% mind and mine alone.
We are influencers and brand affiliates.  This post contains affiliate links, most which go to Amazon and are Geo-Affiliate links to nearest Amazon store.
I have worked in and around many different types of computers. In the Navy, I used a magtape drive computer that was a step down from pen and paper. I later worked for a big computer company and after that, taught computer class's nation wide. I had the privilege of teaching 14,000 students in a 2 years period of time. Afterwards, I owned a small computer training and repair shop for a few years. I have owned C-64's, Pc's of various types, Amiga's, and even Mac's. I now have included the android to my collection. At any time, I have close to 15-20 computers or combinations of computers and game systems in the house. I look forward to more.