We are influencers and brand affiliates.  This post contains affiliate links, most which go to Amazon and are Geo-Affiliate links to nearest Amazon store.
I have a pretty nice sized desk, but I find myself moving junk to put more junk in its space.  I don't mean actual junk, I mean cables and documents for such reviews but that's only because I don't have space on my desk to actually put things in order.
As you can see in the picture below, I have 2 fans, game pad, headset and lots of cables, although I cleaned up many of the other cables before the picture because it was embarrassing.  The majority of the cause of the clutter was because the monitor is not adjustable and so I had to use a power supply box to stand up the monitor and the stand itself was pretty big.  That box caused me to move all of the mess upfront and clutter up my space.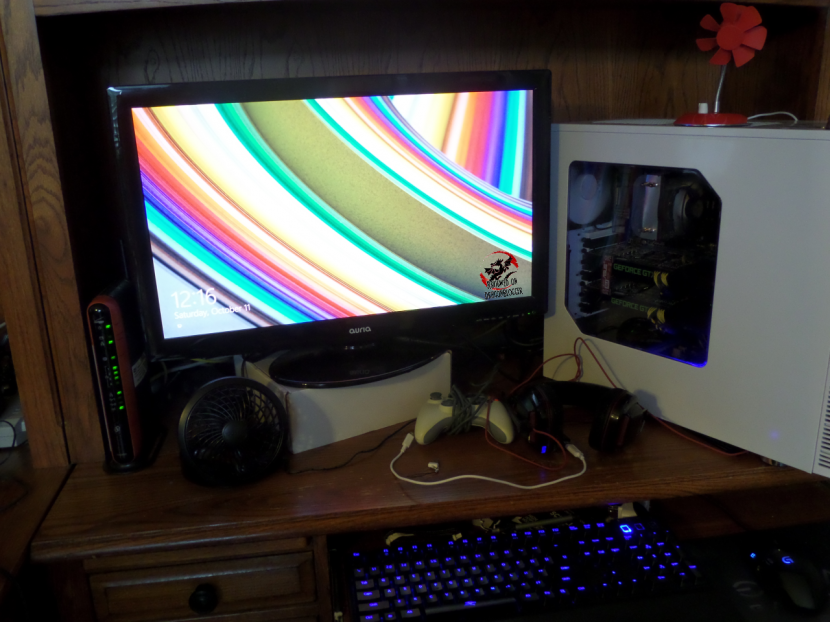 So now that you have seen the mess that my desk was and how small my desk looks, even though it is pretty spacious, let's take a look at the unboxing
I didn't realize it before I did the unboxing that this actually included a USB 3.0 HUB, and with that a solution to my rats nests mess of USB cables.  With everything we connect to the PC, mainly USB related we can have a jumble of USB devices cluttered behind and in front of our computers, which usually ends up in front of our monitors and/or behind the PC or coming from the top of the case along the side of the PC.  Headphones, 2 x fans (both USB), camera, phone charger, extra extension cable in case I need to connect something on the fly and who knows what else, the cable clutter can build up quickly, the stand and the hub look to be a solution.
Another problem I had with the stand the monitor brought, was the fact that it was not adjustable so after a few hours of gaming and writing documents like this, my neck was killing me and the power supply box wasn't the greatest solution.  Before this stand, my only solution would have been to add more books or boxes under the monitor to raise it.  The monitor is awesome, aside from this little flaw.  This is how I was sitting.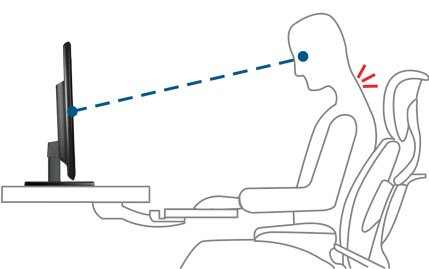 And I will tell you, my neck was hurting all the time, now using this stand, it makes a huge difference, I don't need to be looking down all the time.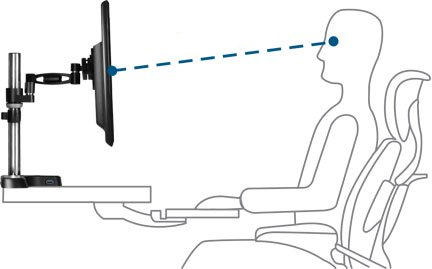 In my setup, the screen is actually bit higher than this, but you get the point.
I have another problem with my desk, although it's not really my desks fault, more mine were I decided to place it but at around 1 or 2PM till the sun sets I have the sun shining right on my screen, and yes my blinds are closed but I still get some sun on my screen.
To combat this, I find myself opening the office door to block a little of the sun and trying a few other things to block more but nothing 100% helps; this is another thing that makes this stand amazing.  It's not only a stand to make you monitor stand up, but it makes the monitor adjustable, left, right 360 degrees, then you can move it up and down so it helps me avoid the sun.  I don't have to figure out clever ways to block the sun from my screen anymore.
Before I installed this though, I did have to make some preparations for stand that I didn't think about before I did the unboxing, but hopefully I can help you here.  There are 2 ways to install this stand, either clipped on the back or side of your desk, or through a hole through the desk.  I figured I would be able to install it using the clip it included which I would assume most people would be able to use.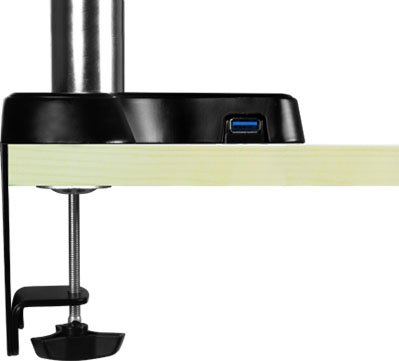 Like this, your stand would be on the back or side of your desk, looking something like this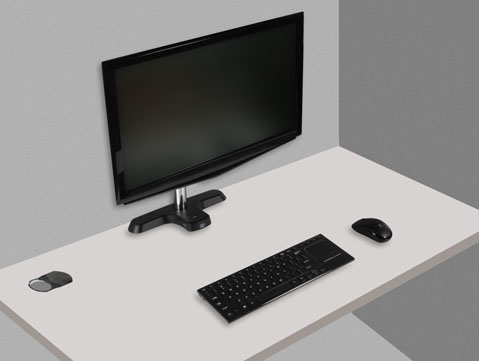 My desk however is very customized so it is not like many peoples desks and I thought I would not be able to install it,… after I had already taken off the stand from the monitor and already done the unboxing, but thankfully I had wanted to complete this review and decided to drill a hole into my desk.  Don't worry if you fall into this category, the way this stand is designed it will cover the hole you drill into the desk and it will look like a simple stand.  This is an example of what I had to do to make it work.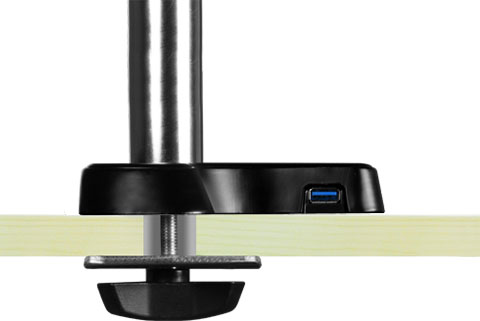 With this method, you can put it anywhere, I actually put it in the back, but here is an example of how it would look off to the side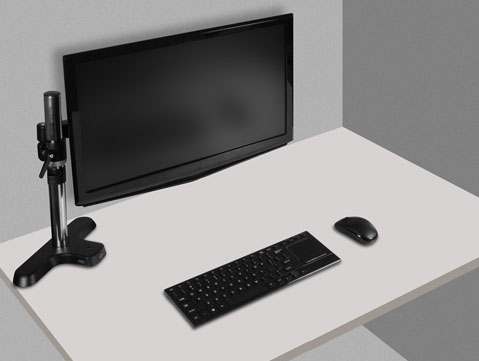 Here is a little example of what I had to do to get it to fit and a little more of the mess tucked behind the power supply box you couldn't see.
This is a picture of the hole I drilled into my desk with the mount screw already screwed in a bit, just to show you the head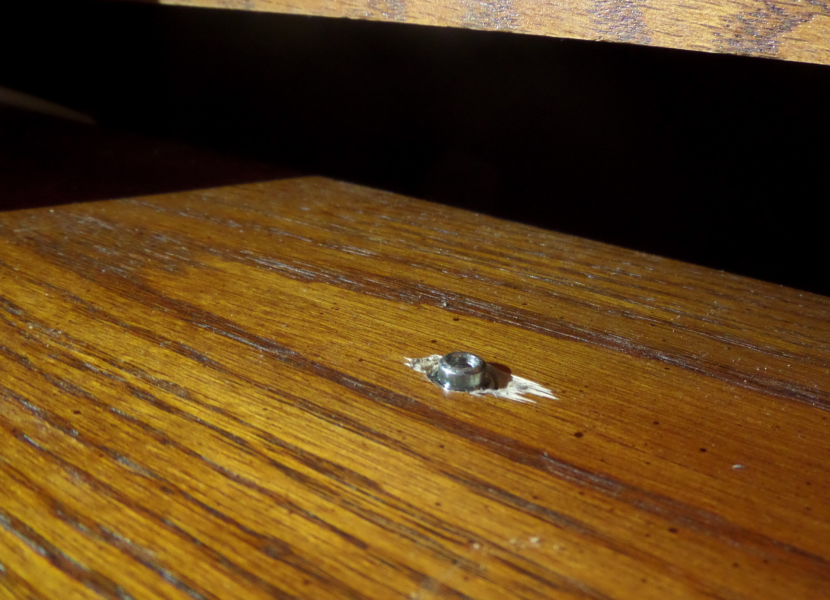 This is the base of the stand already placed with the mount screw completely fed through.  It totally covers the hole with a very industrial looking base that not only acts as a base, but doubles as a USB 3.0 HUB with 4 ports, and the hub is powered as well so it can handle just about any device you plug into it.  I use it for my headphones, gamepad, fan and camera; it also powers the camera when plugged in.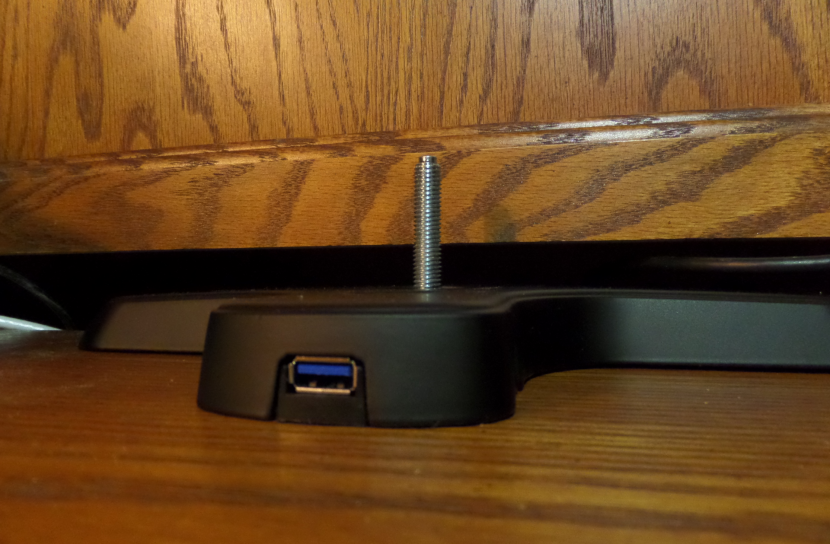 The mount is very customizable and as I mentioned before allows me to move the monitor away from the sun, recess it deep into my desk or even turn it 180 degrees to work on a long document (while also adjusting my display within windows) to work on long documents and even photo editing, both without needing to scroll up or down, a great solution for many.
Now let me show you how I built this up and a little of the adjustability of this stand as well.  Before you see the video, I do have to apologize about the lighting; I filmed it at night so I didn't have a lot of light to work with.  I actually used my cell phone light as well, which you can see towards the end of the video.
Check out my desk now after installing this stand.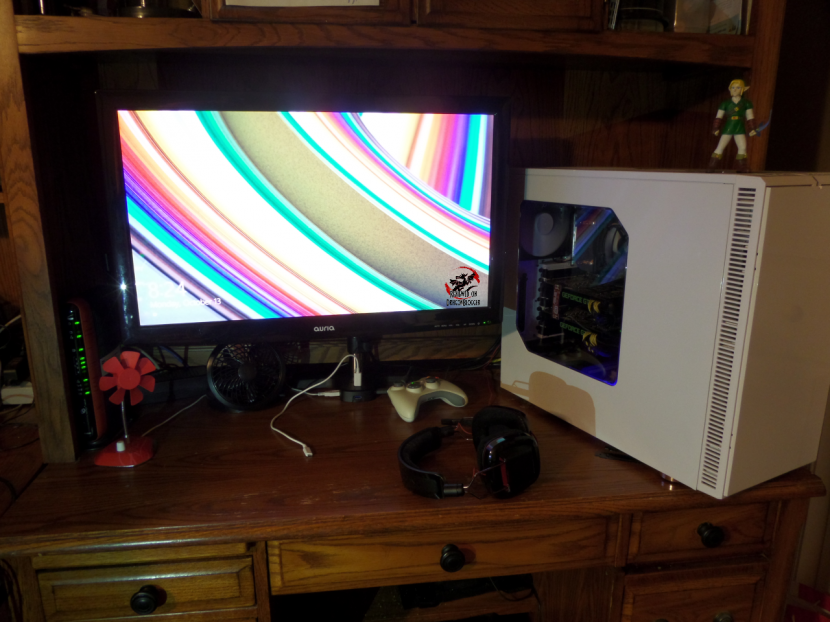 To save you some scrolling time, here are both screens next to each other for comparison.  Now I have a ton more room under the monitor which is now recessed an a little farther from my face.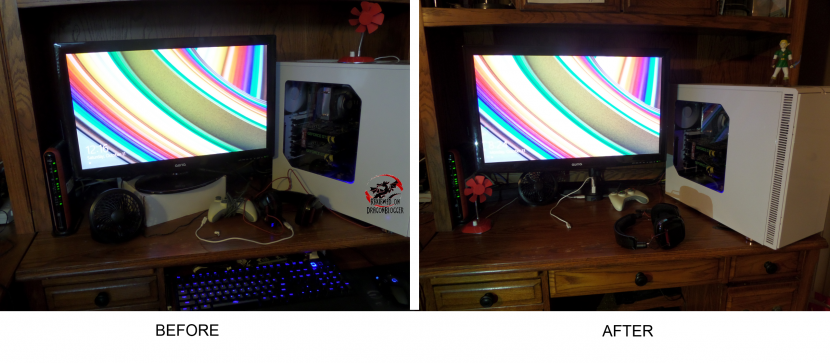 And here is a shot of how it looks like in portrait mode.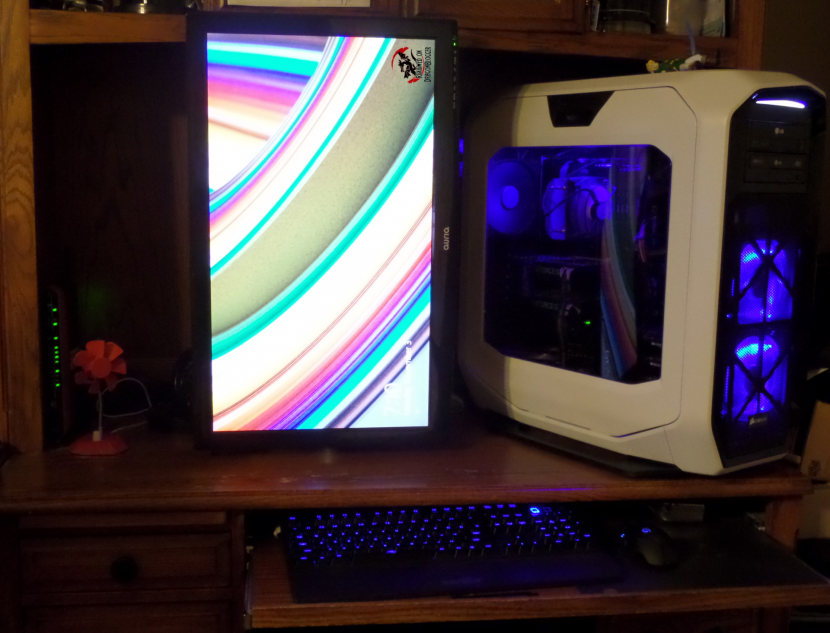 No, it's not an optical illusion, the case did change, it's another review I am working on, consider this a tease of my next review as well.
Keep in mind that your monitor has to be VESA compliant, but most are and this stand gives you the option to use VESA 100 and VESA 75, which should cover most monitors.  The manual even has instructions on how to install it for both types.  If you are unsure, check with your monitor model number on the manufactures site.
I am amazingly impressed with this stand because it is so much more than a simple stand.  It is an adjustable stand, completely adjustable, helps my neck out from hurting so much looking down, saves my eyes a bit because it allows me to have my monitor further away then also allows me to have 4 more USB 3.0 ports so that I can use more devices with less clutter.  It supports monitors from 13" to 27" inches: thankfully I have a 27" so I was good.
I will say however, it seems not to be able to charge USB 2.1 devices; my camera is 2.0 so I was able to charge and transfer data through it, but tablets would not charge.  For that, I will have to deduct a half a star only.  So I will give it a 4.5.
We are influencers and brand affiliates.  This post contains affiliate links, most which go to Amazon and are Geo-Affiliate links to nearest Amazon store.
I have spent many years in the PC boutique name space as Product Development Engineer for Alienware and later Dell through Alienware's acquisition and finally Velocity Micro. During these years I spent my time developing new configurations, products and technologies with companies such as AMD, Asus, Intel, Microsoft, NVIDIA and more. The Arts, Gaming, New & Old technologies drive my interests and passion. Now as my day job, I am an IT Manager but doing reviews on my time and my dime.