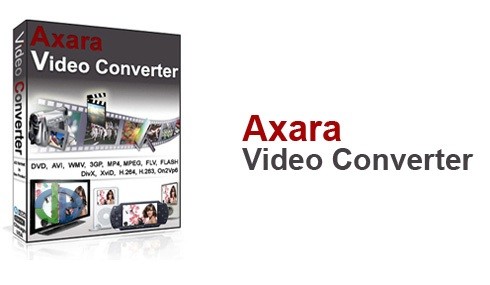 Hey there.  Have you ever downloaded a  video (or audio file) and then found out that you cannot play it?  Whether it be the format of the file, missing codecs, or just plain compatibility issues with the video player that you are currently using?  It can be quite frustrating having to find a video player that is compatible with your video file.  Before you know it, you will have downloaded 4 or 5 different video players just so that you can play the many types of video and audio files.  With Axara Video Converter Pro, the days of multiple video and audio players are long gone.
After a quick download and install, I gave the Axara Video Converter Pro a test run.  First off, I love the ease of the layout.  It's so quick and easy to convert your file into what you need.  Once you select the file that you want converted, you can have your file converted in 3 easy steps.  1) Select the device that you want to play your file on. 2) Select the compatible conversion for the device you selected. 3) Convert.  It really is that easy!  And just in case that seems a little complicated for you, Axara Video Converter Pro provides you with pictures, making the conversion as easy as possible.
Now, let's be honest here.  When we are looking for a converter, we are looking for just that and nothing more.  We are looking for a video converter that gets the job done.  But what if that converter came with a whole bunch of extras???  That's the surprise that I stumbled upon while checking out the Axara Video Converter Pro.  On top of being a file converter, it also serves as a video editor, a download manager, and it rips and burns DVDs!  Remember how I mentioned many video players for different video files?  With the Axara Video Converter Pro, you can also eliminate those video editing and DVD burning programs from your computer!  The download manager is a nifty tool to use when browsing videos online.  You simply enter the url of the video that you would like to download and the video converter does the rest.  You can then edit, convert, and do as you wish with the file!  You can easily add a DVD file by inserting a DVD and adding the video file to the converter.  You can then convert it to a different format or edit the video using the editing software.  With this great piece of software, you can remove some of those other programs that are made to do what Axara Video Converter Pro can do!  The less clutter on your computer, the faster it will run.
Get rid of all those unnecessary programs and get the Axara Video Converter Pro.  Want to learn more?  Head on over to http://www.axaramedia.com to read up on all the features that are offered when you download the software.  I only gave it a quick test run so I'm certain that I have overlooked a nifty feature here and there.  But as I mentioned before, this great converter gets the job done.  Anything else that I discover that it can do, is just icing on the cake!  Later!
This is the Dragon Blogger Guest Bloggers account for author's who want to submit articles and only have credit in the post instead of having to manage their own WordPress profile.