We are influencers and brand affiliates.  This post contains affiliate links, most which go to Amazon and are Geo-Affiliate links to nearest Amazon store.

Note: This is a review on a fully featured version of the program.  Please take a look at the comparison chart first to see which edition of BatchPhoto includes the features you require.
Update, BatchPhoto 4.2 was recently released and includes some great new features:
A powerful new Details view in Step 1 for visualizing and sorting thousands of images. Photos can now be sorted in Step 1 by Name, Type, Date Taken, Dimensions, Size, Location, Camera, F-stop, Exposure, ISO, DPI, Color, Coordinates, and even Altitude!
Updated Resize filter with new option: 'Don't upscale images that are smaller than specified size'. Added two decimal precision for the Percents option and updated interface
Updated Auto Crop filter with option to specify a custom ratio and the 3:2 predefined ratio. New option to select the crop region as Left/Top, Center, or Right/Bottom
Updated Crop filter with two decimal precision for the Percents option. Updated cropping rectangle to be visible on white backgrounds
Improved support for RAW image formats with the addition of the latest DSLR digital cameras
With the new Details feature from Step 1 you can work easily with hundreds of images by rearranging them with drag and drop, or by sorting them. As a professional photographer you may need to sort your images in Step 1 by Date Taken, Dimensions, Camera, F-stop, Exposure, ISO, DPI, Color, Coordinates, and even Altitude!
For example you can sort photos by the amount of ambient light in the picture by sorting after ISO. As a realtor or inspector you may need to sort your photos by Date Taken, Size, Location, Camera, and Coordinates. For example you can sort your photos by the date they were taken with the digital camera.
The Resize filter has received an update to the interface and a new option that enables you to skip images that are already smaller than the new specified dimensions.
The Auto Crop filter is now much more powerful with the ability to select any aspect ratio not only the standard options, and to cut not only from the middle of the images but also from theLeft and Right sides of landscape images and from the Top and Bottom sides of the portrait ones.
The Crop filter has been updated visually so that the drag & drop cropping rectangle is now visible even on white backgrounds. Additionally the Percents option is now more accurate with the addition of two decimal precision.
You can find a list of all BatchPhoto features here.
One of the most cumbersome tasks is that of batch editing photos. True, it is possible to write scripts that expedite the process in programs like Adobe PhotoShop. However, each script involves overcoming a learning curve and still leaves a lot to be desired. This is where software like BatchPhoto comes into play. Dragonblogger was approached by the makers of BatchPhoto and encouraged to compare how well the software stacks up against traditional methods. Check out our review below to find out if BatchPhoto truly cuts the mustard.
Intuitive Interface
When using BatchPhoto for the first time, I was pleased with its user friendly interface. As indicated in the screenshot below, each step of the process is numbered and quite easy to follow. Importing images is simply a matter of dragging them onto the Add Photos panel.  Editing them involves clicking on the Edit Photos tab to add on the appropriate filters.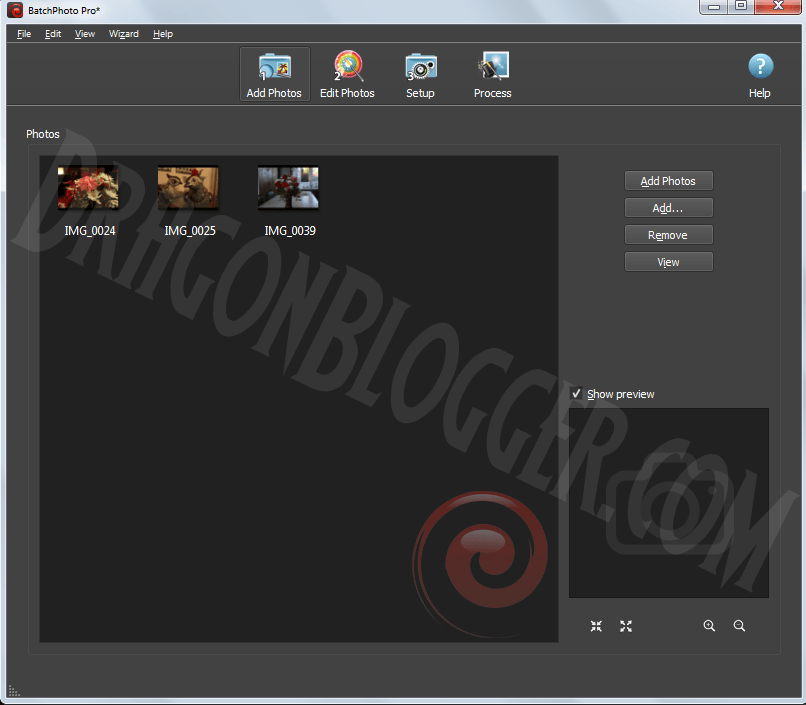 Instant Previews
While experimenting with adding filters on my first test images, I appreciated how I had an instant preview of the final product. For instance, I could cycle between all my images to see if a watermark was properly applied by clicking the left and right arrows above the preview window on the Edit Photos tab.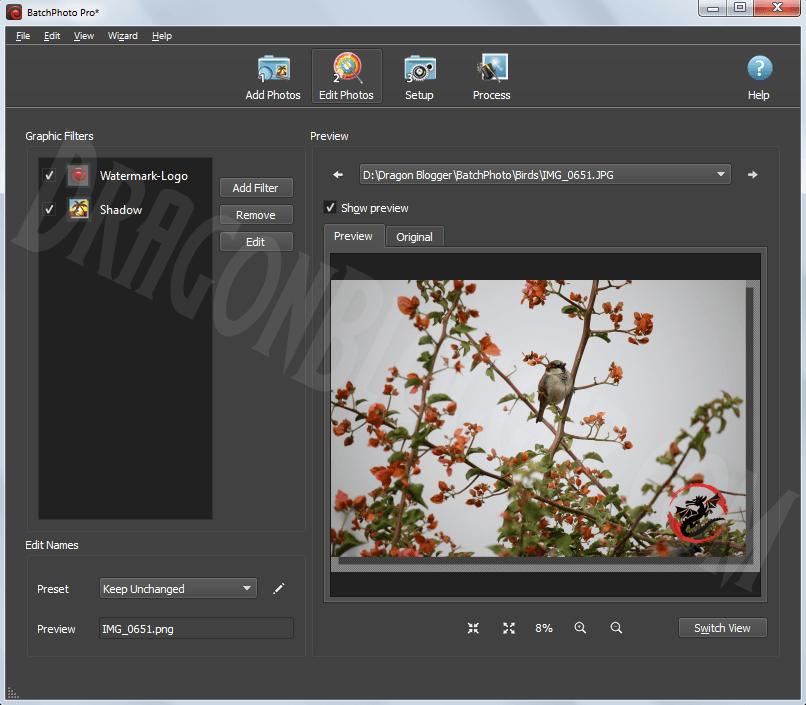 Rich Feature Set
It is dizzying to go through the entire list of features that BatchPhoto comes packed with. Staple features such as batch resizing, cropping, watermarking, and format converting is just a taste of the programs capabilities. You can even get artistic with your photo editing by adding drop shadows or image borders.
Stress Testing
While it was no doubt apparent that the software could live up to its promises with a couple high resolution images, I decided to stress test it further. Initially I set up a test with 15 high resolution JPEGs that were each 5472 x 3648 pixels in dimension and 5-6 MB in size. After applying a watermark, a drop shadow, a format conversion, and resizing the images I clicked the Process tab and let the program do its work. Below you can see that all the changes were applied on each of the 15 images in 18 seconds.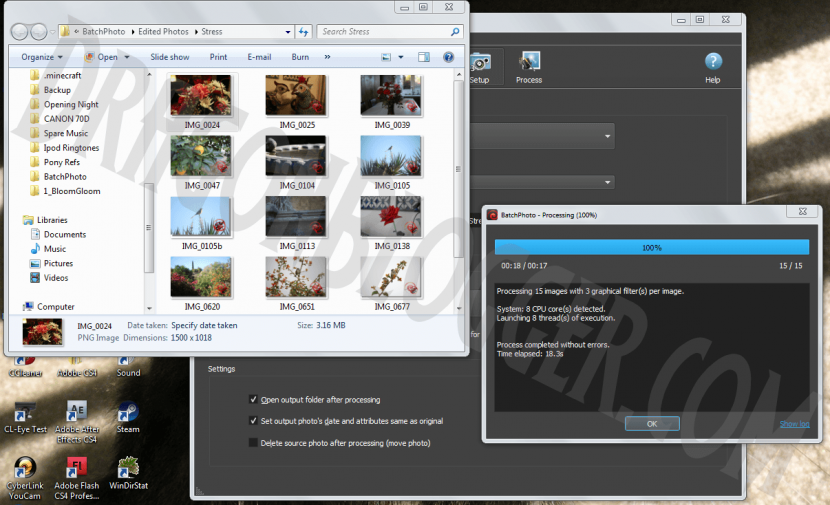 Since the initial stress test appeared to be mere child's play, I upped the ante and imported an image folder comprising of 92 high resolution JPGs that were each the same dimensions. Rather than just a couple filters, I applied around 10 along with a batch format conversion. Once I was satisfied with all the changes I applied, I once more clicked on the Process tab. The batch editing of all the images took 3 minutes and 52 seconds.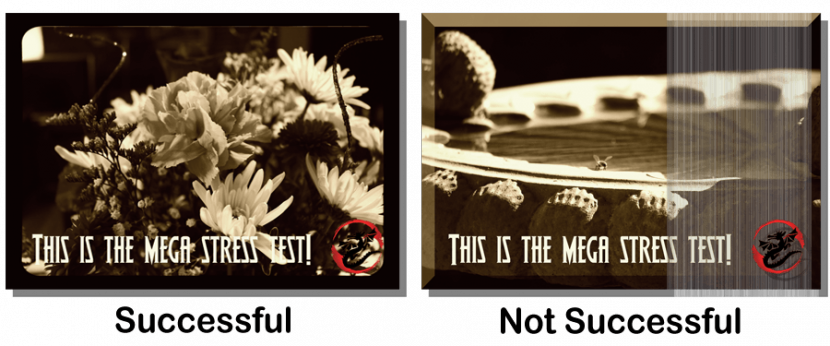 As the above image indicates, there were a few images that did not successfully apply each of the filters. When attempting to edit the 92 image library in smaller batches however, I did not run into any errors or flub ups. While each attempt always finished in record time, bear in mind that the peripheral I used to complete these tests was a laptop with an Intel Core i7-3610QM processor running at 2.3 GHz, 12 GB of RAM, an NVIDIA GeForce GTX 680M video card, and a 7200 RPM hard drive. Those with other setups may experience different results.
Closing Thoughts
I was quite content with the results of my batch editing tests while using BatchPhoto and see it as a very user friendly solution for mass photo editing. It has been awhile since I have used a batch editing program that ran so stable and was incredibly easy to figure out. While it cannot handle ridiculous batch sizes, those who are in need of a quick way to edit 15-30 photos at a time would certainly appreciate a program like this. All in all, I feel comfortable recommending this program to my fellow image editing enthusiasts out there.
See this comparison chart to determine which version of BatchPhoto has the features that best fits your needs.
Disclaimer: Bits&Coffee sent us a licenses version of BatchPhoto so that we could do a thorough and accurate review. All opinions are 100% mine and mine alone.

We are influencers and brand affiliates.  This post contains affiliate links, most which go to Amazon and are Geo-Affiliate links to nearest Amazon store.
Mitra Faridian first joined the site in 2011 under the handle "Persian Poetess." Her gaming and entertainment taste is very eclectic and she's always open to a fun new virtual adverture. Email her at the following address: mitra [at] dragonblogger.com