If you are a frequent online reader of eBooks, you would have come across reading different books on Amazon for the Kindle devices, which happen to be the biggest and most popular format for E-Book reading on the internet. However, an issue that you may have faced is that the format of books available for the Amazon Kindle are not standard e-book format like EPUB and as a result non-Kindle devices may not be able to read those files and let you read those books. To avoid the problem, you can use an online converter for books and convert your ebook to another format so it can be compatible with your e-reader.
1. OnlineConvertFree.com
I want to mention onlineconvertfree here, which has the solution to this problem. Onlineconvertfree provides you with an option to convert the online E-Book to your required format. There are multiple formats in which you can read the books on your computer and onlineconverterfree is giving you the option to convert the books in your required format.  To get started you need to visit the website onlineconvertfree.com and select Books section. Now, you need to check your required format.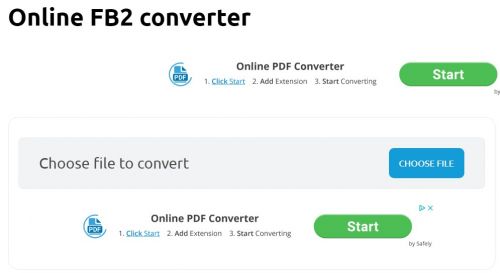 The file converter firstly has an FB2 converter. This converter converts your files in the fiction book file.
Step 1: you need to upload your file to the file converter.
Step 2: select the fb2 format.
Step 3: your converted file will be ready for download.
If you nave an EPUB format eBook, you can select EPUB converter which of course is also an available format. It converts your file in Electronic Publications format which is most popular and widely used these days. It also has a MOBI converter, which is also an option of format that you can use to convert your files. It converts your files in Mobipocket E-Book file.  Finally, there is the AZW3 converter which is also included in onlinecovertfree options. This converter can convert your files into Amazon KF8 E-Book file, which is used by the Amazon Kindle. So, it means that you can also convert your regular files to Amazon Kindle format if you get eBooks from another source and want to read them on your Kindle.
2. Calibre E-Book Desktop Software
If you are an old school user and want to download programs on your desktop computer without relying on the internet, then Calibre E-book is a suitable desktop program to be used. You can download the program and install it on your Windows, Mac or Linux based computers. Let me guide your steps to convert the files through the desktop-based program.
Step 1: Drag and drop your file in the add book section of the software, or you can click the same icon.
Step 2: Now select the convert books to option in the provided software
Step 3: Choose your desired format in which you require your output.
Step 4: Your converted file will be downloaded on your computer.
3. Epubor
Just like Calibre, Epubor is also a desktop program that you can download and install on your Windows or Mac computers. A point that should be noted here is that this desktop program is a paid software, but you can download and register for the free trial on the website. Epubar is very easy to use when it comes to conversion of your book in the required format.
You need to open the downloaded software on your computer. Now, you can drag your book and drop into the software. It will give you an option to choose the format of the output file. After you have selected your required format, you need to click the convert button. It will convert your book into the required format that you selected.
How often do you get eBooks and convert them?  Let us know if you found this article helpful.
This is the Dragon Blogger Guest Bloggers account for author's who want to submit articles and only have credit in the post instead of having to manage their own WordPress profile.