We are influencers and brand affiliates.  This post contains affiliate links, most which go to Amazon and are Geo-Affiliate links to nearest Amazon store.
Being a gamer, you certainly would not want anything to disturb you in the middle of your gaming experience on your PC. As a result of which, at times, you have to make a difficult choice – whether to protect your personal computer using an antivirus or to enjoy a smooth gaming experience. However, with the gaming mode antiviruses solution, you no longer have to face such a dilemma again.
Gaming Mode
Firewall popups and unwanted antivirus notifications can be extremely annoying for a mobile gamer. Gaming mode helps individual players to play and enjoy their games without losing on any performance and yet be able to get full protection through their installed antivirus solution. It even processes periodic updates on its own, while you are entirely immersed within your computer games. When gaming, you want to make sure that your experience is completely uninterrupted by anything going on your screen to have the best gaming experience possible.
Best Antiviruses for Games
Here are five antivirus solutions that provide access to the best gaming mode possible. You can select the software that suits your requirements better to have one very tailor-made experience.
1. Bitdefender
Bitdefender is an excellent antivirus solution that offers adequate protection for your personal computer and other mobile devices, against a myriad of online threats. It offers three different modes that users can select from – movie mode, work mode, and gaming mode. The gaming mode is automatically activated when the system detects a full-screen ongoing game.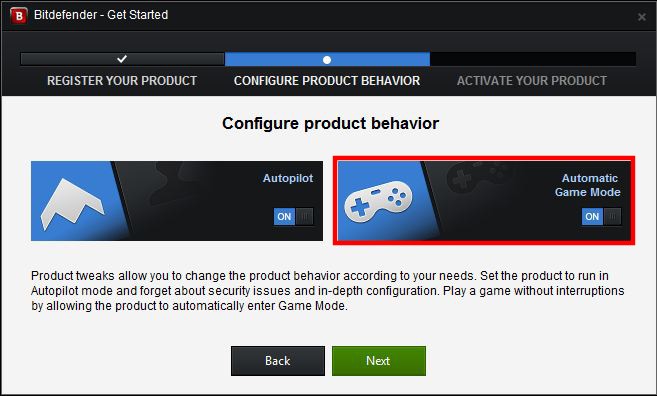 Features of Gaming Mode
It delays automatic system updates, disables all the notifications, popup ads, and any other search advisors as well as enabling the regular operation of the antivirus solution once the game is exited.
2. BullGuard
BullGuard is the first brand that provided users with a gaming mode to enjoy a seamless gaming experience. As you continue to play games on your computer system, the software continues to work and safeguard your system, using minimal resources. It blocks firewall popups and disables apps that otherwise hinder your games.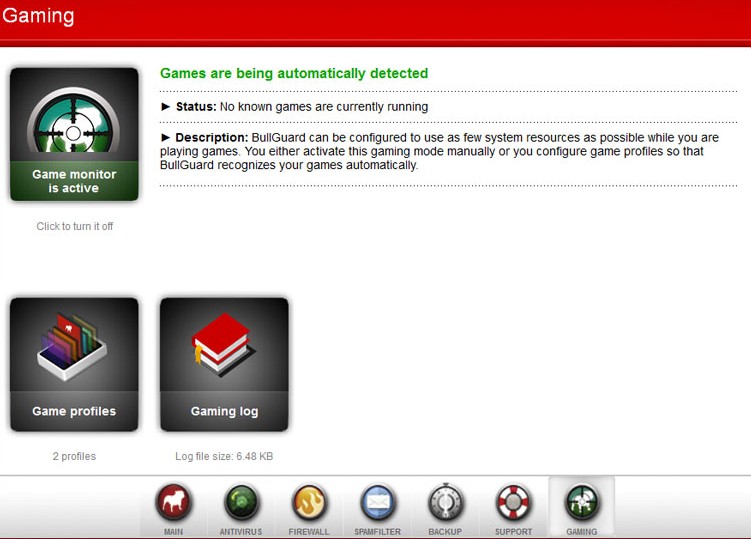 Why is BullGuard good for you?
It reduces the impact of antivirus on your gaming experience by using little resources. It activates the gaming mode once the user launches the game and thus, disables annoying firewall and add popups.
3. Avira
One of the most popular antivirus solutions, Avira protects your gaming experience while in game mode. With a user-friendly interface, using an antivirus solution is not at all difficult and creates a lower impact on your system, as you continue to play your favorite games on your devices.
What does it offer?
It postpones the updates and continues them once the game is finished.
Ensures full system protection during your gaming time.
Minimizes the use of system resources for antivirus once the game is on.
4. Panda
Though this particular software solution might not be as effective and customizable as some of the other options discussed above, yet it offers a high level of protection and excellent gaming experience. In addition to this, it also provides an easy to use interface that makes it widely accepted among users around the world.
Why is it Good for You?
It reduces the RAM usage when you launch the games.
Automatically switches to gaming mode when the game starts
Protects against fraud and viruses even when the game is going on.
5. Norton
Another well-known name in the antivirus market, Norton offers complete security protection for all of your devices. And being one of the widely used software solutions, Norton also provides gaming mode for its users around the globe. It enhances the performance of your computer and reduces the number of resources used, as you are playing games on your devices.
What does it do?
Real-time protection against online threats.
Suspends background activities and tasks.
Improves performance for the better gaming experience.
These are just a few of the many anti-virus solutions available that will make certain that your gaming experience is one that is going to keep you fully into whatever game world you are part of and keep you entertained for hours on end.
We are influencers and brand affiliates.  This post contains affiliate links, most which go to Amazon and are Geo-Affiliate links to nearest Amazon store.
I've been writing and covering many forms of entertainment such as comedy shows, and arcade bars as well as reviewing video games and more for the past decade. I love to write and I am blessed to be able to have the opportunities that I have had in the entertainment and technology fields.