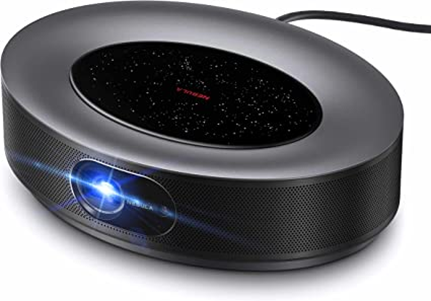 Looking for a high-end projector to enjoy 4K content?
Projectors are surely the best way to get a cinema-like experience, with the difference that you can use them almost anywhere. When you use a projector, you can enlarge the image and get a pleasant experience with your family. The vast majority of projectors usually offer a high-quality image, but it will depend on the manufacturer, so you should know that some projectors could offer low quality. Investing a little money in a high-definition projector should be a priority if you are looking to bring to 4K resolutions, but a projector of these characteristics is not for the whole public. Spending more than $1000 on a high-end projector is an amount that not everyone is willing to pay, but you certainly get what you pay for. The main difference between a cheap projector and a high-end projector is that the playback quality is so remarkable that you probably won't want to use a regular projector again. Low-quality projectors often offer HD quality that doesn't always look good, so if you're looking to get the most out of it every time you want to enjoy your favorite movies, you'll need to discard cheap projectors.
Among one the best projectors available for approximately $1000 is the Nebula Cosmos Max. This high-end projector is not only capable of playing in 4K UHD quality, but also has 4 360º speakers for a pleasant sound at all times. Without a doubt a purchase that you should seriously consider if you are looking to spend time with your family or friends. Next, discover the most interesting features of this product.
Features of the Nebula Cosmos Max projector
Having your own cinema will no longer be a pipe dream with the Nebula Cosmos Max projector. This high-end projector will certainly offer crisp image quality, plus an enhanced experience when it comes to watching movies. The main feature of this projector is the incredible quality that it is capable of offering, you can enjoy 4K UHD quality (3840 x 2160), so you can immediately appreciate the quality every time you project an image. Another feature is that it offers 1500 lumens for a bright and sharp image. The amount of lumens is up to 4 times brighter compared to most ordinary projectors. This projector comes with the Android TV 9.0 operating system to be able to access popular applications such as Disney or Netflix, so you do not need to pair your cell phone with the projector to start playing your favorite movie. The Dolby Digital Plus and Sound Dimension speakers are possibly one of the most outstanding features of this projector, with a total of 4 360º speakers you can enjoy a pleasant sound at all times. You can resize the image from 80″ to 140″. Definitely a great team that you would surely like to have.
Advantages and disadvantages
Advantages
It is a high-end product, so the image will be reproduced in a 4K UHD quality, in addition, the speakers are possibly one of the most interesting features of this projector.
Disadvantages
The price is somewhat high, so if money is not a problem, then it will be a great purchase.
You can buy this item here: Amazon.com: 4K Projector, Anker Nebula Cosmos Max 4K UHD TV Home Theater/Entertainment Projector, Android TV 9.0 with 5000+ Apps, Dolby Digital Plus, 360° of True 3D Audio, HDR10, HLG : Home & Kitchen
My name is Joel! I love to read, I go to university like most people my age.
In my free time I usually train boxing, I love music, I also know how to play the guitar and the harmonica.