I am always in the search for good earphones. Mostly in the low budget area, and finding a good earphone with a tight budget is pretty tough. Today's review will be for those who are looking for a cheap, but good quality earphones. This is the BlitzWolf BW ES2 Dual Dynamic Driver In-ear Earphone. You can get it for as cheap as $19.99 from Banggood. Additionally, you can also apply this "12Blitzw" coupon to get extra 10% off. Thanks to the Blitzwolf team who were kind enough to send me a sample of these earphones to review. Let's have a look.
Unboxing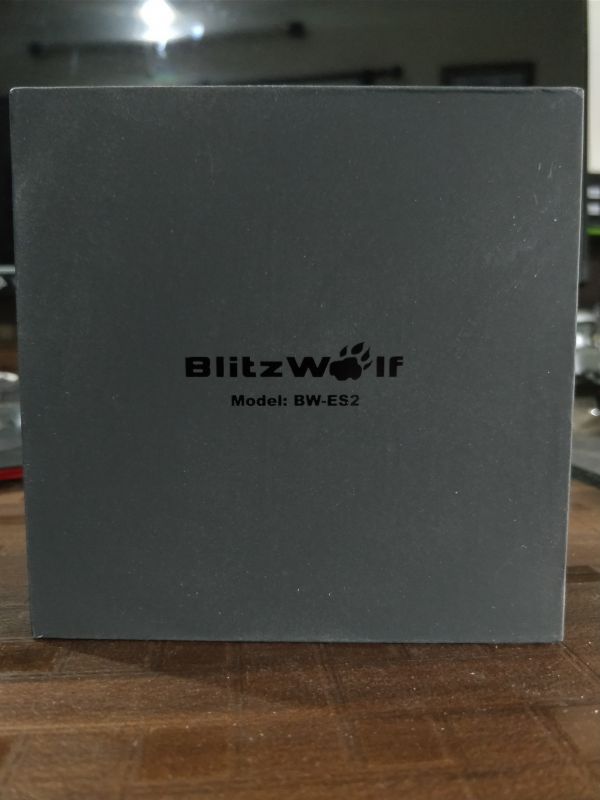 Pretty standard box with the Blitzwolf branding and model number written on top. Nothing fancy, but way better packaging when compared to the cheap plastic packaging used in most cheap earphone boxes.
Inside the box, there's a big user manual(4 pages but the manual information is provided in different languages), and a warranty information card. On the front of the warranty card, there's the Blitzwolf logo with a sad face but once you read it, I doubt anyone will have a sad face as the earphone comes with an 18 months warranty. This is really a good plus point as most manufacturers just provide 6 or 12 months warranty. So the frown turns upside down on the back side of the warranty card.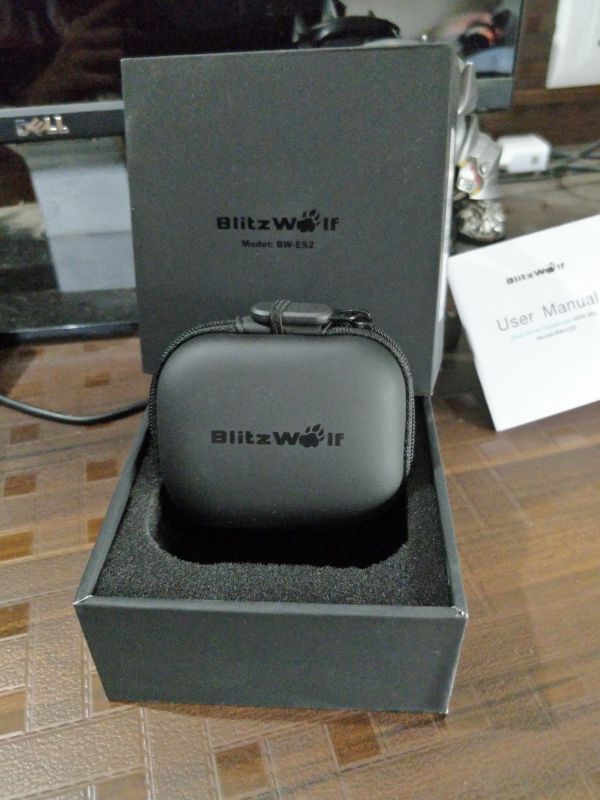 Well, I honestly wasn't expecting the earphones to come with a carry case as these are budget earphones. I was really surprised to see one, that too of a really good, hard material. So you don't have to worry about putting your earphones in your pocket or bag and worry about breaking them cause this is one hell of a case.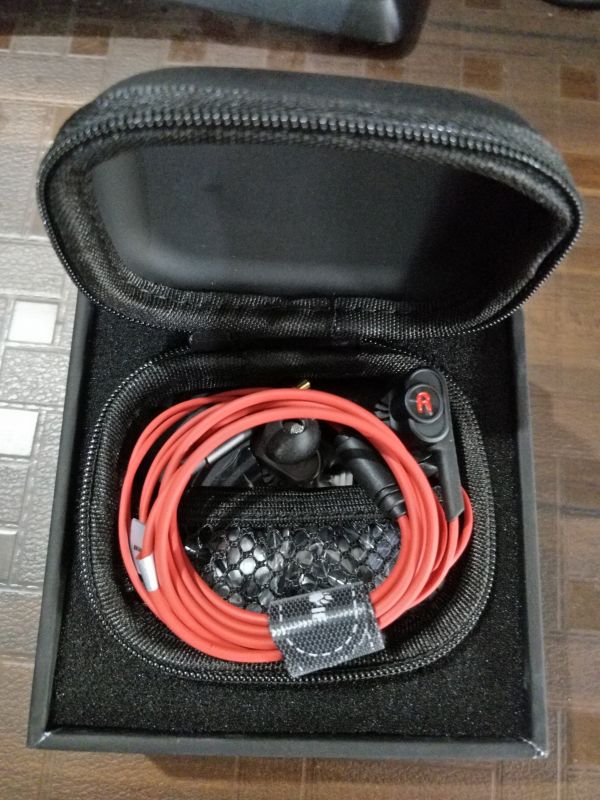 So these are the BlitzWolf BW-ES2 earphones. Let's keep them aside and check the rest of the box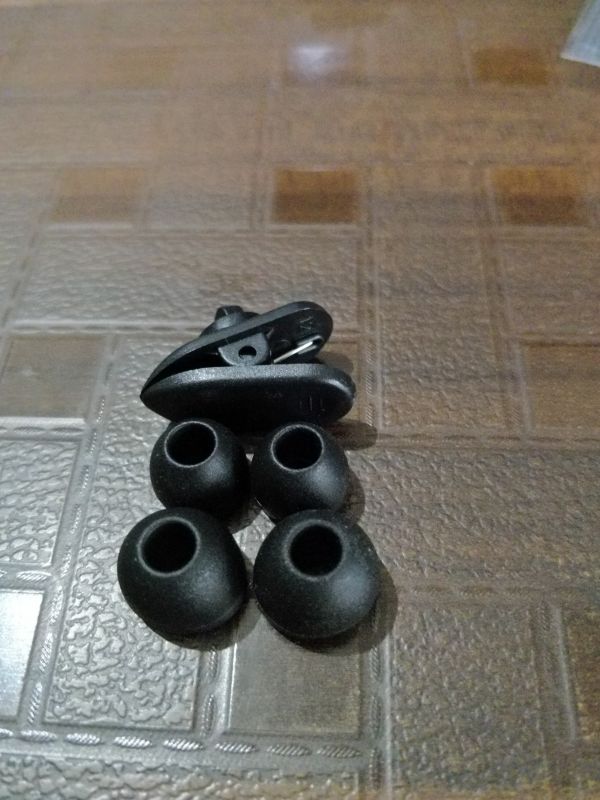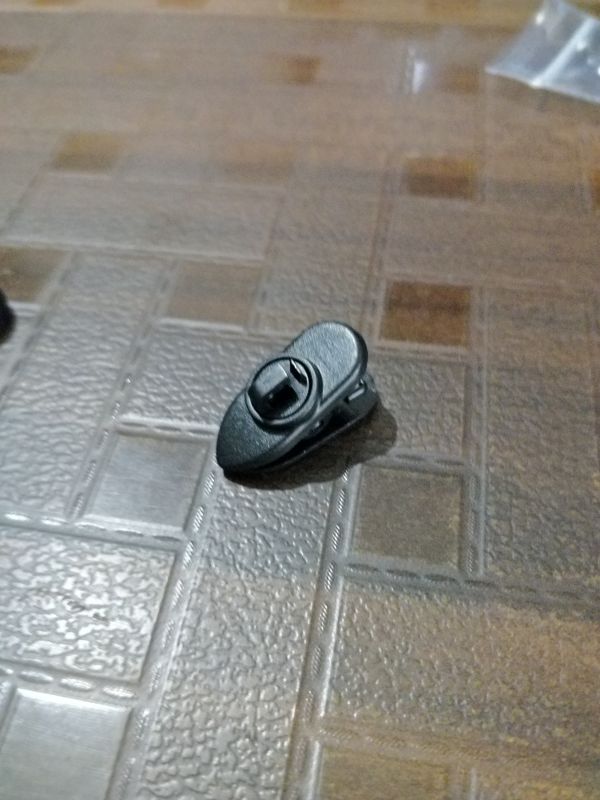 The earphones come with 3 ear tips. Small, medium and large. (the earphones come equipped with medium sized ear tips) There's also a clip included in the box which you can attach to your earphones and then clip it to your shirt.
That's it for the unboxing. Let's have a look at the specifications of the ES2 earphones.
Specifications
| | |
| --- | --- |
| Model |  BW-ES2 |
| Wearing Type | In-Ear |
| Weight | 17g |
| Color | Black, Red |
| Cable Length | 1.2m |
| Driver size | 6mm |
| Impedance | 16Ω |
| Frequency | 20Hz-40kHz |
| Sensitivity | 108 ± 3dB |
Design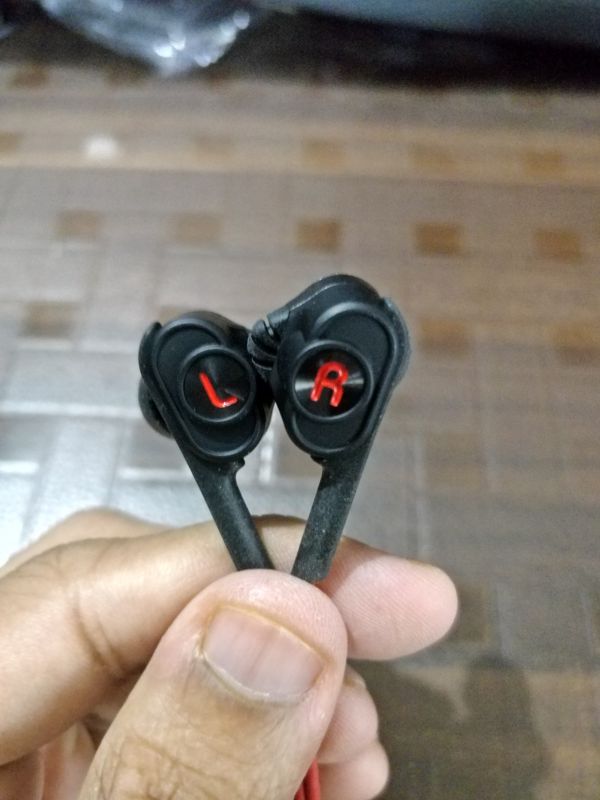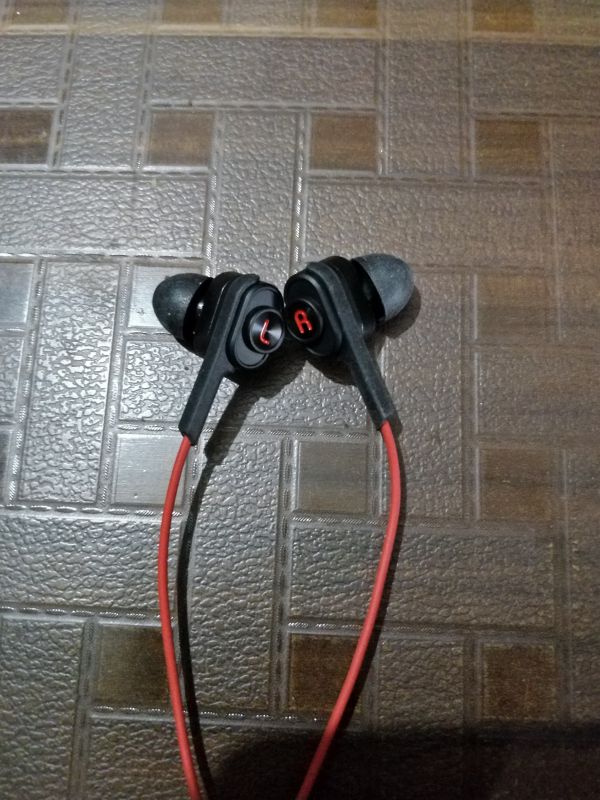 Looking at the earphones, the come in two different colors, red and black. The earphones are designed in a way that they fit in your ears perfectly. There is a small portion near the ear tips with some rubber cut-outs which won't let the earphones fall off from your ears that easily which happens pretty often with me. You can easily distinguish which side of the earphone is for which ear as there are L and R indication on the earphones. Also, they are designed such a way that you can't put it in the wrong ear without noticing as they won't fit in properly in the wrong ear.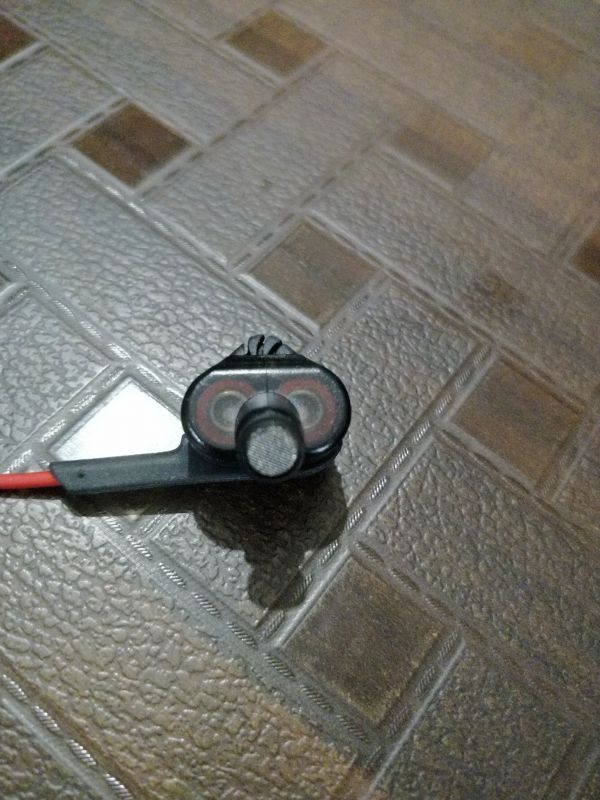 Looking closer near the ear tips, you can see the aluminum alloy protective cover which I thought were the dual drivers (haha) looked pretty aesthetic.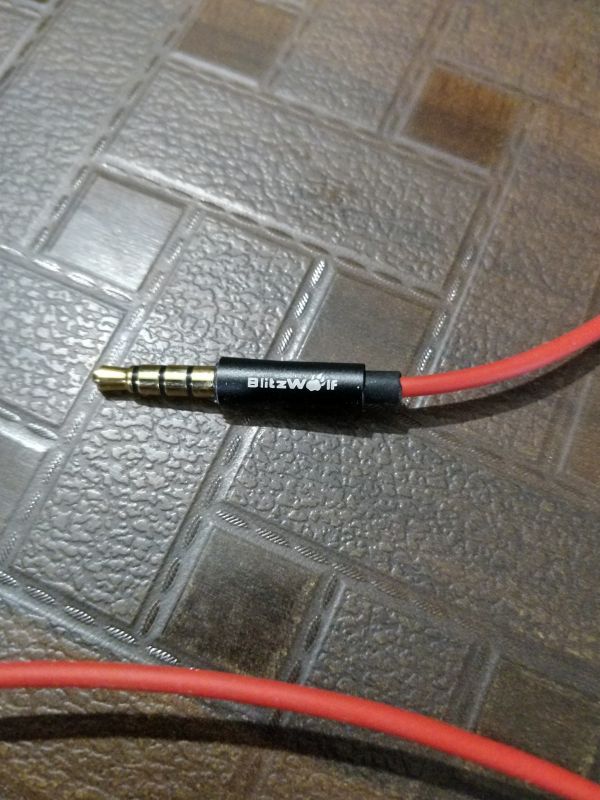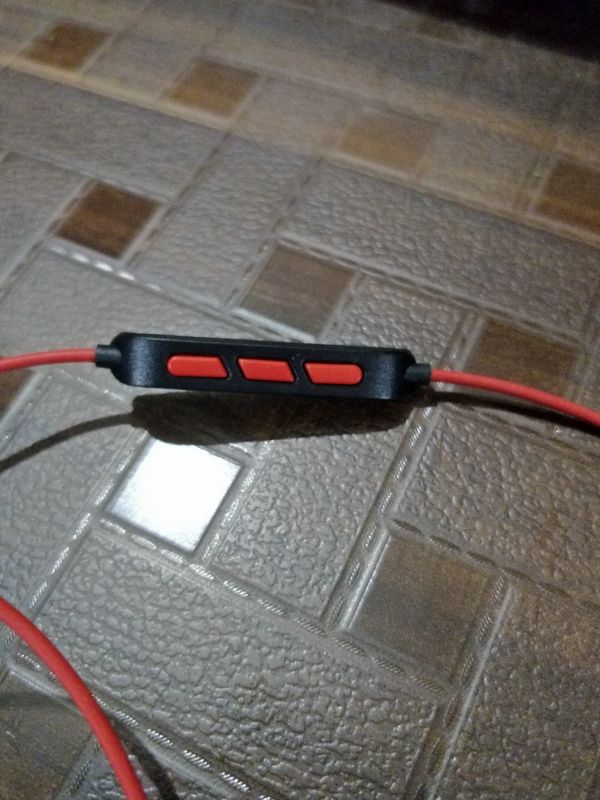 The in line remote is made of plastic and has three buttons. The top and the bottom buttons are the volume rockers and the middle button can be used as media control. So you can play and pause music with a single tap, double tap to skip the song and triple tap to play the previous song. Alternatively, the middle button can also be used to pick up and reject calls. The in-line remote also comes with a microphone on the back. The cable is of 1.2m and is nonbraided. It is a TPE wire so it should be tangle resistant. Even though they did get tangled during my testing, but none the less, Blitzwolf has also provided a velcro so you can just tie it to avoid tangling.The only branding of Blitwolf on the earphones can be seen on the 3.5mm gold plated audio jack. The area surrounding the 3.5mm jack is the only part which is made of aluminum. The rest of the body is completely made of plastic.
Sound Quality
I was very impressed with the sound quality of the BW-ES2 earphones. It actually surprised me how these budget earphones could produce such amazing sound. The treble is great as I could hear the vocals properly. This works well with low to medium frequency but doesn't fare well with high-frequency audio. Definitely not the best bass in an earphone but pretty satisfied with the bass that was coming from the 6mm dual drivers. You should also remember that these are budget oriented earphones don't be expecting everything from these earphones. But I found out that the BW ES2 really shines in the Pop music area. The earphones are quite loud and could barely notice any audio tearing even at full volume. The sound isolation of these earphones is pretty good. So once these earphones are on and you are playing something, then you can barely hear the outside disturbance. Overall, the sound quality is pretty loud and crisp.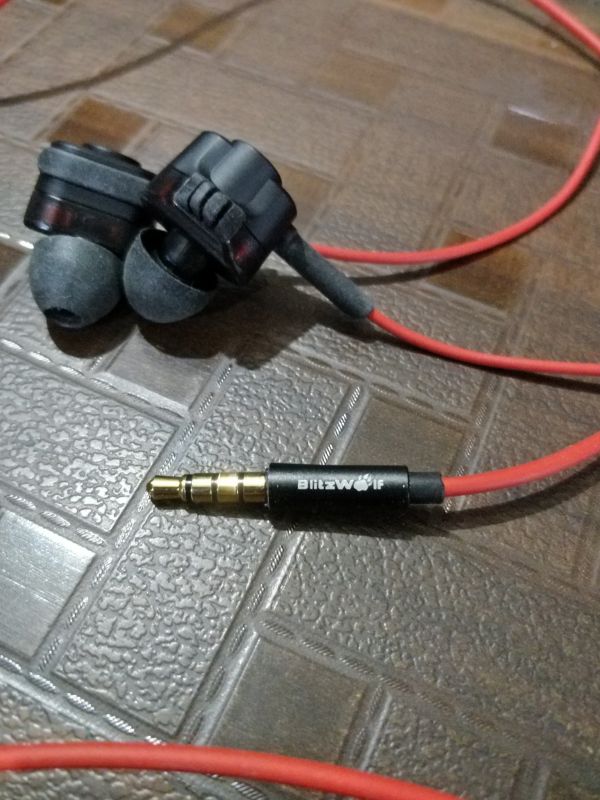 Conclusion
The Blitzwolf BW-ES2 are a great pair of earphones. For under $20, you are getting a great deal. You get a hard carry case, 18 months warranty, and these great sounding earphones. I am sure that you won't be disappointed with the BW-ES2 earphones. I would highly recommend these earphones for those who are on a tight budget and would easily give this a 4.5 star editors choice badge and a 5 star best value badge.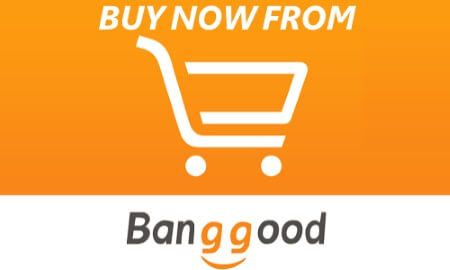 Hi my name is Rohan Jadhav. I am a guy who loves to play games and a tech lover. I like to be updated on all the tech stuff. I enjoy watching movies and I am currently doing a specialization course in VFX.