We are influencers and brand affiliates.  This post contains affiliate links, most which go to Amazon and are Geo-Affiliate links to nearest Amazon store.
[easyazon_image asin="B004LWZW4C" alt="X-Men: First Class (+Digital Copy) (Blu-ray)" src="http://ecx.images-amazon.com/images/I/51OQD0PF%2BcL.jpg" align="right" width="375″ height="500″] X-Men: First Class is an action/adventure film written by Ashley Miller, Jack Stentz, Jane Goldman, and Matthew Vaugh. The film stars James McAvoy (Wanted, The Last King of Scotland), Michael Fassbender (Inglorious Basterds, 300), Jennifer Lawrence (Winter's Bone, The Hunger Games (2012)), Rose Byrne (28 Weeks Later, Get him to the Greek), and Kevin Bacon (Mystic River, Apollo 13) in a film about how the United States government enlists the help of Mutants to stop a malicious dictator.
Brace yourself, for I am about to tell you about a surprisingly fantastic film, where Mutants risk their lives to save all of humanity. For all the comical puns intended, X-Men: First Class is a serious film. At the near end of what seemed to be the failing of the Marvel franchise (do not get me started with discussing the Green Lantern), X-Men: First Class delivered redemption of the franchise beloved my millions. In this review of the film let us start at the beginning, and yes, there be Nazi's.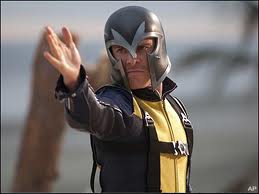 A young Magneto (Fassbender) being separated from his parents in 1940—Nazi Germany. The guards were having a difficult time separating him from his parents because of his mutant ability to use his mind to attract metal. Young Erik tries to destroy the metal gate that comes between him and his parents—you hear the metal bending, popping—along with the pain of being separated from his parents. He is finally knocked unconscious.
However, someone was paying attention to the goings on. Dr. Schmidt (Bacon) who began testing on young Erik and realized that his power emerged should he be in agony. It is this agony, inflicted by Dr. Schmidt, which brings viewers forward to the era of the Cold War. Here Dr. Schmidt—excuse me, Sebastian Shaw now—fashions a plot in that: should he cause the war between the Soviet Union and the United States to occur, he could lead his band of evil mutants to do whatever it is that evil minds do well—and that's taking over the world. Sort of.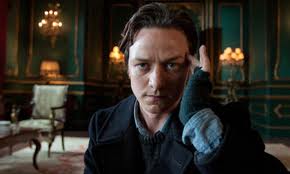 As we fast forward a little bit, we see the young Charles Xavier in the kitchen with a very young Mystique—he caught her trying to steal food out of the fridge. Anyway, she winds up living with the extremely wealthy, future Professor X. After all of the minor introductions of who's who in the barrage of young mutants, the film fast forward to the eventual standoff between the US and Cuba (Cuban Missile Crisis) where the team of "XMEN" are there just in time to advert one of the biggest potential disasters in world history.
Of course, I spared you the juicy details because I want you to enjoy every last bit of this film for yourself. But what I will tell you, is after the last X-Men film (X-Men: The Last Stand), the franchise has somewhat been redeemed. You don't get too much of a soppy love story between two super heroes, clogging up the screen with mushy melodramatics.
What you get in this film is an amazing barrage of special effects and an adrenaline-filled rush with action, but with the origins of a few of our most favorite super villains. There are also a couple of cameo appearances by Hugh Jackman as Wolverine, and the first lady Mystique, Rebecca Romijn (who is set to play Cheetara in the ThunderCats movie 2012).
X-Men: First Class is extremely well casted—McAvory as Charles Xavier brings all the intelligence and charm familiar to hardcore Marvel fans—not to neglect Fassbender as Magneto—and absolutely the entire supporting cast is phenomenal working together to take down Sebastian Shaw i.e. Kevin Bacon. Bacon is "the" ultimate and most versatile actor of our time. Any role he sets his mind to doing, prepare yourself for nothing less than awesome magnificence. This film has just the right amount of momentous tension that makes me say I truly believe it weren't for Bacon, Fassbender, and McVoy, this would be like any other ordinary X-Men film. Period.
I dare you to wrap 6-degrees of Kevin Bacon around this film, true believers—I double—no, triple-dog dare you.
[xrr label= "'X-Men: First Class'" rating=4.5/5]
[youtube width="555″ height="261″]http://www.youtube.com/watch?v=UrbHykKUfTM[/youtube]
[easyazon-link asin="B004LWZW4C"]X-Men: First Class (+Digital Copy) (Blu-ray)[/easyazon-link] features an incredibly powerful DTS-HD Master Audio 5.1 loss-less soundtrack and what is amazing about this is that every explosion and featured score sets an incredible presence that the enhances viewing experience. Even the minute onscreen activities glass shattering and falling to the ground; even when the young Magneto bent the incredibly large iron gates while being separated from his parents, you hear the metal moan, twist, and bend with such clarity and theater like quality. Even some of the Mutant talents, well, 'sounds' were incredibly clear–It is practically flawless.  Even the 1080p, 2.35:1-framed transfer has an incredible on-screen presence and if you have one of the larger TV sets you can really see the clarity and detail of the Blu-ray presentation. The scenes underwater, the immense landscape of Charles Xavier's home–near perfect. Overall, XMEN-First Class on Blu-ray is packed full of fantastic, high-def viewing material were all mapped visually to a fine detail.
X-MEN: First Class Blu-ray Features include:
10 Marvel "X-Men" Digital Comics with exclusive "X-Men: First Class" Back-story Comic
Cerebro Mutant Tracker: The complete interactive Mutant Database with interactive videos that will give fans the ability to learn about their favorite mutants in the X-Men film franchise
Children of the Atom: An eight-part behind-the-scenes featurette, charting the film from pre-production through post-production, including visual effects techniques and cataloging "X-Men" transformations through prosthetic make up and costume design.
"X" Marks the Spot: An interactive feature allowing viewers the opportunity to learn more about specific scenes with talent interviews and behind-the-scenes footage
Extended and Deleted scenes
BD-Live Portal with additional Cerebro Mutant Tracker profiles
Composer's Isolated Score
and of course the Theatrical Trailer
[easyazon_block asin="B004LWZW4C" align="left"]
Image credit: Fox Searchlight
We are influencers and brand affiliates.  This post contains affiliate links, most which go to Amazon and are Geo-Affiliate links to nearest Amazon store.
When AIDY isn't writing poetry, she likes to write film reviews. If she is curious about something she seen or heard, she'd maybe write about that, too.