We are influencers and brand affiliates.  This post contains affiliate links, most which go to Amazon and are Geo-Affiliate links to nearest Amazon store.
Ah yes, the mini-game. There are so many video games that have gone on to feature various ways to take up our time and some of which took up even more time than we anticipated with some even spawning their own standalone version of that game. This article is going to be about some of my favorites from many games that I have played along my video game journey in life. These games gave me a reason to want to play the game even more and even made me appreciate that game on a whole other level.
Five Finger Fillet – Red Dead Redemption Series
When I first stumbled upon this game I had literally no idea what I was getting myself into, especially when I first saw protagonist John Marston pull out a knife and begin to aim it at his own hand. This mini-game is extremely unique in the sense that it is one I have yet to see at all in any other video game I've played. The rules are simple, hit the table with a knife in between your own fingers in a predetermined pattern by hitting various buttons as fast as you can without making a mistake and thus, hitting your own hand. While this might seem like a bit of a grim mini-game, it is one that takes some pretty amazing skill to play, especially when you get to the harder difficulty levels when the patterns are much faster and harder. This is a game that you will find yourself traveling around the frontier challenging various NPCs as the both of you try to not make mincemeat out of your appendages. While the Red Dead games do a great job featuring various mini-games, I will never forget my first experience playing Five Finger Fillet and never being able to replicate that same experience in any other game since.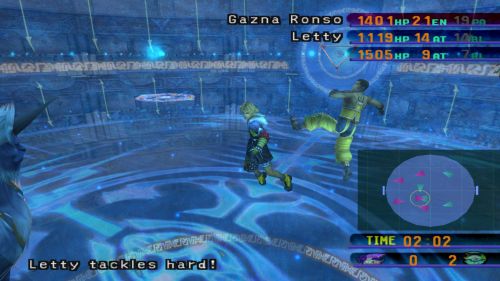 Blitzball – Final Fantasy X
The Final Fantasy games had been known to feature a prominent mini-game with typically being a card game of some sort such as found in Final Fantasy VIII and IX. However, the shift went from a card game to something completely different when it came to another one of the great Final Fantasy games in X. Final Fantasy X takes the mini-game to a whole other place in the form of a widely popular sport that the main protagonist, Tidus is quite good at, blitzball. The game does an outstanding job of introducing you to the game as part of its very huge story which also makes it as a huge part of the story early in the game. This is where you are also introduced to Wakka, Tidus friend, and fellow blitzball teammate. Final Fantasy X does an excellent job of explaining the rules of the game and they are really quite simple. Think of blitzball as an underwater sport that incorporates the elements of Soccer, Football, and Water Polo. The game is played using various action commands which, depending on if you're playing offense or defense, you will either be trying to pass the ball to your teammate and trying to score or trying to defend and take away the ball from your opponent. Blitzball marked the first time we would see a sport featured as a mini-game in a Final Fantasy game and one that in general is featured overall in any RPG at that point.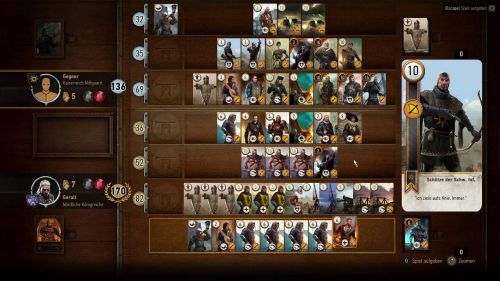 Gwent – The Witcher 3: Wild Hunt
There have been many games that have tried to incorporate card games into their world for you to play. However, one sticks out the most and one that I really enjoyed the most with that being, of course, Gwent from The Witcher 3: Wild Hunt. Being as that I used to be a former Magic the Gathering player, Gwent was a game that I could easily pick up and play and the same can really be just as true for anyone that has never played a collectible card game. Gwent is as simple as making a starter deck which is made from the various factions found in the world such as the Nilfgaardians and essentially building your deck around said faction. Along the way, you'll find various opponents that you can challenge and even win cards from to add to your deck. There are even some shops found in the game where you will be able to purchase even more cards. Gwent became such a popular mini-game that it spawned two standalone games "Gwent: The Witcher Card Game" and "Thornebreaker: The Witcher Tales" of which both solely use Gwent as a means of progression.
The Diamond Resort and Casino – Grand Theft Auto V
Of course when it comes to the mother of all mini-games, Rockstar Games decided to add an online casino to their Grand Theft Auto Online giving players the ability to earn money by not only playing an assortment of casino games such as craps, roulette, slots, poker and blackjack, but also its own unique story by allowing players to perform a heist on the casino itself and walk away with a boatload of cash. Having a casino in GTA Online makes a ton of sense as it not only gives players a place to earn a ton of cash but also makes for a great place to meet new players along the way and is an especially nice touch for those that are playing on a number of role-playing servers to use as part of your own storyline.  Once you earn enough money you can even enter a VIP area where you can make even bigger bets with the stakes being that much higher.
We are influencers and brand affiliates.  This post contains affiliate links, most which go to Amazon and are Geo-Affiliate links to nearest Amazon store.
I've been writing and covering many forms of entertainment such as comedy shows, and arcade bars as well as reviewing video games and more for the past decade. I love to write and I am blessed to be able to have the opportunities that I have had in the entertainment and technology fields.