We are influencers and brand affiliates.  This post contains affiliate links, most which go to Amazon and are Geo-Affiliate links to nearest Amazon store.
Disclaimer: Bunkerbound provided Dragonblogger.com with the Everything Chair for evaluation purposes. Opinions expressed in this review are 100% my own.
Allow me to come forward and admit that I simply adored inflatable furniture growing up. I have discovered a surprising number of comfortable iterations of such furniture as well as one's that caused my back to scream in pain. Bunkerbound's Everything Chair caught my eye not only because of the fun novelty of it being inflatable and mobile but the fact that it was marketed as an entertainment chair. Oftentimes when I game, laziness takes hold and I do not bother to whip out my desk chair. The fact that the Everything Chair promised to keep all my game controllers, remotes, and what-have-you at my hands while allowing me to sit in comfort sounded like just the ticket.
Watch the video below or continue reading the review below.
Great Build Quality Makes Up for Slightly Cumbersome Setup
The quality of materials used on the Bunkerbound Everything Chair is quite impressive. I was very pleased with how thick, rugged, and durable the plastic felt. I would not exactly allow your cat Fluffy to plop herself on it but the chair nonetheless appears to be able to hold up to many hole poking scenarios. Unfortunately, even with the great build quality, the setup can be frustrating for those who do not have an automatic air pump. The hand/foot pump that comes with the chair is just too inefficient and hardly got any air in the chair. After 15 minutes my limbs began to cramp up and I resorted to using an automatic air pump. Pumping this way got the chair fully inflated after 28 minutes and 34 seconds.
Lumbar Support Does the Job
–

with a Few Quirks

Lumbar support on the Everything Chair was actually not too shabby. The crevices of my back were pillowed nicely thanks to the wide ridges on the chair. Oddly though, this lovely bit of comfort would be interrupted as the chair had a slight tendency to lean forward. I would have to lean incredibly back to prevent this effect but doing so caused my feet to lift up into the air. The arm rest height was not exactly tailored for me either. At 5'4″ (163 cm), the rests would begin to dig into my armpits and cause my shoulders to raise just shy of my lower ear lobe. It is possible that someone taller than my size may not experience this effect. Personally, I am not a fan of using armrests when I hold controllers anyway so this issue did not bother me too much.
Pockets and Cup Holders Everywhere!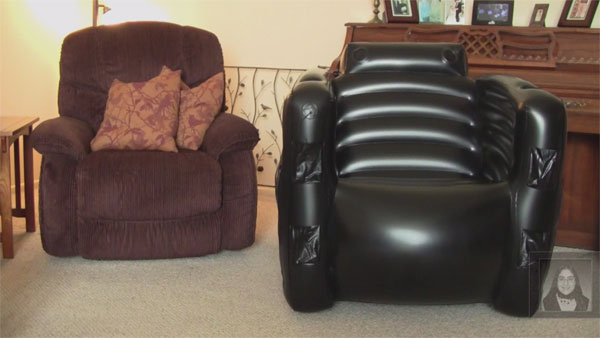 The real shining feature Bunkerbound's Everything Chair is the amazing amount of storage space it comes with. I stuffed the side pockets with game tutorials and walkthroughs, jammed remotes and controllers in the arm rest pockets, and much more. No matter how much I filled up the pockets, the chair held up and did not falter under the extra weight. One little drawback of the arm rest pockets though is the fact that they can be a tight fit for some things (I noticed this only with my DirecTV remote). Lastly, the two beverage cup holders kept a firm grasp of almost any size glass I tested them with and water spillage was nearly non-existent.
Underwhelming Speakers on the Everything Chair
I never enjoy the process of searching frantically around the house for my external iPad/iPhone speakers. When I heard the Everything Chair featured two speakers right on the headrest, I was very excited to give them a go. If you take a moment to watch the 2:33 mark of the video posted above, you can hear the speakers being used live. As indicated in the video, the speakers on the chair were relatively close in terms of amplitude and I would hazard to say a bit more muffled. Generally, I bother to plug in my Apple devices to external speakers in hopes of boosting the volume not matching it. Interestingly, listening to music this way gave me a quasi-surround sound experience. It is a shame that said experience is such a quiet one.
Bunkerbound's Everything Chair is a good addition to the inflatable chair market. It is obvious that corners were not cut in terms of its construction and I appreciate that greatly. However, since it is a device intended for entertainment, I believe it is fair to say that it still requires work. With a few adjustments and installation of more capable speakers, I would easily give this chair perfect marks.
We are influencers and brand affiliates.  This post contains affiliate links, most which go to Amazon and are Geo-Affiliate links to nearest Amazon store.
Mitra Faridian first joined the site in 2011 under the handle "Persian Poetess." Her gaming and entertainment taste is very eclectic and she's always open to a fun new virtual adverture. Email her at the following address: mitra [at] dragonblogger.com