CCleaner is an award winning system cleaner that removes temporary files and other space eating files from your computer .
It helps you speed up your computer by clearing your temp , removing system restore points etc. It is available for free and it is used by millions to keep their system clean.Today I will show you how to CCleaner to clear out your computer and make it faster.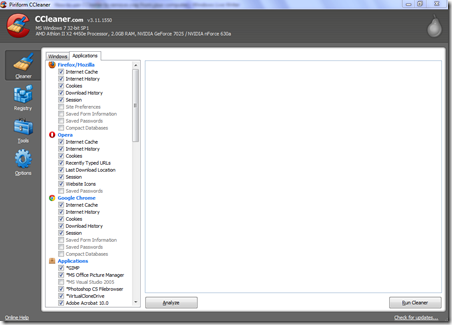 This is the startup screen of CCleaner and by simply  selecting the analyze button , you can find out what needs to be cleared.If you are using the software for the first time , it will ask you if you want to Scan for Cookies to keep in your web browser.Give Yes.If you do not want to remove your cookies , uncheck Cookies from Firefox , Chrome , Internet Explorer. An sample analysis field from CCleaner.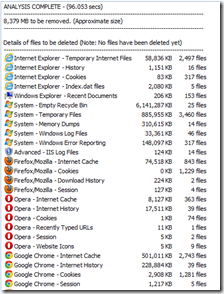 You can see how it shows how much MB has been used up by different applications. This list that appears after analyzing consists of the files that are to be deleted .If you click the Run Cleaner button , then all of the files will be deleted.If you find something you do not want to delete in the list , uncheck it from the sidebar and click Analyze again.It also has an registry cleaner through which you can resolve conflicts in your registry.Please use this with care,If you do not know what the Windows Registry is or what it does , do not use this tool.If you know what it is , take an backup before removing registry keys(CCleaner prompts for a backup).
Tools in CCleaner
CCleaner has several tools that are very helpful.They are Uninstall , Startup , System Restore , Drive Wiper(Advanced).
Uninstall – Using this , you can uninstall any software that you have installed on your system.
Startup – Annoyed of the many programs that startup when you switch on the system , this will help you remove the unnecessary programs from your startup list.
You can select an entry and enable , disable or even delete an entry entirely.
System Restore – If you do not know what System Restore is read here . You can remove System Restore points except the recent one using this tool.This can free up considerable amounts of space (upto 10%of your drive ).
Drive Wiper- Did you know that the files you delete on your computer and never properly erased ? They are just overwritten and can be easily dug out.To prevent this , CCleaner removes all the data in your free space meaning that no one (not even the FBI ) can recover those files.Use Complex Overwrite for military level security .
Video Demo
[youtube]http://www.youtube.com/watch?v=oHeUmrw1oyk[/youtube]