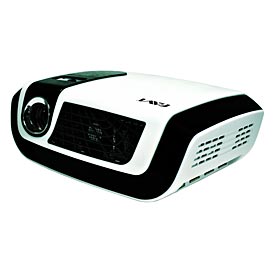 Favi a company known for their projectors has announced their new project the android 4.0 Dual Core Gaming projector. It has a 720p resolution and also is 500 ANSI lumens. The Favi A4 has a 1GHz dual-core Cortex A9 processor and 1GB RAM as well as 16gb of internal memory. It can project up to 200 inches diagonally and it can connect with two HDMI ports, three USB ports, one VGA and one composite input. It works with DLNA digital media streaming technology and can play thousands of apps on google plays market place. This can be done by utilizing the in built Wi-Fi (802.11 b/g/n) or using Ethernet.
They have announced that a iOS and Android app will be available for tablets and phones. The accelerometer I/O is sent from the users device to the projector; which will allow for the use of tablets and mobiles as a controller and air play features can be used. A handheld mouse comes with the product and will work by being held up in the air and being moved around. This means you can play games, watch movies and browse the internet in style.
If you want to change projection settings, All functions are accessible within the OS and when released it may  be able to be controlled with a device with USB input.  It offers multi-touch screen control and keystone correction, also mirroring screens, projector to monitor is supported.
Scheduled to release this year in april the Favi A4 gaming projector will be an interesting thing to have and for a $999 price tag you will be able to have plenty of hours of fun and entertainment in your living room.
I've been interested in gaming and computing for many years and using this knowledge I create videos for Dragonblogger.com's youtube and occasional articles for the site. I've been writing for Dragonblogger for over a year and it's been awesome. My content usually is around product reviews and gaming.