For someone such as myself that loves to record audio and has recorded several podcasts, I always have to make certain that when I am recording that the quality of what is being recorded is excellent. The need for great audio quality being recorded is a must for those recording their own voice as well as any other sound such as music. That's where the Samson G-Track Pro Studio USB Condenser Microphone comes into play. This handy little microphone is going to give you that professional quality that you are looking for when you are in a need to record your voice or any other music or musical instrument.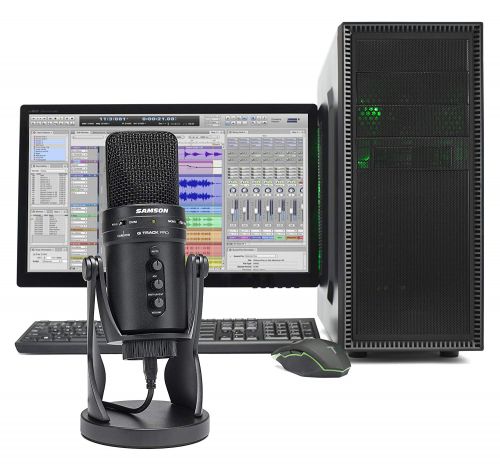 This device allows you to easily set it down on any flat, level surface and has the ability to record in multiple directions, ensuring to be able to pick up any sound that you need it to. This microphone is also perfect for those that do any streaming on sites such as Twitch or YouTube to add that professional touch you have been looking for on your stream. The front panel has a built-in mixer giving you the control that you need when it comes to your audio levels whether it be for an instrument, headphones and even the microphone itself. For those playing an instrument and are in need of a microphone to record your songs, the G-Track also includes a built-in audio input so that you can plug in your guitar which makes it rather easy to record your latest hit.
The three different pickup patterns are great for whatever range you are trying to record and are really easy to change on the fly by way of a switch on the front of the microphone. The Cardioid is perfect for those that are streaming or podcasting and only want sounds to be picked up at the front of the mic. The Omnidirectional is perfect for those doing a podcast and has multiple people at a table as it is able to use the microphone to its fullest by being able to pick up sound in all directions. Lastly, the BiDirectional mode which only picks up sound directly in the front and back of the mic while ignoring any sound coming from the left or right of the mic which works great for interviewing someone across the table from you or two singers singing a duet.
Samson G-Track Product Features:
All-in-one: Professional USB microphone with an audio interface. Record your voice and instrument at the same time.

The right mic: Ideal for streaming, gaming, podcasting, and recording music

At your fingers: Front panel mixer with microphone level, instrument level, and headphone volume controls. Selectable Mono or 2-Track recording modes and Direct Monitor On/Off.

Built for the studio: Dual 1″ (25mm) condenser capsules with three selectable pickup patterns – Cardioid (unidirectional), bidirectional and omnidirectional

High Definition Audio: 24-bit, 96kHz resolution. Plug-and-play, no driver installation required

Connect: 1/4″ instrument input for connecting guitars or line level devices

Listen: 1/8″ stereo headphone output with level control for zero-latency monitoring

Built tough: Die-cast zinc construction with a heavy gauge mesh grille and integrated desktop base