We are influencers and brand affiliates.  This post contains affiliate links, most which go to Amazon and are Geo-Affiliate links to nearest Amazon store.
The weather is getting colder, the nights longer and soon Christmas will be here. Its the perfect time to grab something warm to drink and do some online shopping.  Black Friday sales and Cyber Monday sales are just around the corner. perfect time to make a list and be ready to catch some deals on some must haves for the gamer in your life.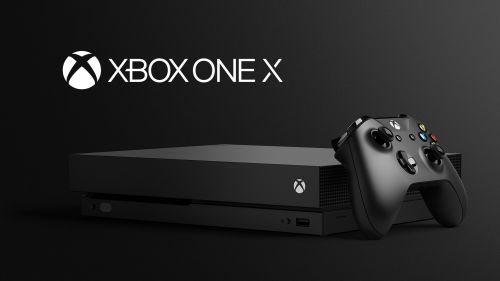 If you are planning on a large purchase then Xbox One X was released yesterday. This new console will work with all your regular Xbox one games and accessories.  Comes packed with 6 teraflops of graphical processing power and a 4K Blu-ray player, and 40% more power than any other console providing a more immersive gaming experience. I did buy this yesterday and the visual aspect is beautiful.  
Play 4K games like Forza Motorsport 7, Super Lucky's Tale, Crackdown 3 and Sea of Thieves, the way they're meant to be played on Xbox One X. Lose yourself in worlds built for true 4K gaming, where action is brought to life with 2160p frame buffers, High Dynamic Range and Spatial Audio
Play on the world's most powerful console. Experience 40% more power than any other console

Games play better on Xbox One X. 6 teraflops of graphical processing power and a 4K Blu-ray player provides more immersive gaming and entertainment

Play with the greatest community of gamers on the most advanced multiplayer network

Works with all your Xbox One games and accessories

Great for 1080p screens-games run smoothly, look great, and load quickly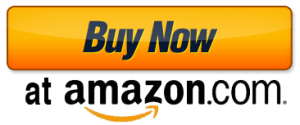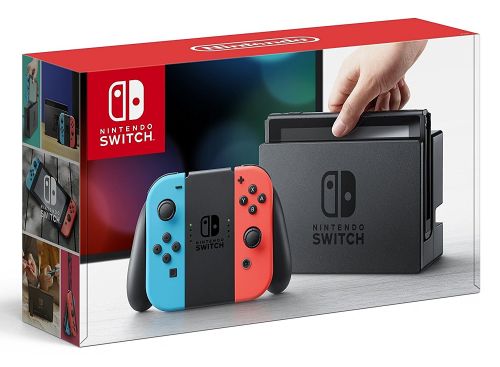 Back in March 2017, Nintendo released the Switch.  This console will not play any of the Wii or WiiU games.  The main component is the Switch Console, a tablet-shaped device that's packed with cutting-edge hardware allowing you to play this at home on your big screen or to take the tablet with you and play on the go.  Connects easily to your TV using just a HDMI cable and a power cord. 
home video game system from Nintendo. In addition to providing single and multiplayer thrills at home, the Nintendo Switch system can be taken on the go so players can enjoy a full home console experience anytime, anywhere. The mobility of a handheld is now added to the power of a home gaming system, with unprecedented new play styles brought to life by the two new Joy-Con controllers.
PLAY ANYWHERE
Home Gaming System
At home the main unit rests in the Nintendo Switch dock, which connects the system to the TV and lets you play with family and friends in the comfort of your living room.
On-the-Go
Lift Nintendo Switch from the dock and instantly transition to handheld mode for on-the-go gaming. By sharing Joy-Con, players can go head-to-head while away from home. You can also enjoy the same great games in tabletop mode by using the included stand to prop the system up.
New Play Styles
Remove the detachable Joy-Con from either side of Nintendo Switch for more play styles:
One player can use a Joy-Con in each hand
Two players can each take one
Multiple Joy-Con can be employed by numerous people for a variety of gameplay options (additional Joy-Con sold separately)
Slip a set of Joy-Con into a Joy-Con grip accessory, mirroring a more traditional controller. Or, select an optional Nintendo Switch Pro Controller.
Bring together up to 8 Nintendo Switch systems for local face-to-face multiplayer.
Nintendo Switch console, Nintendo Switch dock, Joy-Con (L) and Joy-Con (R), and Two Joy-Con strap accessories

One Joy-Con grip, HDMI cable, and Nintendo Switch AC adapter
Games are the best gift overall for any gamer. Here are a few of my top picks.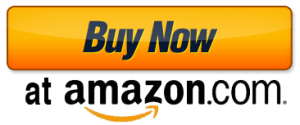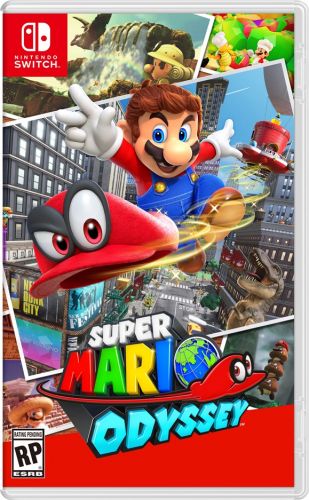 Released in October 2017. If you are buying this for someone who has a Nintendo Switch or buying a special someone a Nintendo Switch then this game is a must-have for the gamer of any age.  This game is only available to play on the Nintendo switch.
Explore huge 3D kingdoms filled with secrets and surprises, including costumes for Mario and lots of ways to interact with the diverse environments – such as cruising around them in vehicles that incorporate the HD Rumble feature of the Joy-Con controller or exploring sections as Pixel Mario.

Thanks to his new friend, Cappy, Mario has brand-new moves for you to master, like cap throw, cap jump, and capture. With capture, Mario can take control of all sorts of things, including objects and enemies!

Visit astonishing new locales, like skyscraper-packed New Donk City, and run into familiar friends and foes as you try to save Princess Peach from Bowser's clutches and foil his dastardly wedding plans.

A set of three new amiibo figures* – Mario, Princess Peach, and Bowser in their wedding outfits – will be released at launch. Some previously released amiibo will also be compatible with this title. Tap supported amiibo to receive gameplay assistance – some amiibo will also unlock costumes for Mario when scanned!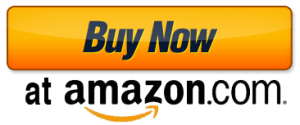 Released this month. I might be a bit biased as I am a bit of a Call of Duty fangirl. This is the Sequel to 2012 Black Ops 2. This is the 12th game in the Call of duty series.  No Treyarch title would be complete without its signature Zombies offering.  The Zombie has its own storyline. Black Ops 3 Zombies is the most immersive Call of Duty Zombies to date. This game is playable on Xbox One, PS4 and for PC gaming.
INTRODUCING A NEW ERA OF BLACK OPS: Call of Duty is a dark, gritty future where a new breed of Black Ops soldier emerges and the lines are blurred between our own humanity and the cutting-edge military robotics that define the future of combat.

A CALL OF DUTY CAMPAIGN UNLIKE ANYTHING BEFORE IT: Treyarch elevates the Call of Duty social gaming experience by delivering a campaign with the ability to play cooperatively with up to four players online, using the same battle-tested network

PREPARE FOR A LEVELED-UP MULTIPLAYER With Black Ops III, Treyarch premieres a new momentum-based chained-movement system, allowing players to fluidly move through the environment with finesse, using controlled thrust jumps, slides.

FIGHT THE UNDEAD IN AN ALL-NEW HORROR STORY No Treyarch title would be complete without its signature Zombies offering – a full-game experience with its own distinct storyline right out of the box. Black Ops 3 Zombies is the most immersive.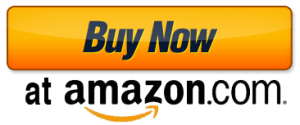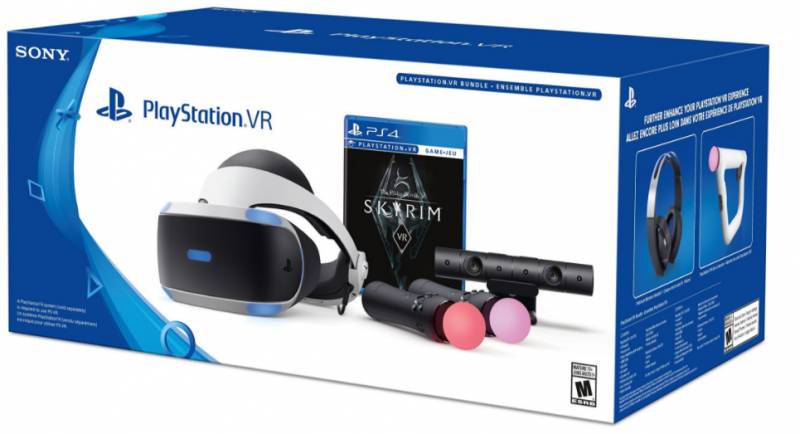 This month there is a new Elder Scrolls V this month that will work with the VR headset for PS4. You can get a better deal buying the bundle above versus just buying the headset. there are a few games out now that will work with this and make a completely different gaming experience.
Bundle Includes PlayStation VR headset, PlayStation Camera, two PlayStation Move controllers, and Skyrim VR game.
A true, full-length open-world game for PS VR, The Elder Scrolls V: Skyrim VR reimagines the complete epic fantasy masterpiece with an unparalleled sense of scale, depth, and immersion.
Simply plug your PlayStation VR and PlayStation Camera into your PS4 system and transport yourself to new gaming worlds like never before.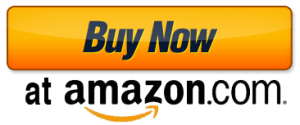 We are influencers and brand affiliates.  This post contains affiliate links, most which go to Amazon and are Geo-Affiliate links to nearest Amazon store.
I am a stay at home mom of 3 crazy kids. I love Game of Thrones, Harry Potter, Lord of the rings, marvel movies etc..