Want to control the downloads on your ever running PC with a swipe on your smart phone or from another computer ? The uTorrent guys have come up with uTorrent remote to do just that !
After initially setting up uTorrent remote , it can be accessed from a web browser easily , it works in Mobile devices also (there is even an Android app for it).
Setting up uTorrent Remote.
Make sure you have the latest version of uTorrent by hitting the Help > Check for Updates option.
Now open up uTorrent settings located at Options > Preferences (Ctrl+p)

Enable uTorrent remote and set an computer name and password and also an security question.
That is all the configuration needed , now visit remote.uTorrent.com in a computer , iPhone or in an Android phone using the app (Android market – uTorrent remote )
Here is an screenshot of the WebUI from a PC.

Logging WebUI requests for security
Switch to the Logger tab and then in verbose logging , select  WebUI requests .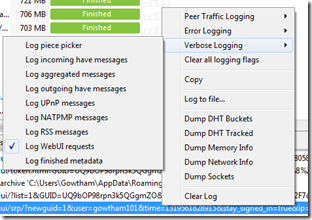 uTorrent plus is gonna be released soon and this feature might become a premium one so watch out !