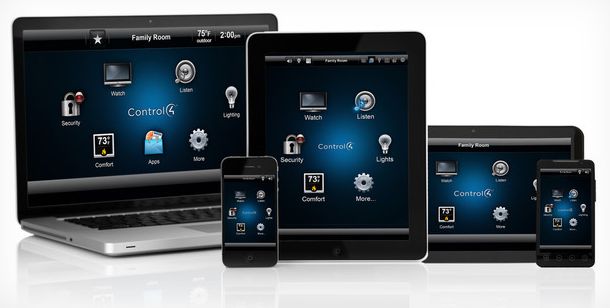 Control4, one of the leading company in affordable IP based home automation systems, today announced the Control4 MyHome application for Android based smartphones and tablets.The new application will let users to take total control over there video, music, lighting, thermostat, security, etc., right from their mobile devices.
"Android's fresh features and popular marketplace have driven mobile platform's popularity, and now our customers want the convenience to interact with their Control4 systems from their new Android devices," said Martin Plaehn, Chief Executive Officer of Control4. "Like our MyHome iPad™ and iPhone™ apps, both popular additions to our lineup, we anticipate the new app for Android will let our dealers put the best Control4 interface in front of our customers. With smartphones and tablets topping most holiday gift lists, we're expecting more and more consumers to demand home control from these devices…and we are delivering."
Thanks to new apps for popular platforms of smartphones and tablets, dealers can now deliver best control interfaces based on customers specific needs to control functions in their homes. The application is now available on both Android and iOS, as well as PC version.
The MyHome application is also available to mix and match different platforms among the Android, iPhone, iPad, or even PC or Mac interfaces into a single Control4 system. For those who want to add MyHome capability to their systems, the enabling license for multiple devices at a single location, or site, is $499, while a single device license is $199. Homeowners who already have a MyHome site license can add support for their Android devices for free, by simply downloading the app.
The Control4 MyHome app is now available for free download from the Android Market or the Amazon Appstore for Android. The MyHome application for Android supports Android operating systems version 2.1 to 3.2. The app is also available in iPhone/iPod version and iPad version for free.
[youtube width="500″ height="380″]http://www.youtube.com/watch?v=LqDJyCBEsS8[/youtube]
[easyazon_block asin="B006MYCGWI,B0051VVOB2″]
Gadget freak, mad abt cars, share my b'day wid A R Rehman, no wonder i m mad abt music, DSLRgrapher, Blogger…