We've all been there: you are done with your work and close out only to realize you didn't hit the "save" button. You sit there and stare at your screen, and all the emotions flood over your body while you try to figure out if you can save your files. Thankfully, if you're on an Android device there are now programs that can help you immediately get back your files without worry. Today we'll break down the benefits of the Android data recovery program, Disk Drill.
The Best Solution
Disk Drill is an advanced tool for recovery of damaged or deleted files, be it Word documents, photos, videos, call logs or text messages. It is known for working even after a factory reset! A rightful heir to a popular Pandora Recovery, the Disk Drill Android data recovery tool works with hard drives, flash and SSD drives, and also SD cards. It also operates on both internal and external storages of smartphones, including Google Nexus. With Disk Drill Android, all of your data on all types of Android devices can be recovered. Let's take a look at its main functions so you know how it works.
Disk Drill Capabilities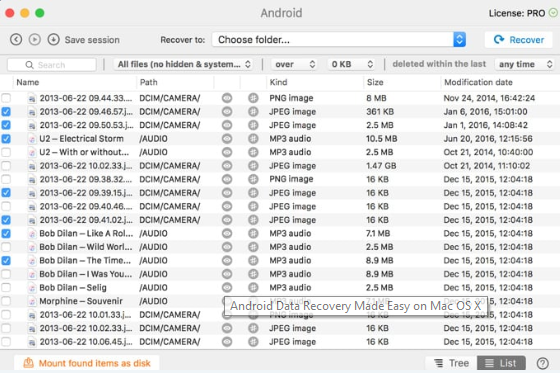 There are a wide variety of Android recovery software options out there. However, most of them only perform simple tasks like restoring documents or only pictures. Disk Drill recovers almost any type of file you could accidentally delete. It can recover over 200+ different file types with multiple recovery methods. It goes far beyond the typical document and file restoration and it can recover almost any type of file that you lose on your device. You can even recover deleted text messages on Android with Disk Drill! Android devices don't erase any information before it is overwritten, so enable Disk Drill through your laptop as soon as possible and find your SMS safe and sound! With Disk Drill, you don't need expert coding or software skills. Anyone with any level of technology can use this software to recover their files. It only take a few minutes once you get it started and you'll quickly have all your files again. Disk Drill is now available for iPhone, too.
Bottomline
If you are searching for advanced free photo recovery software for Android or want to restore an extremely important file, Disk Drill is what you need. This software is easy to use and has an intuitive navigation. Above all, Disk Drill is exactly what you need if you find yourself stuck and need to recover your files right away.
I am interested in all things technology, especially automation, robotics and tech that helps change how society will live in the future.