We are influencers and brand affiliates.  This post contains affiliate links, most which go to Amazon and are Geo-Affiliate links to nearest Amazon store.
Looking for a high-quality drone for professional recordings? There are two popular brands that are competing for the first place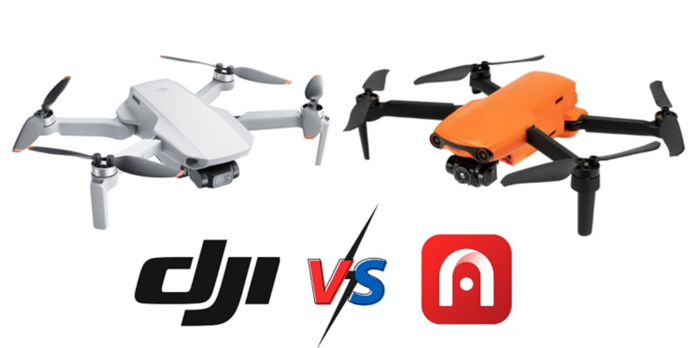 Drones have become popular in recent years and it's not something we should be surprised about. Although drones usually seem like an expensive product, the truth is that you should keep in mind that many of them are equipped with new technology that makes them much more efficient, which means better video quality and a lasting battery. You have probably tried a drone before, but if you are a beginner or are weighing in on getting your first drone or upgrading to a better one you would surely like to know which is the best option.
In the drone business, there are two popular brands that offer you the best specifications, DJI and Autel. These two brands compete to offer the best drones at the best price. Both brands are premium, so even their most affordable drones can seem a bit expensive to some people. So, this time I will try to explain which of those brands is better for you, none is better than another, they are brands that offer high-quality drones, so it is difficult to choose which is the best.
We will make a comparison between 4 of the best-selling drones of DJI and Autel, with similar prices to be as fair as possible. In the entry, the range will be competing for the DJI Mini 3 Pro and the Autel EVO Nano. The comparison in the high range will be between the DJI Mavic 3 Pro and the Autel EVO 2 Pro V3, both options offer you incredible results, so rest assured that you will be satisfied no matter which option you choose. Note that high-end drones are available above $2000 and entry-level drones under $1000.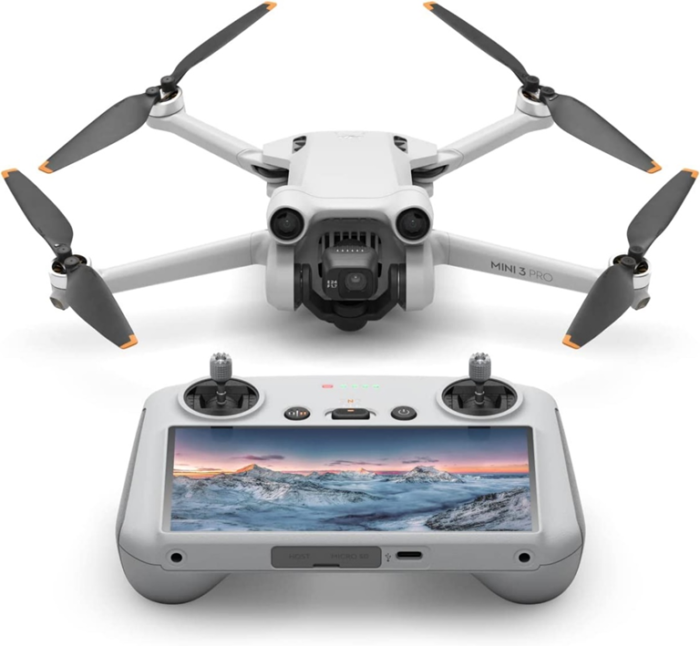 The DJI mini Pro 3 is one of the best-selling drones, so it's a great option for beginners who want to get a high-quality drone for less than $1000. This drone offers you a native resolution of 4K/60fps for high-definition recording. It's a foldable drone that weighs less than 249 grams, so you don't need to register the drone. It includes smart features that will help you control the drone with ease, so if you've never used a drone before, this might be your best bet. The DJI mini Pro 3 can detect obstacles with multidirectional detection, which prevents most accidents, so the drone will stop if for some reason it is near an obstacle (trees or mountains for example). The battery gives you a flight time of 34 minutes.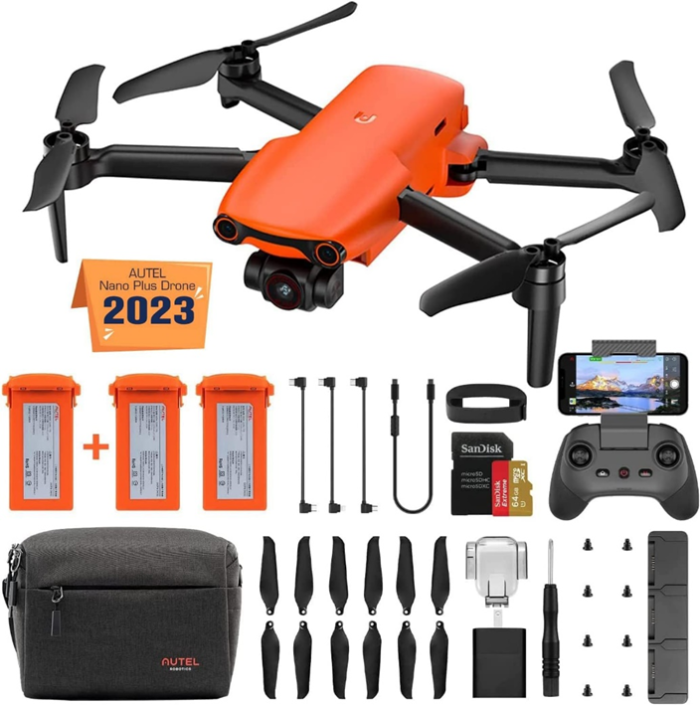 The Autel EVO is another amazing drone available at a great price. If you buy the kit shown in the picture above, you will get many additional accessories for a fair price compared to the previous drone. This drone can record at 4K/30fps and offers really good video quality. Whether you try to record the scenery or a sports activity you will get a great result. The Autel Evo Nano behaves well even at night, offering you a professional result with minimal setup. The kit includes 3 rechargeable batteries, each battery offers a flight time of 24 minutes, which means that the 3 batteries will offer you up to 72 minutes of flight compared to DJI where buying an additional battery can be too expensive. The video transmission is also incredible, you can control the drone at a distance of up to 10km and still get the video signal (the remote control does not include a screen, so you will have to use your cell phone). A great buy if you are looking for the best value for money.
High-end drones
The drones that I will show below are high-end, so the price is above $ 2000. I'll try to be more critical, but both drones still deliver incredible performance.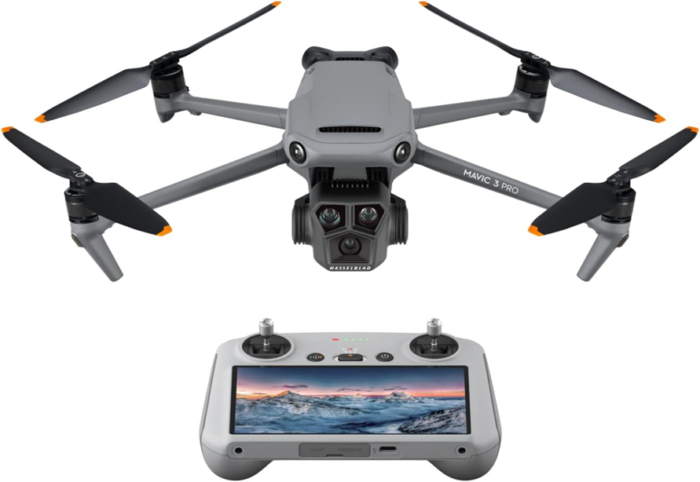 If you are looking for the best video quality, then the DJI Mavic 3 Pro might be the best choice. This is a drone equipped with three cameras to obtain professional and personalized results according to the user's demands. 4K? I think if you're paying so much for a drone then you should get the best technology. The DJI Mavic 3 Pro is capable of recording at 5.1k/50fps AND 4k/120fps, ensuring high-quality recordings. It is equipped with the best artificial intelligence to help you control it with great ease and thus be able to obtain professional recordings. The remote control is designed so that you can still get the video stream at up to 15km, which is very impressive. It is equipped with 8 sensors that are of great help so that the drone can detect obstacles with ease. The battery offers 43 minutes of flight time on a single charge. An incredible drone for those looking for professional recordings and the best technology.
Autel Robotics EVO 2 Pro V3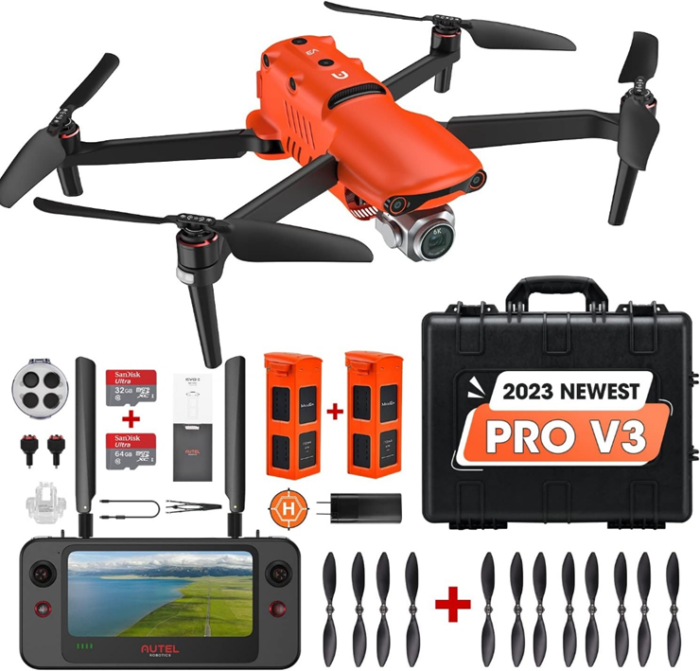 This is probably one of the drones with the best video qualities you could try. The Autel Robotics EVO 2 Pro V3 is a drone designed to give you videos with a maximum resolution of up to 6K/30fps, so it surpasses the DJI Mavic 3 Pro which has a maximum resolution of 5k. Two 7100mAh rechargeable batteries are included giving you up to 40 minutes of flying time on one charge, meaning both batteries allow you to use the drone for up to 80 minutes. The technology used in this really amazing drone, Autel uses a Sony sensor to offer you enhanced photographs and videos. Color capture has also been improved to give you the best footage regardless of location, so it's an amazing drone for cinematics and sports recordings. It includes many additional accessories so you can get the most out of your new drone. A great option for those looking for the best drone of the moment.
It has been difficult to choose the best one, all these options are great. Whether you're looking for an entry-level drone or a pro, both Autel and DJI do a great job and deliver high-quality drones. If you have used a drone before then a high-end drone would be the best option, but if you have never used one then entry drones are a great buy (these drones still offer premium video quality).
We are influencers and brand affiliates.  This post contains affiliate links, most which go to Amazon and are Geo-Affiliate links to nearest Amazon store.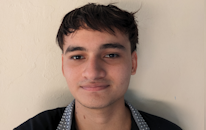 My name is Joel! I love to read, I go to university like most people my age.
In my free time I usually train boxing, I love music, I also know how to play the guitar and the harmonica.