We are influencers and brand affiliates.  This post contains affiliate links, most which go to Amazon and are Geo-Affiliate links to nearest Amazon store.
Amazon continues to do a fantastic job creating a portable Amazon hub with it's Kindle Fire line of devices and nothing could showcase this further than with the Kindle Fire HDX which was just announced as a 7″ version and a 8.9″ version.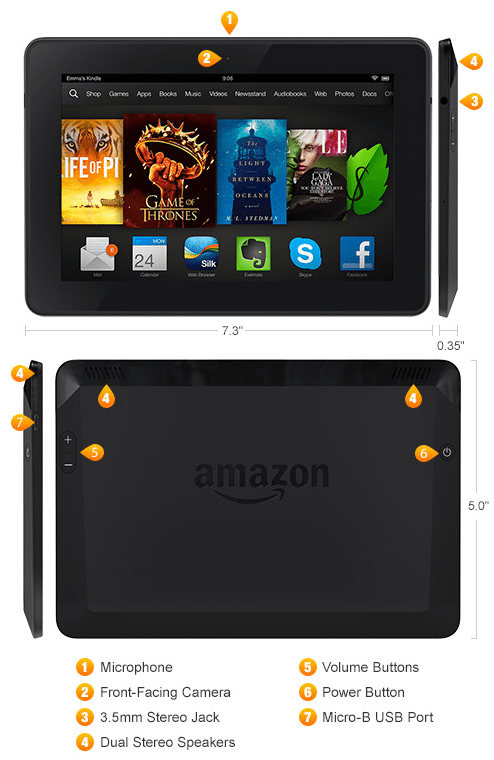 The Kindle Fire 7 HDX is clearly the latest and greatest in hardware with a 2.2 ghz quad core Snapdragon 800 and an Adreno 330 graphics processor.  This is a bit faster and more powerful than the 1.5ghz CPU and Adreno 320 graphics of the Google Nexus 7 though how many would notice the difference in actually using the device I wonder.
The Kindle Fire 7 HDX claims console quality graphics and no doubt games with bleeding edge tablet graphics capabilities will exist and come out eventually, but right now there is nothing on par with Infinity Blade 3 or other games that I know of on the horizon and neither the Kindle Fire HDX nor Google Nexus 7 can stack up against the Apple A7 chipset but still they are probably as good as any game can take advantage of right now and for the foreseeable future.
The Kindle Fire 7 HDX 1920×1200 at 323 ppi is on par with the 323ppi of the Google Nexus 7 and the Kindle Fire 8.9 HDX has an amazing 2560×1600 at 339 ppi, which is far shaper than the 2048-by-1536 of the iPad retina display.
I find it interesting how Amazon is targeting the Enterprise more with VPN support, and support for encryption of the user partition of the device to secure data.  It seems with it so connected to the Amazon cloud and as a gateway for Amazon service consumption it wouldn't be an overly attractive device for most enterprises except for those in media industries.
The ad supported version of the Kindle Fire HDX makes it the same cost as the Google Nexus 7 but you will be seeing lock screen ads and have more intrusions to get it at the same price. The new Mayday button gives you 1 click support to Amazon where they physically can draw on your tablet to help show you how to use it or perform functions on it and this is a fantastic feature for the casual users who may have trouble figuring out how to use it.
Without a doubt, the Kindle Fire HDX would be the ideal tablet for older generations and I would get one over the Google Nexus 7 for my Mother in Law in a heartbeat.  However, my kids crave games, new games, powerful games and more choices.  They listed quite a few games, does it have this, does it have that.  Terraria being one example of a game that exists in Google Play and doesn't exist in the Amazon Android App store.  My kids also really love personalizing and messing with all the functions/features of exploring their device they crave open and experimentation, the extremely use friendly Fire OS is geared toward simplicity in using your device as a gateway for content.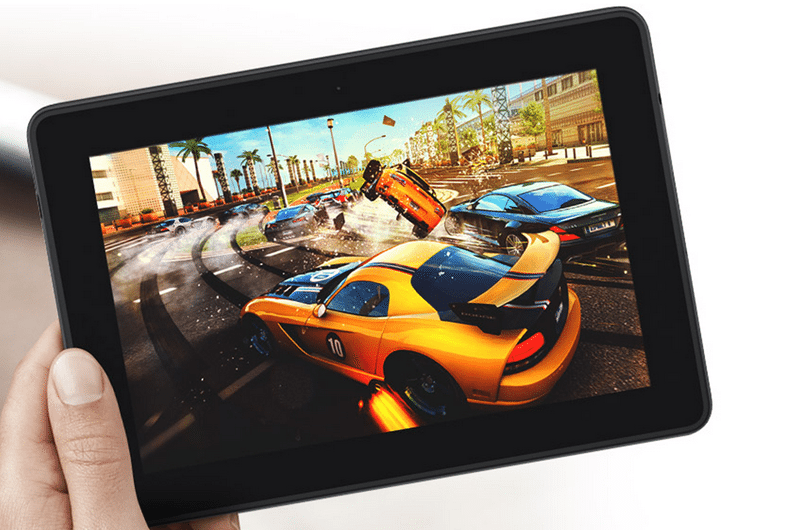 Speaking of content, the ability to download now and put your Amazon Instant Video content on the Kindle Fire HDX so that you can watch movies, TV Shows while you have no Internet connection is fantastic.  This is a feature I wish Netflix would let you do, queue up a show and download it locally for 24 hours or so before it flushes.  This is a huge boon for my kids who go on 5.5 hour car rides once or twice a month to San Diego and instead of having to pack my Kingston Wi-Drive with content before hand, they can simply queue their Amazon Prime content before they leave.
The Kindle Fire HDX is advertising 11 hours of battery life, when doing any activity that requires processing power and if reading only it auto powers down non-critical components to extend battery life to up to 17 hours.  The Kindle Fire HDX claims to perform better in outdoor lighting conditions than any previous model by having a dynamic image contrast.
Second Screen is also coming, this allows you to stream movies from your Tablet to your compatible device like a game console or Samsung TV so that your device is freed up to act like a remote or use for emails/web browsing while the video is streamed to a big screen instead.  Second Screen will be available starting in October for PlayStation 3 and Samsung TVs, and later this year for PlayStation 4.  You can also mirror your tablet screen to your TV so others can watch on the big screen while you showcase movies, photos or even your gaming.
Amazon is also pushing their new Amazon coins and giving a 10% discount for buying games and apps with Amazon coins.  New Kindle Fire owners get 500 Amazon coins ($5 value) right away. You can also save a ton of money on College Textbooks by using Kindle eTextbooks. Saving up to 80% when you rent and up to 50% when you buy Kindle eTextbooks.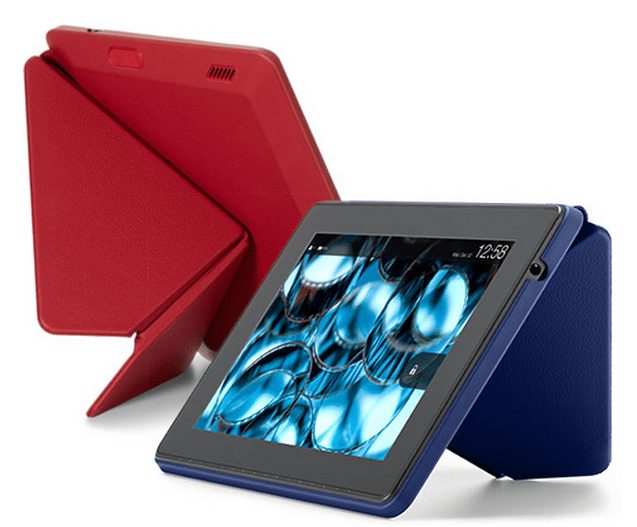 The new Origami cover is pretty slick too allowing you to use the tablet hands free in a variety of different ways.
The Kindle Fire HDX is also a brilliant choice for parents who want to get a tablet for their kids, with Kindle FreeTime you can control how long kids can use the Kindle for watching movies or using apps, and you can set unlimited reading time as well.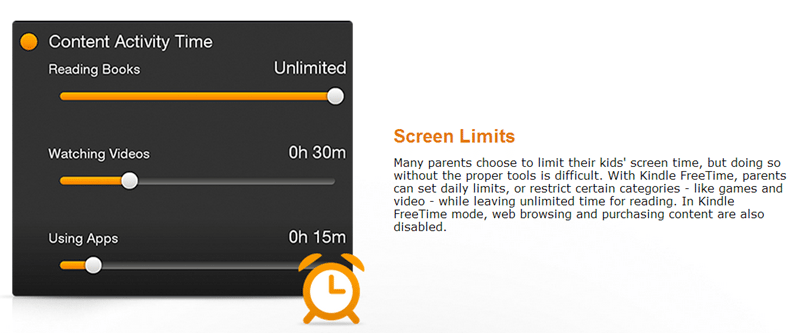 For $2.99 per month for Prime Members you get a ton of kid content which includes videos, games, books, apps and none of it has ads or in-app purchases.  This makes it an ideal kid friendly solution for kids under 8 I would say, though my kids are a bit more advanced and would find this too restrictive. The multiple user profile makes it perfect to share 1 Kindle Fire HDX with multiple kids each having their own profile and taking turns that can be set for them and their profiles.
Right now the Kindle Fire HDX is a very attractive tablet at an attractive price, I would really have no trouble recommending it if it wasn't for the fact that there are 20x more apps and games in the Google Play store than in the Amazon Android App store. Now, Amazon Android App store does have less junky apps, and more safe apps due to better screening but still many high quality games and apps simply don't get imported into the Amazon Android App store in a reasonable time frame. With Amazon creating it's own gaming development division we may start seeing high quality exclusive games for the Kindle Fire HDX that may change the game, but for now if you care about the number of apps, games and flexibility of having an open Android tablet, then the Google Nexus 7 is still a better bet.  If you care more about watching movies, TV Shows, reading books and your primary consumption is with Amazon and Amazon Prime then the Kindle Fire HDX is a fantastic choice.
I won't rule out the new iPad that is set to announce before the holidays, iTunes app store still has the highest quality games and apps out there and nothing like Infinity Blade 3 has shown up for Android devices yet though there have been games close there still just isn't as high end developer/game company activity for Android Game Stores like iTunes and I am hoping the trend changes faster.  When you think about the purpose of a tablet, if it is primarily a gaming device then iPad still leads with options, Nexus 7 with Google Play would probably be second.  But make no mistake the Amazon Kindle Fire HDX is impressive and if you are already big on Amazon and their platform then this is an ideal fit.  I have been an Amazon Prime customer for years and buy so much content from Amazon including Prime video rentals, games, digital downloads and more.  Amazon wants to compliment your living room as well with it's Second Screen and X-Ray functionality.
We are influencers and brand affiliates.  This post contains affiliate links, most which go to Amazon and are Geo-Affiliate links to nearest Amazon store.
I have been obsessed with computers, tech, gadgets and games since the early 1980's having grown up on the Commodore 64 and Amiga computers.
By day I work in the IT Security Industry and have been in IT for over 20 years. On my spare time I am a Vlogger, Blogger, Streamer, Gadget Reviewer, affiliate marketer, influencer and entertainer. I am also an avid movie fan, TV Show fan, Anime fan, video game fan and fan of trying anything and everything new.