We are influencers and brand affiliates.  This post contains affiliate links, most which go to Amazon and are Geo-Affiliate links to nearest Amazon store.
Tablet Express has tablets for nearly everyone in the family, even children. Their kids line of Dragon Touch tablets in all honesty is a lot like all of the rest, except for a few things that set it apart from not only their own tablets, but the competition's as well.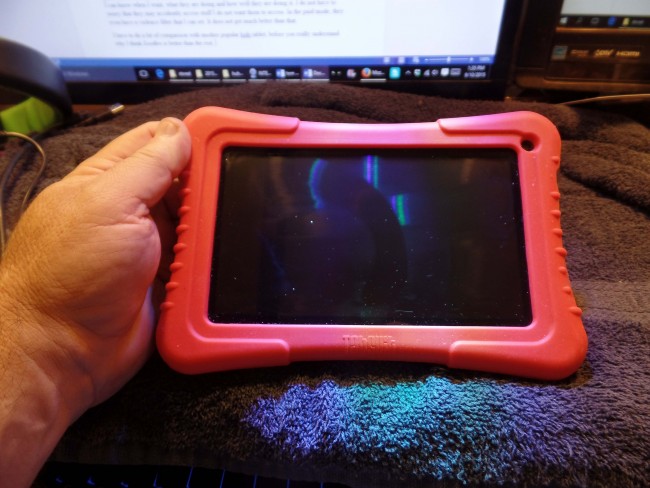 Unboxing Video
One of the first things that makes the Dragon Touch M7 a kids tablet is the size. A 7 inch tablet is big enough for most little hands, without being too big. My youngest granddaughter is turning 3 soon and it is just right for her tiny hands. Another is the case that comes with it. It comes in one of 4 colors, Pink, Green, Red, and Blue and it surrounds all 4 sides as well as the back of the tablet.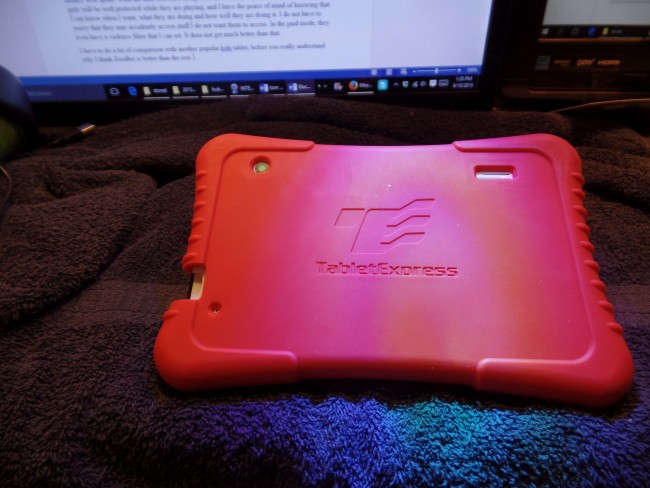 The rubber is snug fitting and is thicker on the corners than everywhere else. I like that a great deal. I also like that it covers all the edges and back completely. This makes it more difficult for kids to slip it off.(My granddaughter was always taking the bumper off her old tablet which slipped off faster than one you say "don't take that off"). There are two holes cut out for the front and rear cameras, and they fit the camera spots perfectly.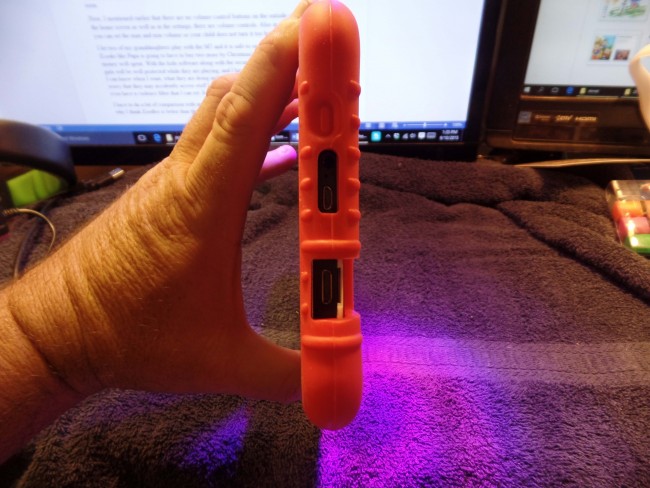 Another thing that is different is the lack of an external volume control. I will get back to why this is good very soon. But for now, it is an obvious feature. There are slots for a Micro SD card, and a mini HDMI slot. The only other external control being the on/off button on the side.
Features of the Dragon Touch M7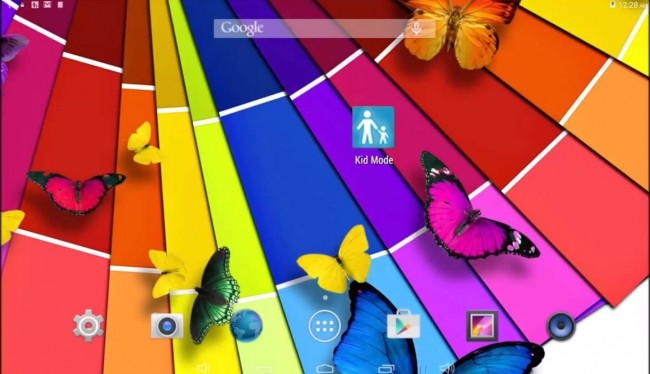 The internals in terms of storage are not high, but should be sufficient for young children. It comes with 1GB of RAM and  and 8 gigs of storage. The processor is a quad core at 1.3GHz. That's not too shabby. The OS is KitKat 4.4 and has all the standard software normally found on all Dragon Touch tablets. (This is the 4th Dragon Touch Tablet we have owned and the 2nd one to be reviewed by me. For further looks at included features, see this review).
One bit of software that sets this tablet apart from all the rest is the Kids software. It is called Zoodles, and it is neat. One of the nice things is that it does not pre-load. Now some might think that this is a bad thing, but this allows you to decide when the child uses the tablet, as well as you can use it as a normal tablet as well, without having to exit the software for kids first.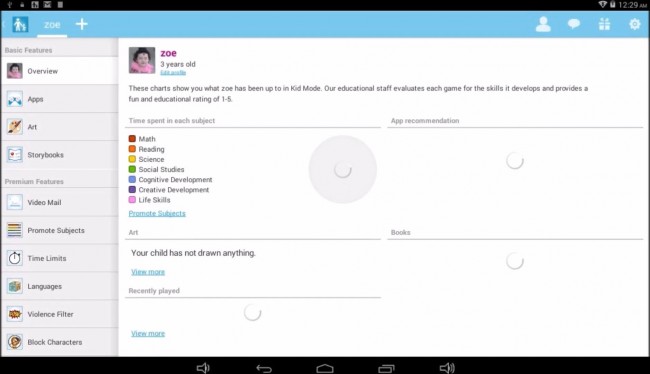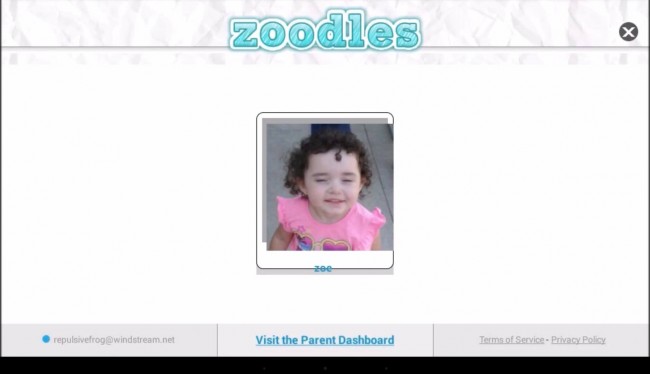 The Zoodles software comes in two parts. First is the parents interface. This is where you as the parent can set up who plays with the tablet in kid's mode, and what software they get to play with. It also lets you see what your child has been doing and allows you to promote some software over others. You can order books, games and other things you want your child to play with and you can send video mail to your child as well.
Kid Mode Video
There is a companion to this on the Web so that you can also do all of this from your home computer. You can invite family members to send messages to your child and order additional services for them there as well. This is nice. You're not tied to just one means of seeing and checking on your children's progress.
The next is the kids side of things. Once started, they have access to only the software and activities you choose for them to. If you have installed additional games for them to play, they will not show here unless you gave them access in the parent's portion of the software. If you do not enable internet access, they have no internet access. I have also learned that to have the games and other activities show up, you need to have internet access.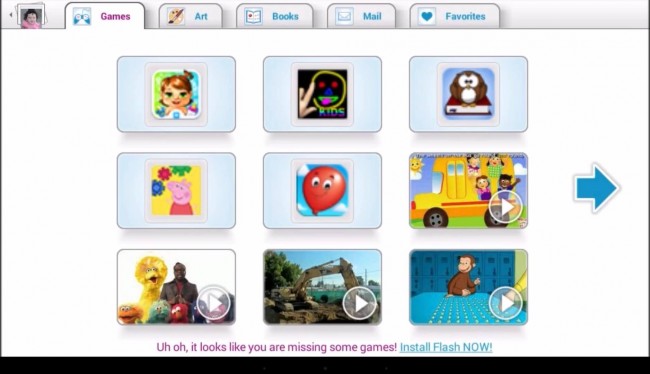 There are two installs so to speak of, the Zoodles software both the free and the paid. Under the free, you have a handful of videos in the games section and a coloring book to draw on, 1 story book, and a few other features as well. With the paid subscription which could run monthly or you can purchase a full year, You get more activities and games, more free books, greater educational controls, weekly reports, time limits, and so much more. I am going to get the yearly subscription soon.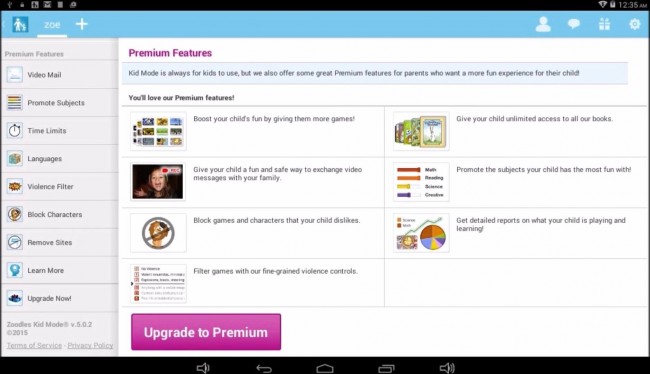 Now, I mentioned earlier that there are no volume control buttons on the outside of the tablet. On the home screen as well as in the settings, there are volume controls. Also in the parent mode, you can set the max and min volume so your child does not turn it too high or too low.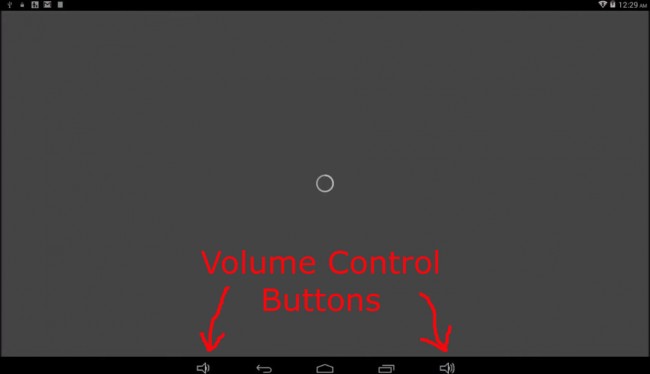 I let two of my granddaughters play with the M7 and it is safe to say that they want one now. (Looks like Papa is going to have to buy two more by Christmas). And in my opinion it will be money well spent. With the kids software along with the security it provides, I know that my girls will be well protected while they are playing, and I have the peace of mind of knowing that I can know when I want, what they are doing and how well they are doing it. I do not have to worry that they may accidentally access stuff I do not want them to access. In the paid mode, they even have a violence filter that I can set. It does not get much better than that.
Kids Playing on the Dragon Touch M7

I have to do a bit of comparison with another popular kid's tablet, before you really understand why I think Zoodles is better than the rest. I can say that this other tablets case slips off too easy and does not protect the tablet completely. As a result, my granddaughter has cracked 2 screens within weeks of getting it. Not only that, but the included software was not as complete and easy to use as the Zoodles software. I have always said that if you do not want a child to access certain things, hand it to my granddaughter and she will find a way. My granddaughter spends more time stuck in parent modes on not only the tablet that was posted in the picture comparison but, other ones available for Kindle Fire as well. With separate kids and parents modes, this is less likely to happen.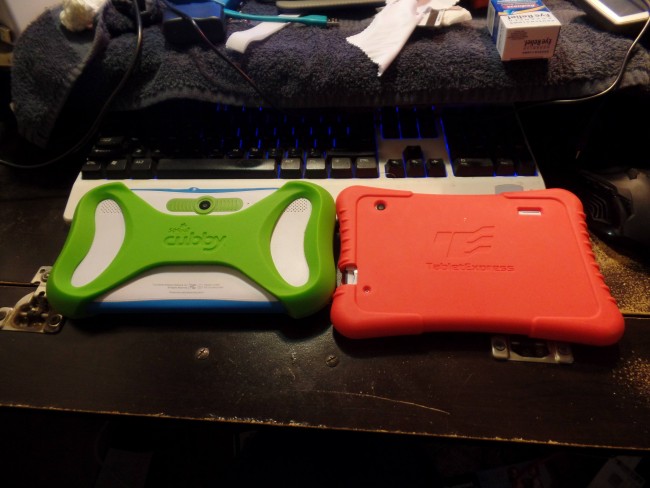 There is one requirement that the Zoodles software needs that is not a part of android, it is also not available from the where they link you too for download, at least not directly. You will need to go to this page to find the file you need to use to install flash. The file is a little more that 3/4 of the way down the screen under the heading "Flash Player for Android 4.0 archives". This is the file I installed and it works. Just select it and download it, and you should be fine. It you have any problems, ask an I will be happy to help.
Well folks, that's about it for this review. If you cannot tell already, I love this tablet. Not just as a tablet, but as a means of entertaining my granddaughter, and helping in her education as well. For that reason, I highly recommend the Dragon Touch M7 Kids tablet, and believe that you will as well.  This tablet is also priced at under $70 currently on Amazon making it a truly great deal.

Disclaimer: Tablet Express provided us with the Dragon Touch M7 (2015 Model) so we could do a showcase and share thoughts on the product.  All opinions are 100% authors and authors alone.
We are influencers and brand affiliates.  This post contains affiliate links, most which go to Amazon and are Geo-Affiliate links to nearest Amazon store.
I have worked in and around many different types of computers. In the Navy, I used a magtape drive computer that was a step down from pen and paper. I later worked for a big computer company and after that, taught computer class's nation wide. I had the privilege of teaching 14,000 students in a 2 years period of time. Afterwards, I owned a small computer training and repair shop for a few years. I have owned C-64's, Pc's of various types, Amiga's, and even Mac's. I now have included the android to my collection. At any time, I have close to 15-20 computers or combinations of computers and game systems in the house. I look forward to more.