We are influencers and brand affiliates.  This post contains affiliate links, most which go to Amazon and are Geo-Affiliate links to nearest Amazon store.
So I had no idea that when dyplay sent me their Active Noise Cancelling True Wireless Earbuds I would end up considering the my favorite wireless earbuds to date that I have reviewed.  I want to go into the experience and how I believe for under $100 I haven't not yet tried any earbuds that were wireless that sounded this good but also had such an important feature for "transparent mode" which I will go into later.    First lets talk about the dyplay Wireless earbuds and what you get when you order them.
dyPlay Wireless Earbuds What's in the Box
USB Type C Charging Cable
2 Sets of Earbud Tips (Orange and Memory Foam)
Earbud Charging Case
Wireless Earbuds
Features
Bluetooth 5.0 – Which is compatible with iOS, Android and any Bluetooth Device offering greater range and faster transmission for less latency or interruption. Airoha Mcsync TWS tech ensures easy, fast and auto pairing by simultaneously connecting your device to both wireless earbuds.
Charging Case – The case itself where you seat the earbuds to charge also is a portable power bank for the earbuds storing 32 hours of portable charging.
8 Hours of Battery Life – Each earbud has 8 hours of battery life, so that is 8 total hours if using them in stereo mode between charging or 16 hours if you use them one after another in mono mode as a headset for voice chat for example.
9.2mm dynamic drivers – According to dyplay their custom composite diaphragms deliver an authentic and precision audio experience. These drivers drive deeper bass and more clarity than typical 6mm earbuds and sound much better.
Mono/Stereo Modes – Both earbuds have independent connection capability so you can remove both earbuds and get stereo pairing or remove 1 earbud for individual pairing.  Each earbud has its own microphone as well so each can truly be completely independent in function. AB155X chip of MCSync Tech transmit sound to the left and right simultaneously, no more relay sound from one ear to the other.
Transparent Mode – You can hear what you want to hear, which lets outside sound in so you can hear and interact with the world around you.  This feature was the one that most impressed me and more on that later.
Active Noise Cancellation – dyplay Bluetooth TWS earbuds adopts feedforward + feedback dual-mic ANC tech to significantly reduce background noise.
Touch Buttons – the buttons on both earbuds are touch sensitive this means you have nothing to press hard and cause ear discomfort when you want to play, pause, skip tracks or answer/hang up calls.
dyplay TWS Wireless Earbud Review Video
Now if you are here to read the review instead of watching the video, let me walk you through it.  I unboxed the earbuds to find them nestled in the case and already half charged on arrival.   The battery case itself also came with 3 out of 4 lights indicating around 75% charge so technically I could have used them immediately but I charged it to 100% either way as is standard for when any product arrives.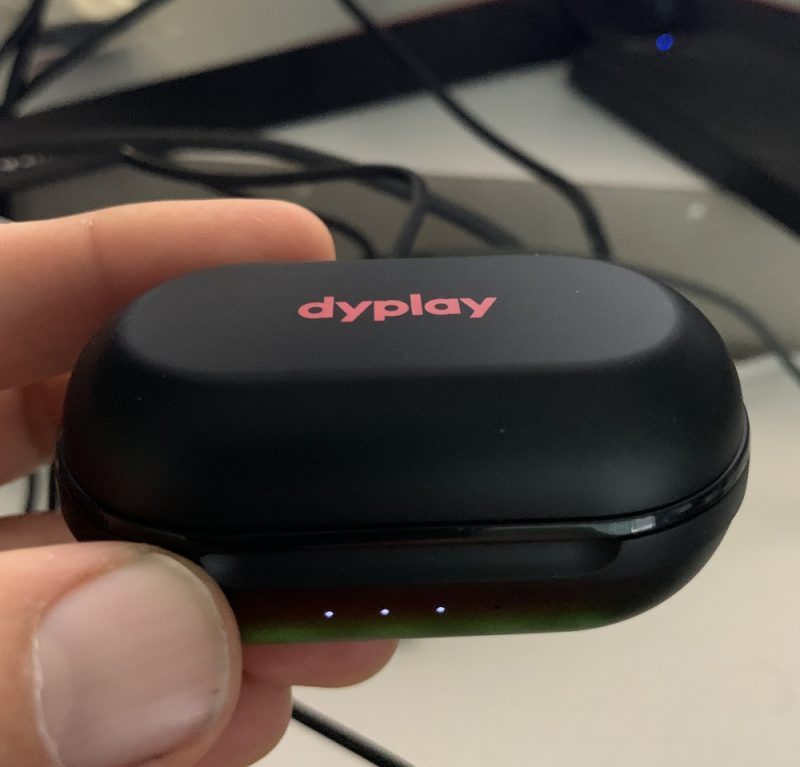 Right off the bat I appreciated that they use the latest USB Type-C charging port and cable, because with a small case that is black you don't need to be fiddling with making sure your MicroUSB port is turned the right way, especially when it is such a short provided cable to use.  This also allows for faster charging and the case when drained to just about no battery fully charges in about 2 hours.  This means your case provides over 30+ hours of charging capacity off of a single 2 hour charge, on top of the 8 hours of battery life the earbuds have by themselves.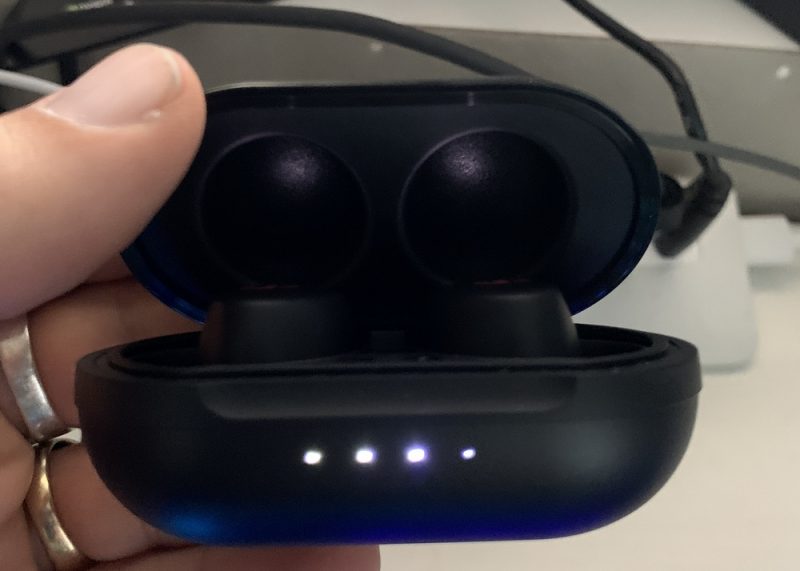 Opening up the case you can see the earbuds fit just perfectly inside their little cradles, I didn't capture a pic of it but there is a tiny little orange/red rubber cap on one of the pins in each of the cradles and you must remove this cap for the earbuds to charge.  These was there to prevent the earbuds from charging and draining the case while they sat in stock and during shipping.  You should remove the rubber "caps" on the charging pins immediately then plug your dyplay case in and charge your earbuds before pairing.  You know the earbuds are chargingwhen you see a light glow on each earbud showing it is connected properly and charging.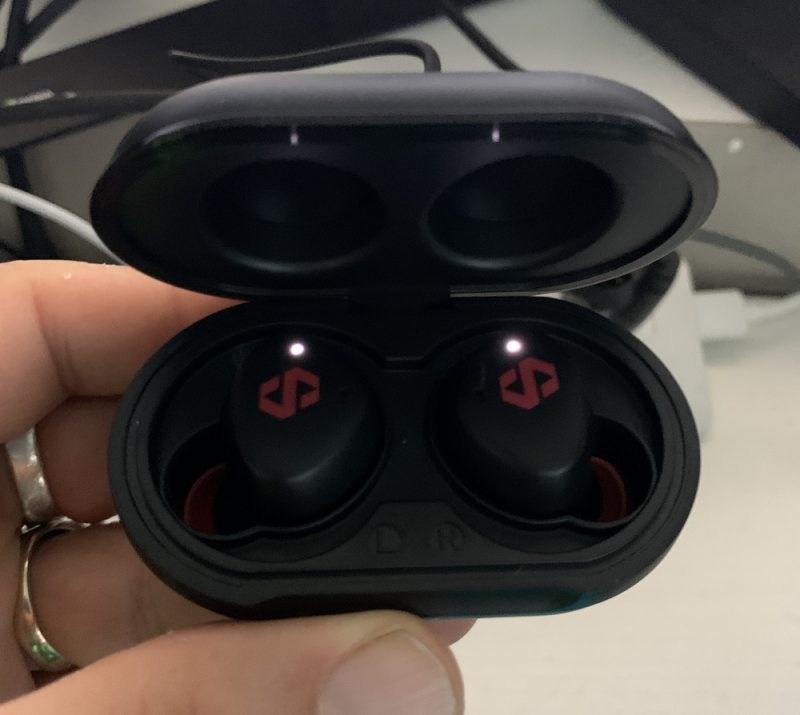 Now let me tell you right away, after you are done charging these earbuds make sure you immediately take off the orange tips that come on them an put those away, the sound quality and fit is just terrible on the default orange silicone earbuds which are too thin and will give you a bad impression of these earbuds if used.  The gel foam earbud tips included are fantastic and so much better at keeping the sound focused in your ear canal while blocking out background noise better all at the same time.  I cannot stress enough how much better these earbuds sound with the gel foam tips instead of the default thin silicone orange ones so make sure you pay attention to that remark.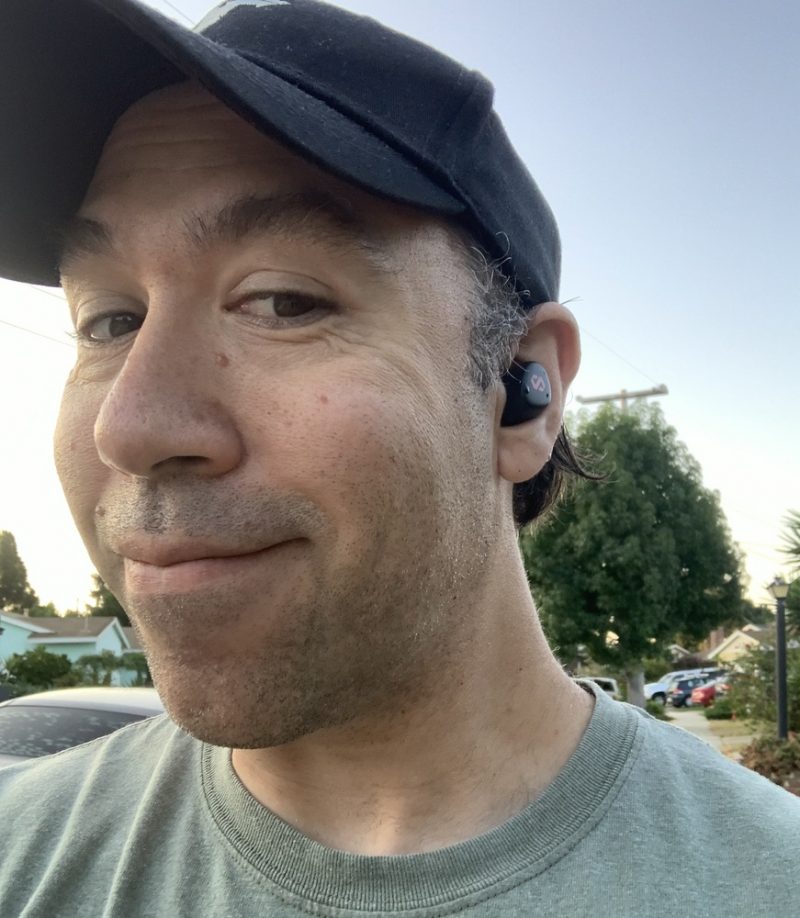 I have used the dyplay earbuds for weeks and let my teenage son use them as well.  He is only 13 and has much smaller ears than me so I wanted to make sure that these earbuds could fit various ear shapes and sizes, and I can tell you that neither my son nor myself had problems getting these earbuds to fit in the ear and then you spin them to lock them in place.  They nestle against the conchae part of the ear perfectly for me, though were bigger than my sons conchae so kind of bulged out a bit though still stayed firmly in place.  I was able to do running, jogging, jumping jacks, push ups and various deliberate jerky movements to see if I could get them to fall out of my ears and they simply do not, they stay put.  Normally I would prefer ear hooks or ones that hook around the ear but I found these to be extremely well designed and kudos to dyplay for that.  My son's ears were smaller and they worked for him walking around the house, laying in bed, but if he got very physical or tried to aggressively shake his head he could dislodge them because his ears were smaller and the earbud didn't seat deep enough in his ear, but he will grow into them and they would not fall out when just walking or casual use for small ears/kids.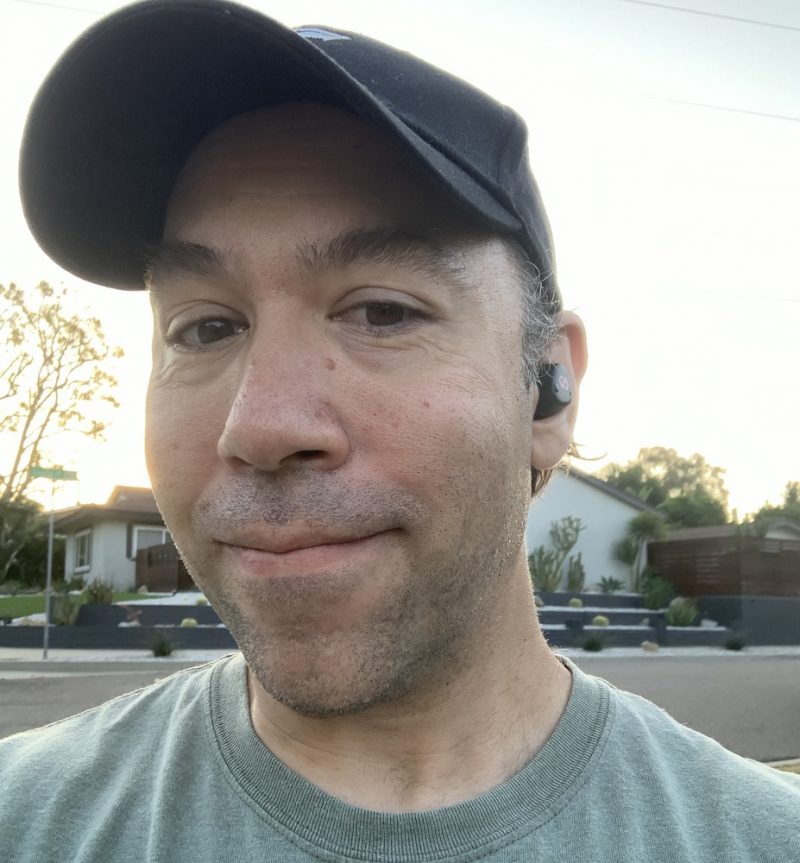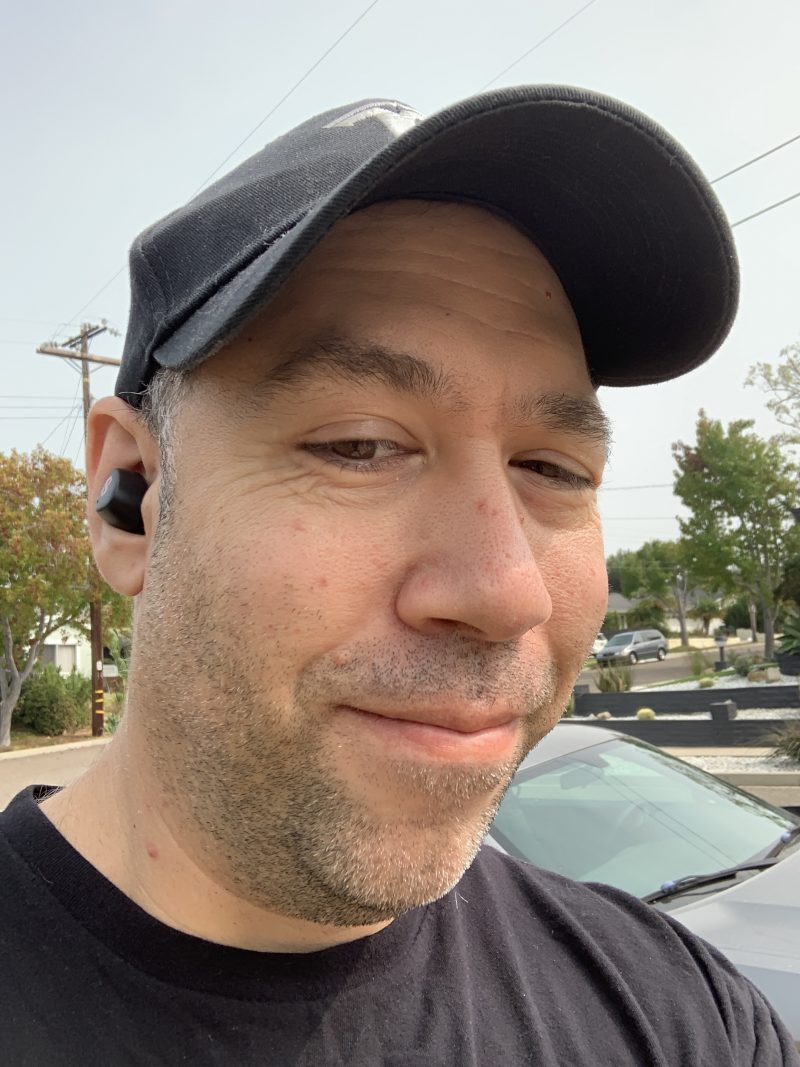 The sound quality was excellent, I listened to over 80 songs on my Spotify Workout playlist covering everything from Metal, EDM, Trap, Country, Classical, Rap, you name it and I played it.  The bass was very good for TWS wireless earbuds, I have only heard better with wired 12mm driver earbuds, I enjoyed the sounds of these more than my wife's Bose earbuds which are nearly twice as expensive.  As far as the microphone, if you didn't watch the video above, then you can get a sample of how the microphone on one of these TWS earbud sounds here right here by clicking play.
I found them more than passable for a call in a quiet area, but the ANC doesn't cancel out background noise for the microphone as much as it helps reduce the noise you hear. Before we get to the ANC modes which will finish up the review, lets go over the touch buttons.
The buttons on both earbuds are simply tap sensitive and I mean really sensitive.  I did appreciate that you tap gently and the right ear is used for play/pause/fast forward track, answer calls, engage siri (unless using only left earbud), and in stereo mode the left earbud is for ANC on/off/transparent and previous track.  The touch buds though are so sensitive that just brushing my hair which was kind of long at the time away from my ear and grazing the earbud triggered a tap, so just be aware the slights brush against them will trigger a tap.  This is a good or bad thing depending on how much you have to wipe your hair away from your ears.
dyplay TWS Wireless Earbuds ANC Modes
ANC Off – this is basically not having any ANC mode enabled, they simply function as normal earbuds and your background noise is only muted by the gel memory earbuds.
ANC On – This is where the earbuds will use microphones to listen to the ambient noise around you and mute it as much as possible so that you can listen to your music or audiobook without hearing any background noise.  I particularly tested this out on windy days, around traffic, when the neighbors lawn mower was going and with high velocity fans in my house.  I found the ANC to be very good, not the best I have heard but very good.  It did a significant job in reducing the ambient noise when it was a very consistent whirr/hum or buzz, it wasn't so much for landscaping or where the volume fluctuates of the background noise but was still better than most ANC earbuds I have tried.
Transparency Mode – Okay this was the most impressive mode for me just because it is such a necessary security feature in my opinion.  Transparency mode is the opposite of ANC basically, it is where the earbuds listen to outside sounds and directly feed them into your ear while you are listening to music, it is a bit too distracting to use while listening to voice like audio books and conference calls, but this feature is INCREDIBLY beneficial if you are someone who goes out jogging or running in the very early morning or late hours.  If you were ever jogging and started by a car being too close, or another person running up behind or near you and you didn't hear them but saw them when it would have been too late to avoid an emergency, then this mode is for you.  You can hear other footsteps, cars and outside noises without issue.  This is ideal when you NEED to be able to hear something that happens around you and you can't just tune out the world.  Like enjoying music but have a sleeping child (or puppy in my case) and you need to know when they wake up, you can wear the buds, put them in Transparency mode and know that when an outside sound needs to be heard you will hear it without worrying about it being cut off or muffled since the sound is captured and put directly in your ear with whatever you are listening to.
To me the Transparency Mode functionality pushed this over the top, I already liked the comfortable fit, sound quality and microphone quality, the ANC was very good and this Transparency mode just pushed this to the top.  All of this in earbuds less than $100 dollars and closer to the $90 mark and I was not disappointed in the slightest.  My son literally says these are the best earbuds he ever listened to and better than airpods and uses these all of the time now.
And I want to remind you yet again, use the gel memory foam earbud tips not the orange silicone ones that come on them.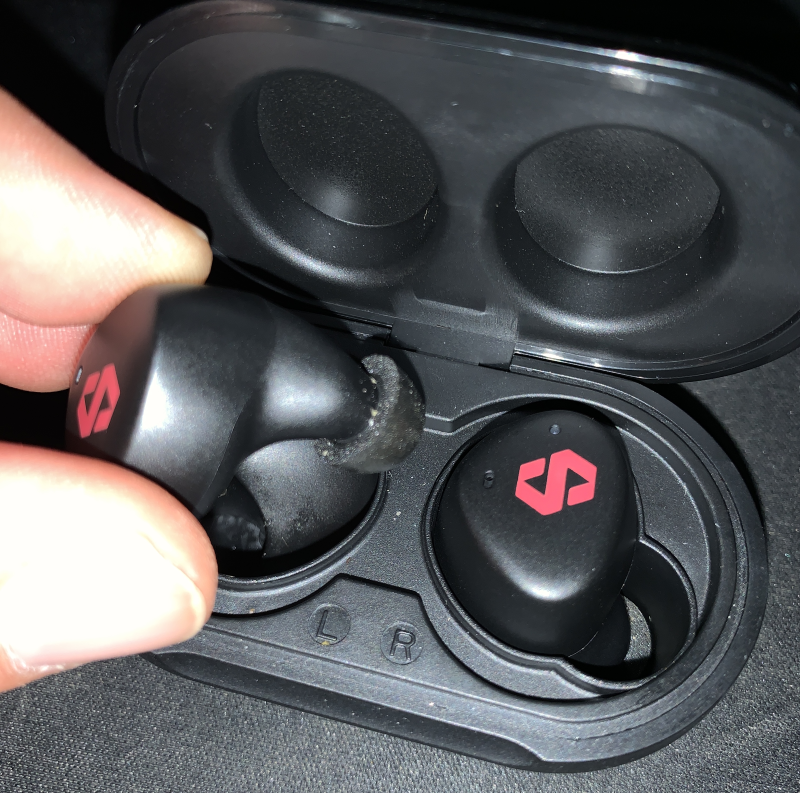 In Summary
I have not tested better Bluetooth TWS earbuds for under $100 and the dyplay TWS Wireless Earbuds hit every mark very well for me.  Maybe the microphone could have slightly improved noise cancellation and I would love to see what 12mm driver versions would sound like, but overall I can tell you both my son and I were so happy with this product he literally demanded that I give this maximum marks.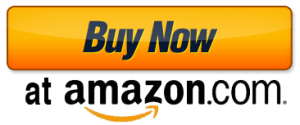 Or Check out dyplay website direct:
We are influencers and brand affiliates.  This post contains affiliate links, most which go to Amazon and are Geo-Affiliate links to nearest Amazon store.
I have been obsessed with computers, tech, gadgets and games since the early 1980's having grown up on the Commodore 64 and Amiga computers.
By day I work in the IT Security Industry and have been in IT for over 20 years. On my spare time I am a Vlogger, Blogger, Streamer, Gadget Reviewer, affiliate marketer, influencer and entertainer. I am also an avid movie fan, TV Show fan, Anime fan, video game fan and fan of trying anything and everything new.