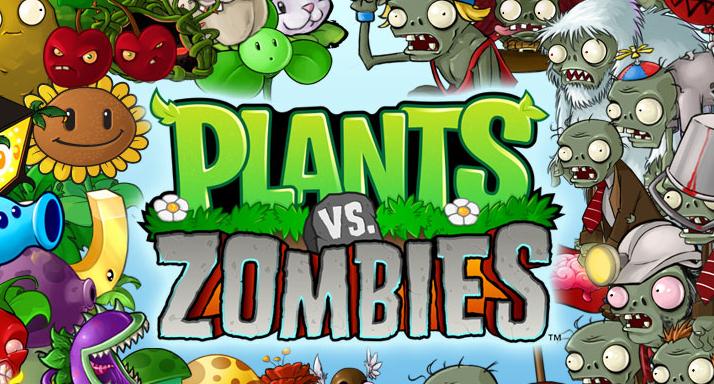 Wow, I never saw this coming a thrid person shooter made with Plants Vs Zombies in mind… Well now it is a reality with PopCaps new game Plants Vs Zombies Garden Warfare. Today at the EA Press Conference they showed us a  game demo where they took on zombies on a certain level. It started with a pan over of a mansion where lots of zombies were based. One of the devs played as a peashooter showing the constant stream of peas which were raining down upon the zombies heads. The game looks interesting. At first glance we can see that the camera is based from a shoulder perspective and in the bottom corner is a few pictures with the option to toggle to them. It seems that these are abilities and also the ability to choose other plants to use.
In the demo the devs were using a host of new and old plants to take down the zombies and also the two bosses which they were faced up against. Some plants included a cactus sniper, the peashooter which seemed to be an assault. An onion that was able to fly and create oppressive fire for the others aswell as send in a artillery launch which can strike zombies, not only did we see this but there was also a venus fly trap which was apparently the up and personal plant being able to chomp the zombies just like in the original games.
Overall the graphics were quite good and while it seemed comical at times, I feel from demo perspective the game looks to give a good balance of both fun and entertainment in the shoot em' up side of things. It seems that there will be different levels for players to choose from however this is just a guess from what they showed us in the press conference. As popcap are known for their humour don't be surprised if they have alot of comedy in the game and especially suspect Crazy Dave to turn up to help you out.. who knows, maybe he will even have a shop for you.