In this modern world, there are so many electronic devices around us. Either they come with rechargeable lithium battery or they will need the traditional batteries. However, not all devices can support the fancy lithium batteries. After the certain amount of charge, they will start losing their power faster. That's why the manufacturers still produce the traditional batteries such as Double A size. One of the most concerned issues about them is how unenvironmental friendly they are. When their lives are over, we have to dispose them. This creates a huge amount of waste which is harmful for the environment. Fortunately, companies are starting to produce more rechargeable batteries. In this article, we will showcase you the 3000mWh Double A rechargeable batteries from EBL.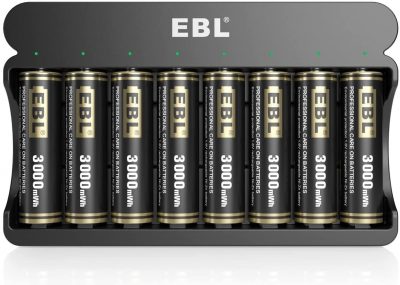 EBL – The leading brand in the field
With more than 20 years of experience in the field, EBL has been conducting a lot of researches to manufacture what customers need. They always focus on providing high quality products for everyone persistently. The EBL Ni-Zn AA rechargeable battery we are introducing today is not an exception. Thanks to the 3000mWh large capacity and 1.6v, the EBL Ni-Zn AA batteries can provide max power. This helps the batteries last longer in your devices. This will come extremely helpful, since you don't have to replace your device's batteries more often. It can support multiple high-powered demanded devices such as digital camera, portable video, Games, Flashlights, remote controls, toys, electric razors and so on.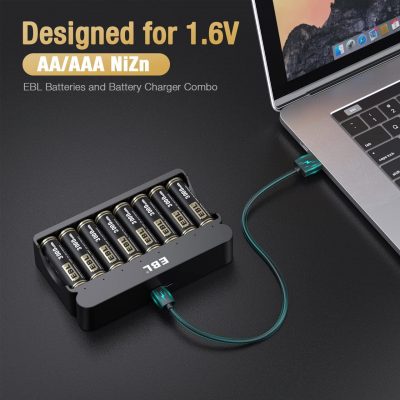 The EBL's advantage
As a fact, these EBL Ni-Zn batteries have much higher performance than the AA Ni-Mh batteries. According to the EBL's research, 3 PCS of the Ni-Zn AA battery could replace 4 PCs AA Ni-Mh battery. In addition to that, thanks to this newest high performance technology, the battery can keep 1.6V constant discharge ultra fit devices with high power consumption.
Another advantage that EBL offers with their Ni-Zn batteries is how environmental it is. Thanks to the nickel and zinc, these batteries are easier to recycle. Especially, when we put it on the scale to compare with other batteries e.g. Ni-Mh, Li-lon, Alkaline. Moreover, the Ni-Zn adopts a unique structure, which prevents the batteries from generating unnecessary heat during charging process. This is a very important feature. It will keep you and your family safe when you are not aware.
The most beneficial advantage, obviously, is how easy customers can charge these batteries. The Ni-Zn equips an advanced recycle technology and high quality cells. This helps the batteries to recharge up to 1000 cycles, with no memory effect. The batteries could support constant 1.6 voltage until the whole cell is depleted. As a result, the batteries provide high efficiency in the electronic devices.

The advanced Battery Charger
Even though the batteries are rechargeable, you still need the device to charge it. Fortunately, the battery charger is a part of this bundle as well. This charger is compatible with Ni-Zn AA and AAA rechargeable batteries. The feature I like the most is independent slots with corresponding battery icons. These icons visualize the charging process, helping users to see the charging process. You don't have to estimate when the charging will be done. Moreover, you can see the individual process of each battery while they are being charged. Moreover, the charger comes with 8 individual slots allowing you to charge up to 8 batteries at once. This is a time saving feature. You don' have to wait to charge completely everything.
Another interesting feature is double charge ways. The charger comes with two charging ways: type C and Micro USB. This gives customers a lot of beneficial choices. If there are something wrong with a cable, they will always have a backup option for the other charging ways. Furthermore, the charger also comes with safety feature. It supports protection against over charge, over discharge, over voltage, over current and short circuit. Not only will it keep your device safe, but also it will protect your family as well.
Video Showcase
The EBL Ni-Zn 3000 mWh rechargeable batteries with charger are available for purchase at this link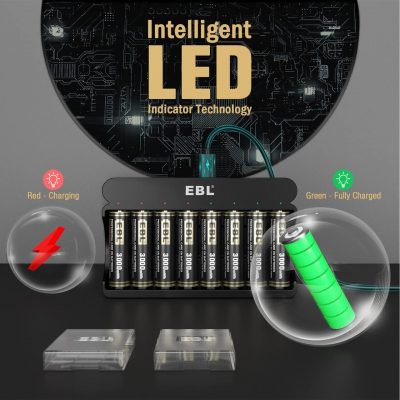 If you can't find me at the table coding, then you can find me at another table playing boardgames. I want to share the fun, the intense, the `ah-ha` moments, the sabotage, the nerve wracking experience … that Boardgames can offer to the community.