We are influencers and brand affiliates.  This post contains affiliate links, most which go to Amazon and are Geo-Affiliate links to nearest Amazon store.
Sometimes you just don't have the space for a full sized PC setup. Size isn't everything however as Z&S shows us with the powerful product they have on offer for us to look at today. This is a product for anyone that just wants a nice, portable PC that still packs enough power to handle all the business applications the modern work requires to function. It's also fantastic for a home work space where you simply need somewhere to work without the clutter that a full sized PC provides, but you need a little more power than your average laptop. I could even see it being useful for a business trip if you pack a small monitor, a keyboard and mouse, and wherever you're at has WiFi or LAN support. It'd even be stable enough for certain browser based games, and the real kicker here is it's upgradable! I've talked enough about my personal opinions on it though, so without further ado, lets get started talking about this fine product and really get into the nitty gritty about its specs and applications its powerful enough to support. Be sure to read to the end as there's also quite the coupon currently available.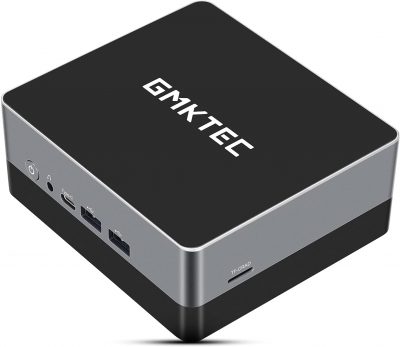 Features
First off lets go into numbers. This mini  PC comes preloaded with 16gbs of ram and a copy of windows 10. It's on an i5 processor powered by Intel, and uses an Intel integrated Iris Plus Graphics 655 card. The hard disk is an SSD, in terms of memory upgrades it supports a max micro-SD size of 128gbs and an HDD of up to 2TB, and it supports a max of up to 32gbs of ram which is more than enough for anything from basic business applications to the lighter end of adobe work, such as Photoshop and illustrator. For such a tiny box this is a ton of power that you can leverage for just about anything you could imagine.
It's extremely efficient for its size as well, the i5 processor has a processing speed of up to 4.1Ghz, surprisingly faster than AMD's Ryzen 7. The interface is fluid, and a big selling point is its heat dissipation which would generally be a problem for such a compact PC running hardware like this. It has multiple jacks for all your needs including a gigabit Ethernet jack, gigabit WiFi support, Bluetooth support, an audio jack, a pair of USB ports, and a micro SD reader. The heat dissipation is your standard fan but given the machines size, that's more than enough to keep it running nice and smooth.
Lets talk about the graphics card for a bit as well as the front facing ports. This lovely box runs on an Intel Iris Plus 655, and sports dual 4k HD supported HDMI ports. It runs at a refresh rate of 30hz which isn't too bad given the size of the machine, and thanks to the dual HDMI if you're using this for a business setup you'll have a sizable workspace to work with. Dual monitor setups are absolutely huge for any desk space really, increasing the overall efficiency of your workflow by allowing you to multitask. As someone who uses them a lot, this is an absolutely massive feature and good on them to include.
Final Thoughts
This is a surprisingly sturdy system for its size, with a variety of applications it could be used for. It's also a general boon to anyone who wants the full PC experience without all the wire clutter hogging desk space. The fact that you can upgrade the ram is a nice change from what you usually see with pre-built mini PCs, and a real solid change from the norm for things of this caliber. The big customer support feature that comes with your purchase however is Z&S promising lifetime technical support for your product, and a 1 year service warranty should it break down at any point before then. It takes a lot for a company to really ensure a products quality in a manner like that and is something to appreciate in today's world of cheap product being pushed in your face at the drop of a hat with very little quality control. I hope you'll consider picking up this PC as it's a solid investment if you fit any of the things we discussed in this article, and don't forget to get your coupon, it's a clippable on the amazon store page you can find by clicking the link below. Hurry before it's gone, and most of all, thank you for reading and have a wonderful rest of your day.
Get your Z&S brand mini PC here!
We are influencers and brand affiliates.  This post contains affiliate links, most which go to Amazon and are Geo-Affiliate links to nearest Amazon store.
I am just a 25 year old doofus who enjoys rpgs, sugar rushes, and passing out at odd hours.