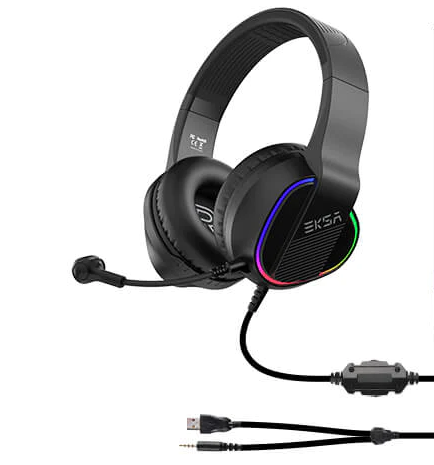 If you're into gaming, you probably already know about EKSA® E400 3D Stereo Sound Gaming Headset. But if you don't, here is everything you need to know and more reasons you have to buy.
Impressive 3D Stereo Sound technology
There's no doubt after you got your new gaming headset and you installed the driver to use it. This is when you would realize that your sound is so noisy and not a stereo sound effect. EKSA E400 3D Stereo Sound Gaming Headset is a great choice for gamers who want a headset that provides high-quality sound and an immersive gaming experience. It comes with a 3D stereo surround sound technology that utilizes dual 3.5mm jacks to deliver the best possible audio experience for you.
Soft memory foam ear cups with sweat-proof
EKSA® E400 3D Stereo Sound Gaming Headset has a sweat-proof soft memory foam ear cushion for your comfort. It is designed to stay in place during intense gaming sessions and prevents the ear from being too hot or sweaty. You can wear this headset for hours without having to worry about it getting uncomfortable.
Ergonomic design with adjustable headband and sturdy construction
The EKSA® E400 3D Stereo Sound Gaming Headset has an ergonomic design that fits comfortably on your head. It has an adjustable headband that allows you to adjust its size according to your preference. The headset also comes with sturdy construction that makes it strong enough to withstand daily usage without breaking down easily.
Built-in microphone with noise cancellation technology
The EKSA® E400 3D Stereo Sound Gaming Headset also comes with a built-in adjustable and detachable mic that can be adjusted according to your requirements so that you can get a crystal clear voice when playing your favorite games or chatting online with friends or family members via Skype, Discord or Teamspeak, etc.
The microphone has a high sensitivity design that allows it to pick up your voice even when you are speaking softly or at a low voice volume. It also has an omnidirectional design, which means that the microphone can pick up sound from all directions around it at the same time. This helps ensure that your voice will be heard clearly by your teammates during multiplayer games or video chats with friends online.
Robust 40 mm Neodymium Drivers
It has premium 40 mm neodymium drivers, which have been engineered to deliver powerful sound while delivering rich bass and crystal clear high notes.
Enormous Compatibility
The headset is compatible with many platforms. It supports PS5, PS4, Windows 7/8/10, Xbox One, and Mac OS X 10.7 or higher, which can be used anywhere in the world. And mobile phones included.
Stylish LED Lights
EKSA® E400 3D Stereo Sound Gaming Headset comes with elegant, stylish, cool, and aesthetic LED lights that let you enjoy an immersive and pleasurable gaming experience. The LED lights are one of the most important and coolest parts of this product. They are designed for both gaming and movie-watching purposes.
It is a stereo gaming headset that can be used for both professional and home use, and it is so easy to operate.
My name is Joel! I love to read, I go to university like most people my age.
In my free time I usually train boxing, I love music, I also know how to play the guitar and the harmonica.