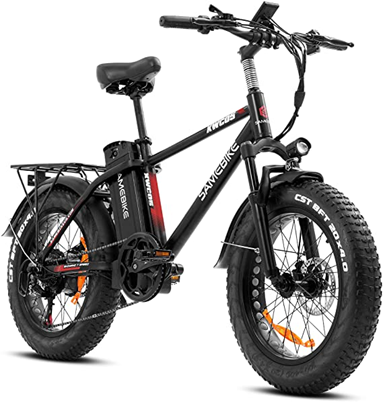 Looking for an electric bike capable of offering up to 65 miles of travel?
Electric bicycles are more than a tool for sports. The electric bicycle is an ecological, cheap, and healthy means of transport. The electric bike is ideal for anyone who wants to transport themselves to their work in an ecological means of transport. Although the main audience is athletes that do not mean that a novice person can not use an electric bicycle. In general, it is an ideal bicycle to go to work, or university, tour the city, or practice cycling. The main advantage of using an electric bicycle is that you should not exert yourself in most cases, the motor of the bicycle helps significantly to reduce fatigue. There are different models of electric bicycles. The full-size model is ideal for most people, a compact size could be less effective if you also want to use the bike for intense cycling. There are many electric bikes on the market and it can be difficult to choose the best option for you. It is not advisable to buy cheap bikes because they will surely not last long and their quality will not be the best. That's why it's important to acquire a high-end bike that can provide optimal performance. That's why I'll talk about SAMEBIKE XWC05, a bike that offers a power of 750W and a ride of up to 65 miles. If you are looking for an electric bike with these characteristics you would surely like to know more about this product.
Feature of the electric bike SAMEBIKE XWC05 750W
The SAMEBIKE XWC05 750W is an incredible electric bike capable of delivering a power of 750W. For an approximate price of 1000 dollars, you get great quality. The main feature of this electric bike is the powerful motor that can reach a maximum power of up to 1000W (It will usually offer 750W). The electric bike is powered by a 48V and 13Ah battery. You can disassemble the battery from the bike if you want better comfort. This bike uses a rechargeable lithium-ion battery. A feature of this bike is its autonomy, it can reach a distance of up to 65 miles on a single charge. Another feature of this bike is its 4″ wide tires to significantly improve stability while riding. Tires are ideal for withstanding rough roads, sand, dirt terrain, and much more. It uses 7-speed gears from the renowned Shimano brand. This bike can reach a top speed of 25-27 mph. Keep in mind that the speed will depend on your weight, weather, or road condition. The bike can support a weight of up to 300 pounds. Your family members can use this bike. The height recommended by the manufacturer is between 5.3-6.10 feet. Another feature is its high-quality disc brakes for safer braking. The manufacturer offers a 1-year warranty to replace any defective parts.
You can buy this item here: SAMEBIKE XWC05 750W Electric Bikes for Adults Up to 65 Miles EBike 4.0″ Fat Tire Electric Bike 25 Mph (Black-red) : Sports & Outdoors (amazon.com)
My name is Joel! I love to read, I go to university like most people my age.
In my free time I usually train boxing, I love music, I also know how to play the guitar and the harmonica.