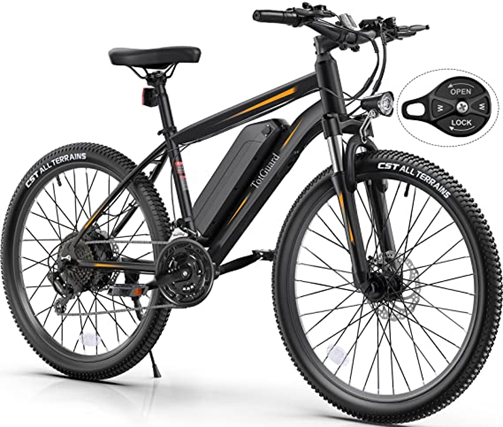 Looking for an electric bike for cycling?
Electric bicycles should be the preferred means of transport for most people. According to studies, if 15% of people used electric bicycles instead of cars, carbon emissions would be reduced by up to 12%. Bicycles are a great option if you want to protect the environment, they are also a great option if you want to improve your cardiovascular condition and stay in good physical condition. Surely a traditional bike can be boring for most people especially if you are a person who is not in good physical condition. Electric bikes are surely the best option for most athletes and beginners. Electric bikes help reduce tiredness and increase speed without needing to fatigue your body. You're probably looking for a good quality bike, but you don't want to spend more than $1000 on a bike. It is important to choose an electric bike with durable components, that is why I took care looking for an electric bike below 1000 dollars. TotGuard 27.5″ is an electric bike that provides a power of 500W. This bike is assembled with high-quality materials. If you are looking for an electric bike for less than 1000 dollars you would surely like to know more about this product.
Features of the TotGuard 27.5″ adult electric bike.
The TotGuard 27.5″ is an electric bike with a high-quality component. This electric bike provides a power of 500W. It is a bicycle designed mainly for adults. The bike is powered by a 48V, 10 Ah rechargeable battery. The battery is IP54 waterproof certified. Please note that the battery will take approximately 5 hours to be fully charged. It can reach a top speed of 21.6 mph. A feature of this electric bike is its design. It has wide tires to improve stability on rough terrain. The tires are 27.5″. The electric bike features fork suspension to reduce the impact of potholes on the road. Includes front and rear reflectors. It also includes an LED headlight that provides safer handling at night. The brakes of the TotGuard electric bike are double disc to provide safer braking. The bike is constructed of aluminum alloy to extend the service life. It includes 21-speed gears from the renowned Shimano brand. It includes a 7-speed front derailleur and a 3-speed rear derailleur. It includes an LCD display that displays useful information about battery status, kilometers traveled, speed, and time of use. Includes 3 configurable modes (Pure Electric Mode, Pedal Assist Mode, and Manual Mode). Keep in mind that this bike is 85% assembled so you will need to mount some accessories (including an instruction video).
Summary
If you are looking for an electric bike for under 1000 dollars surely the TotGuard 27.5" bike is what you need. It is a 500W bike that provides optimized autonomy. It can reach up to 21.6 mph. It is an ideal bicycle for outdoor cycling.
You can buy this item here: Electric Bike, TotGuard 27.5″ Electric Bike for Adults 500W Ebike 21.6MPH Adult Electric Bicycles Electric Mountain Bike,48V 10Ah Removable Lithium Battery,Shimano 21S Gears,Lockable Suspension Fork : Sports & Outdoors (amazon.com)
My name is Joel! I love to read, I go to university like most people my age.
In my free time I usually train boxing, I love music, I also know how to play the guitar and the harmonica.