One of the latest wireless speakerphones to come to the market is the eMeet Luna, which is great considering that more people and companies are leaning towards conference calls or video meetings instead of the traditional in-person meetings, because of social distancing. My favorite feature about this speakerphone is the auto-off, so the speakerphone automatically turns off after being inactive. Besides only being $99, here's everything you need to know about this speakerphone.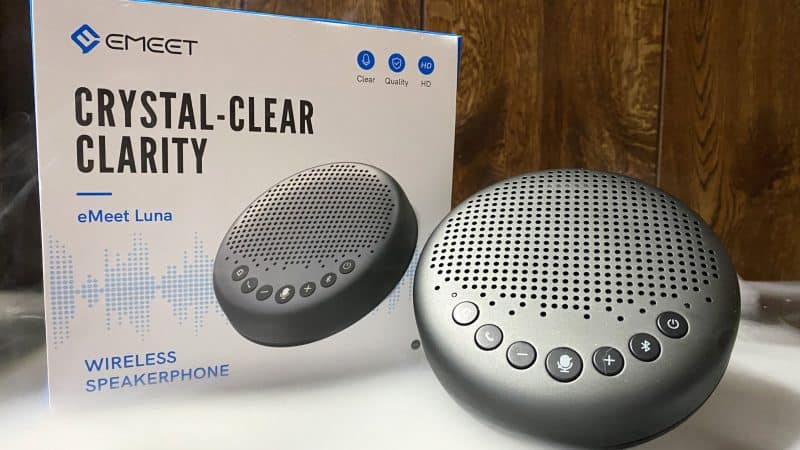 What comes in the box?
When you buy the eMeet Luna speakerphone it will come with the speakerphone, a USB A to USB C cord, 3.5 mm AUX cord, Bluetooth dongle, user manual, and quick start guide.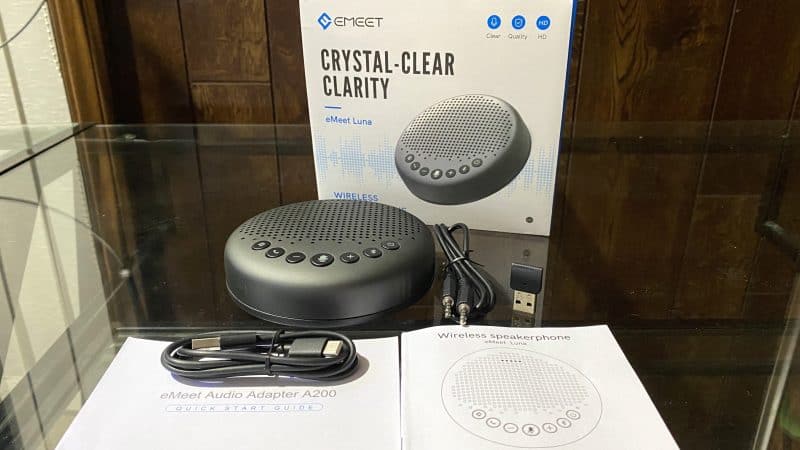 eMeet Luna Sound and Speakerphone
The sound on the eMeet Luna speakerphone is excellent for calls. When the volume is up loud, there is no distortion. If used for music, the highs and mids sounded fantastic, and the bass was almost nonexistent. To me, that isn't necessarily a big deal considering this speakerphone was made purely for conference calls and/or video calls.
The speakerphone has a 4.7 inches diameter and is 1.4 inches tall, making it have a nice portable size. It has an all-metal case and a beautiful matte black finish so that the speakerphone would look good with almost any office design or business style. On top of the speakerphone, there are seven buttons. Here is the button list from left to right.
AI noise reduction on/off
Whenever the AI noise reduction is off, it will pick up sounds within a 10 ft radius. When turned on, the radius is brought down to around 5 ft. Along with giving it echo cancellation, it reduces background noises such as keyboard strokes, fans, a/c units, etc.
Answer/End call
Answers and ends calls.
Volume down
Lowers volume
Microphone Mute/Unmute
Mutes Mic.
Volume up
Turns the volume higher.
Bluetooth
To enter the Bluetooth mode, press and hold the button for 2 seconds. When it is pairing, the LED indicators will flash blue and go to a steady blue when connected. To disconnect, simply press the button again, and the LED will be a solid white whenever the Bluetooth is closed.
Power
Besides turning the speakerphone on and off, press the power button one time quickly to check the battery level. The LED indicators will light up accordingly.
(1 light-5%, 2 lights-25%, 3 lights-50%, 4 lights-75%, 5 lights-100%)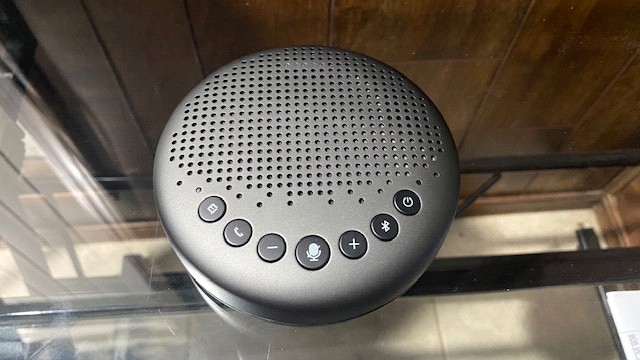 On the side of the speaker phone, it has connection ports that include.
USB C
Charging and/or wired connection to a PC/Laptop.
AUX OUT
Output with a 3.5 mm AUX cord.
AUX IN
Input with a 3.5 mm AUX cord.
LOCK
Kensington Security Lock (sold separately)
The speakerphone has the ability to be daisy chained into another eMeet Luna speakerphone by using the AUX ports.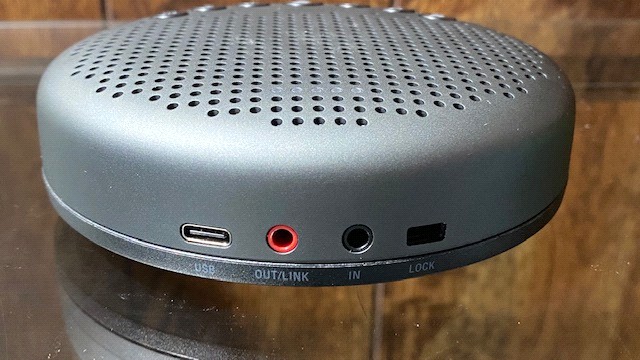 Underneath there is a Bluetooth dongle holding slot. Which great if you need to travel a lot. The three notches on the bottom indicate where the microphones are located. It has three microphones within it to allow the speakerphone to have an omnidirectional polar pickup pattern (360 degrees). That goes hand in hand with the voice IA algorithm, so it can create a clear conversation for the caller/s on the other end of the line by automatically amplifying vocals.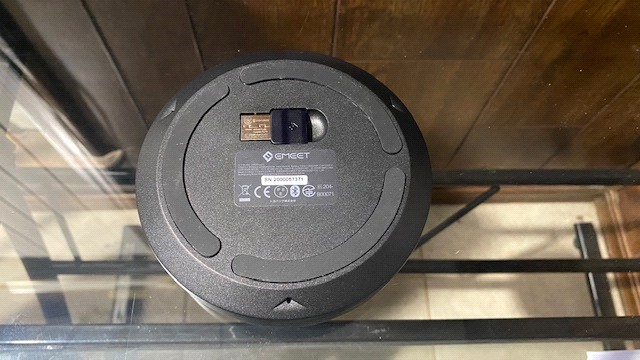 eMeet Luna Connections
There are four different ways to connect the eMeet Luna to your devices.
USB C to A
Wired connection to a PC/Laptop.
AUX
Wired connection using 3.5 mm AUX cord to phone or PC/Laptop.
Bluetooth
Wireless connection to phone or PC/Laptop.
Bluetooth Dongle
Wireless connection to PC/Laptop. (Automatically connects to speakerphone when plugged into USB slot)
eMeet Luna Specifications
Charging Input
5V/1A
Output Rating
3W
Battery Capacity
3.63V/2600mAh
Charging Time
3-4 Hour (On 0% battery)
SPK Frequency Range
20 Hz-20kHz
Bluetooth Version
4.2
Daisy Chain
Yes
PC Compatibility
Windows 7/8/10 and macOS
eMeet Luna Pros and Cons
Pros
Dongle slot for traveling
Intelligent noise reduction
Daisy chain
Compatible with leading UC platforms
Enterprise WeChat
DingTalk
WeChat
Zoom
Skype
Teams
Google Hangouts
Apple FaceTime
Portable size
Cons
If I was asked to give a rating for this speakerphone then I would give it a 10 out of 10 without hesitation.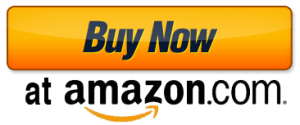 Disclaimer: I received this product for the purposes of testing it and reviewing it. All opinions expressed are truthful and 100% my own.
I am a reviewer from Oklahoma. I'm a passionate sports fan and love anything tech related. You can find me playing from Rocket League, COD, EVE Online, and Black Desert Online.