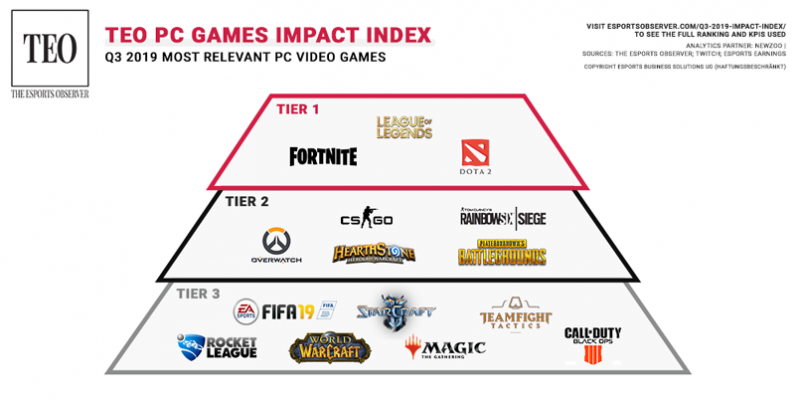 For several years now, the esports scene has grown bigger and bigger. Every year, new games are trying to find a place in this large market, but few succeed. Indeed, the most watched and played games remain the same for quite some time now: Counter-Strike, DOTA 2 or League of Legends are at the top of the charts for almost a decade.
However, some video games do manage to overcome the odds and join the elite selection of the most popular esport games. Among these games, a new one arrived in 2019: Epic Games royale battle game called Fortnite. In a yearly report of esport games ranking established by The Esport Observer, Fortnite joins the tier 1 of the best esports games of 2019.
2019 has been a rich year for esport. New games emerged, and many professional scenes expanded. Moreover, some of the biggest esports tournaments and cash prizes occurred this summer, setting new industry records and changing the overall PC video games ranking.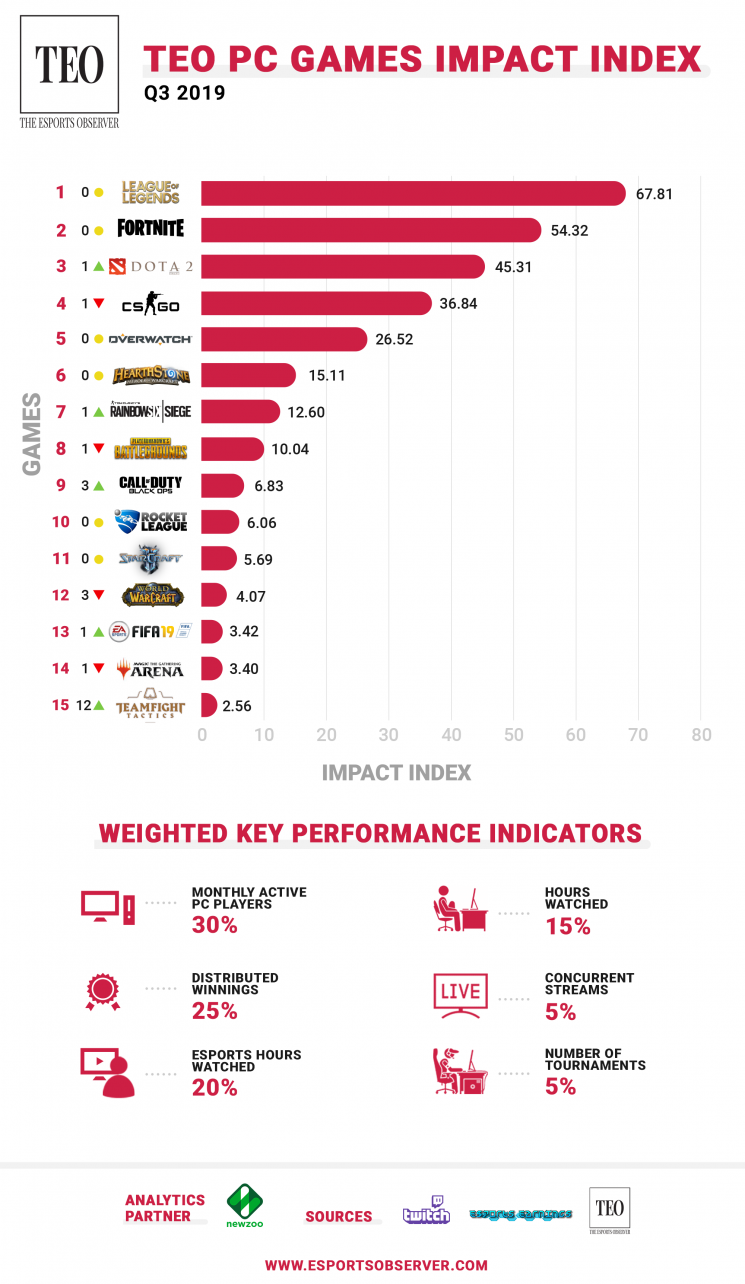 The first tier is dominated by DOTA 2 and League of Legends, leaders in the esports industry for many years now. With Counter-Strike: Global Offensive, they form the "Big Three," the three biggest video games on the scene. For the first time, one member of this Big Three drops out of Tier 1: Counter-Strike: Global Offensive falls into the second tier of the most relevant PC video games.
League of Legends remains as the most played and watched game on PC, with over 33M hours watched from June 1 to September 15 for the major events of this game, such as the League of Legends European Championship (LEC), North American League of Legends Championship Series (LCS), Chinese League of Legends Pro League (LPL) and the League of Legends Champions Korea (LCK).
Each year, the biggest tournament of esport history happens in one particular game: DOTA 2. This tournament, called The International, offered $25.5M last year and raised $34M for this year. $32.7M of this cash pool comes from crowdfunding, as the community can contribute through in-game purchases. 25% of this amount goes to the prize pool, while the remaining 75%, no less than $130.8M, joins Valve's account.
Fortnite joins Tier 1, one year only after the beginning of its esports development. This battle royale game is especially popular on streaming channels, and the game paid out the highest prize pool in an esport tournament with a whopping $30M for the Fortnite World Cup. Since June, Fortnite gathered the highest total prize pool with $49.46M distributed. Spectators watched a total of 4.4M hours watched during the 26 hours of World Cup airtime.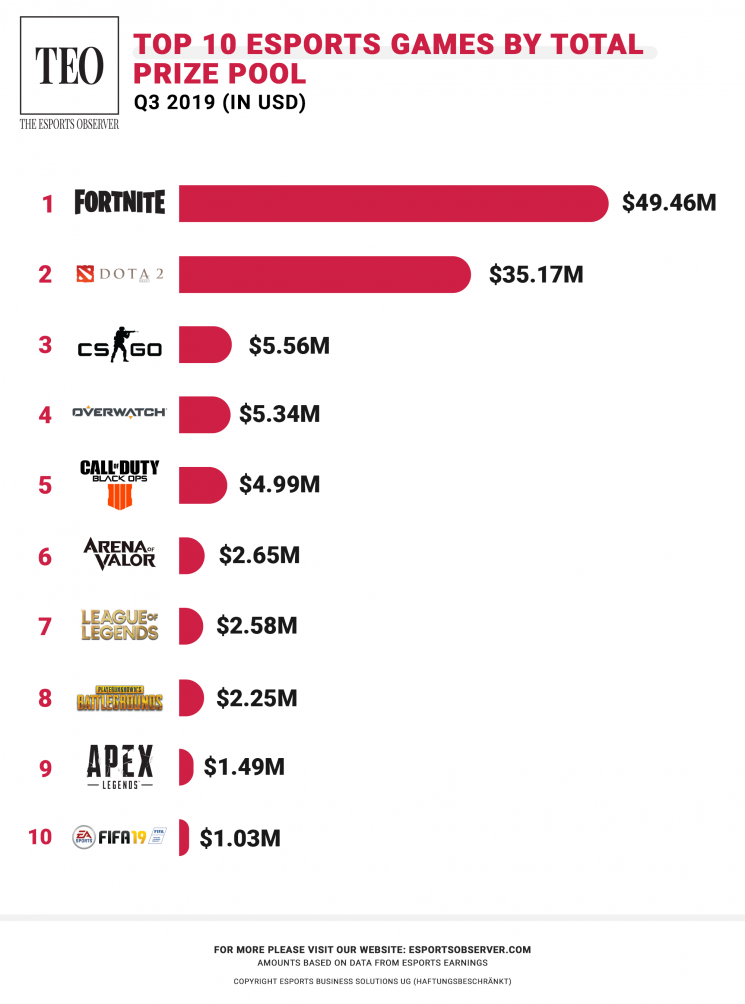 The second tier gathers Counter-Strike: Global Offensive, Overwatch, Rainbow Six: Siege, Hearthstone and PUBG. Counter-Strike: Global Offensive falls at the fourth place of this ranking, dropping from Tier 1.
Overwatch comforts its position at the fifth place, with the Overwatch League and Overwatch Contenders gaining in popularity, and, therefore, increasing their cash prizes. However, Activision Blizzard limitations and control of the entire competitive scene with the Overwatch League prevent third-party tournaments, reducing the available prize money.
Finally, the third tier includes Fifa 19, Starcraft 2, Teamfight Tactics, World of Warcraft, Rocket League, Call of Duty Black Ops 4 and Magic The Gathering. Four games increased their scores by more than 100% over last year: Call of Duty, FIFA, and World of Warcraft. This growth is linked to the release of new titles and expansions, such as Battle for Azeroth or the newest Black Ops opus.
Teamfight Tactics make a grand entrance in this ranking, improving from rank 27 to rank 15. Riot Games released this new game mode for League of Legends on June 26, 2019. Teamfight Tactics, for TFT, will then be a standalone strategy game. In this strategy game, also categorized as auto-chess, several players compete on different terrains with teams of various champions. This is a self-battling mode, so players cannot take direct control of a champion: every character is controlled by the AI. The aim of the game is to be the last player alive.
The ranking hasn't changed much compared to previous years. It will probably remain the same for more time, unless new games stand out like Fortnite in 2019.
I am interested in all things technology, especially automation, robotics and tech that helps change how society will live in the future.