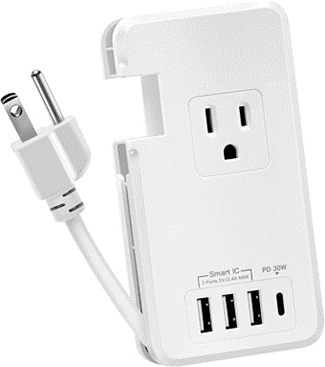 Looking for a portable power strip for your computer and cell phone?
The Ewin is a portable power strip that allows you to power your computer, television, cell phone, or any electronic device. This portable power strip is easy to carry and takes up little space, unlike most power strips. It includes 3 USB ports that are capable of charging an iPhone 12 in just 0.9 hours which is incredibly fast compared to most USB ports. It is perfect for places with little space. Ideal for offices, rooms, home, and travel. This electrical fail-safe power strip offers quality above most power strips thanks to its high protection technology. This wonderful and working device is a purchase that any adventurer must have and best of all is that it is available at an incredibly low price.
Ewin Portable Power Strip Feature
The wonderful portable power strip is one of the best recommendations for your devices. This portable power strip includes a PD 30W connection and 3 USB ports for mobile devices. Unlike power strips that claim to protect your Ewin devices if it delivers on what it promises. This power strip has advanced protection technology that protects all your electronic devices. With a USB connection, it is able to charge an iPhone 12 completely in just 0.9 h (less than an hour). Its PD connection is characterized by offering a high quality of protection, as it has advanced intelligent circuits that protect all your devices. The module that incorporates this portable power strip protects your high-end computer, cell phones, refrigerators, television, printer, and many more devices. The most innovative feature that this electric power strip has is its protection against overcharging, this function guarantees that your devices will be protected even when an energy overload occurs. It is able to automatically detect the amount of power your devices need, this prevents a possible power overload. The design of the electric strip is unique, it is built to take up little space and be carried easily and comfortably. The Ewin is incredibly lightweight and weighs only 0.3 pounds. This portable power strip is FCC certified which ensures that you and your devices will always be protected from overheating, overloading, or short circuit. This electric power strip is a purchase that every traveler should have and best of all is that it is available at a low price.
Summary
If you are looking for an electric power strip made with the best possible quality and offers reliable safety, the Ewin is what you need. This FCC-certified power strip guarantees the protection of all your electronic devices. It is ideal for the office, home, bedroom, travel, and much more. It's available on Amazon for less than $25!
You can buy this item here: Amazon.com: EWIN Power Strip with PD 30W USB C Port,Portable Travel Surge Protector Extension Cord with 2 Outlets,3 USB Charging Port,Flat Plug Compact Size Charging Station for Travel,Home,Office : Electronics