For those of you that remember last year Dragon Blogger took part in the Extra Life campaign to help raise money for Children's Miracle Network hospitals all across the country.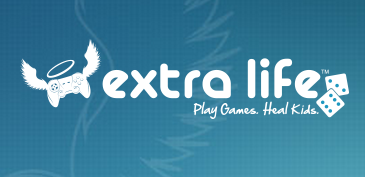 Well I'm at it again this year however I will be supporting my local Indianapolis Extra Life Guild to help raise money for Riley Hospital for Children in Indianapolis.
How did I find out about Indianapolis having it's very own Extra Life Guild you ask? Well it all starts with when I attended Awesome Con in Indy earlier this month.
When I was there I noticed a booth of people playing one of my favorite game's Mike Tyson's Punch Out for the NES.  Being a fan of old video games it immediately drew me in. I ended up realizing that the booth was for Extra Life and I ended up speaking with the ever so kind Oliver Wojtyna who filled me in on the Indianapolis Extra Life Guild and what they are all about.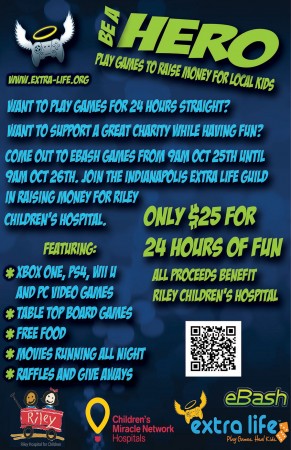 Oliver, who is the head of Public Relations for the Indianapolis Guild, told me his reason for being a part of Extra Life which is quite personal as his son, Liam was diagnosed with a rare neurological condition that with the help of Riley Hospital was able to find a treatment for his son's condition. Oliver felt that he owes it to Riley for helping his son and Oliver is able to encourage others to give back to the kids by way of getting others to join in his quest to help the kids at Riley.
Extra Life helps bring video games to children all across the country by using the donations received to help make these kids lives much better while in a very stressful time of their life.
The Indianapolis Extra Life Guild is holding an event on October 25th at the eBash store in Indianapolis. For $25 you can come and play video games for 24 straight hours starting at 9AM on the 25th and ending on 9AM the 26th. Food will be provided to all of those who come. Money raised will go to Riley Hospital for Children. Also even if you cannot come you can still send donations to the following link:
http://www.extra-life.org/index.cfm?fuseaction=donorDrive.team&teamID=14859