What is Facebook Editor?
Remember Google Earth? Wikimapia? Google Maps? Facebook Editor is the Next Gen of micro-mapping and geo-tagging. You get to Edit, Approve and Reject the Location data and other details of Places marked on a Global Map on Facebook.
As you can see in the screenshot above, there are 3 major components of this product's UI (user interface):
Editor Menu Bar just under the usual Facebook menu bar.
Map
Working Area with Details of the Place and editing options.
In a world with billions of internet users, Facebook is the largest country in terms of population (Official Facebook Statistics) with nearly 1.4 billion active monthly mobile users.
As more people start adding information to online geo-mapping systems, the variations of information about any single public place could become astounding. So, it is very important to intelligently weed out wrong and duplicate information. In the present (public) world, AI with such capabilities hasn't been developed that it can automatically maintain a perfect database of information about all places on Earth. So, it is up to us netizens to do some e-shepherding and help each other out.
Let's go through a quick visual tour of how Facebook Editor works!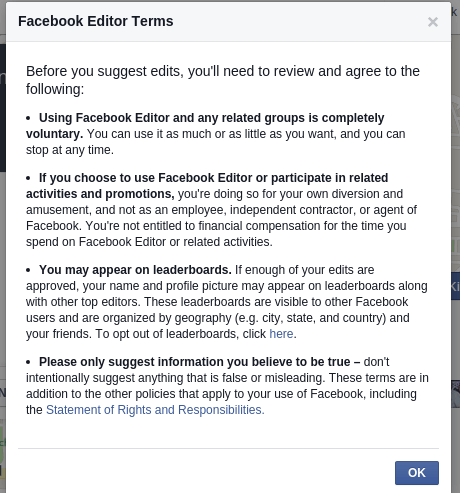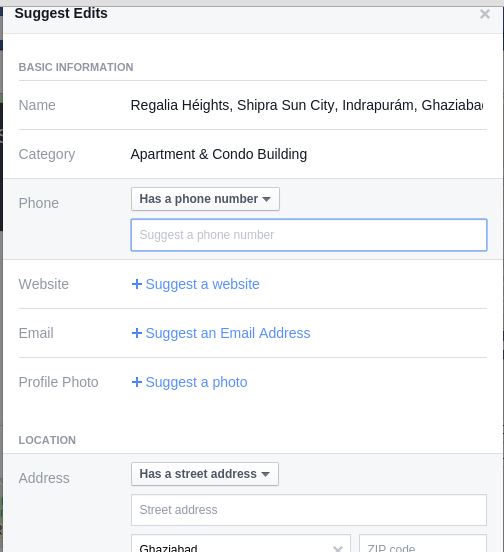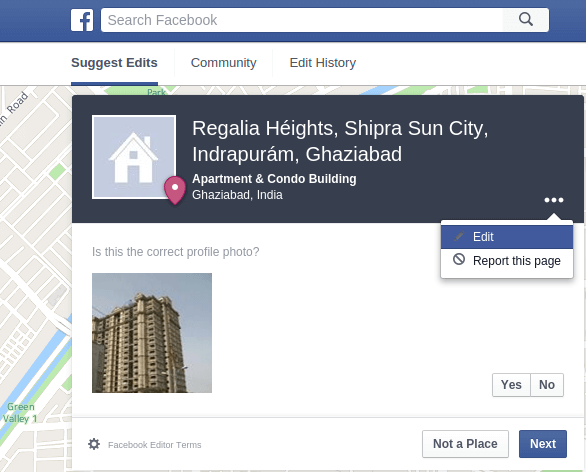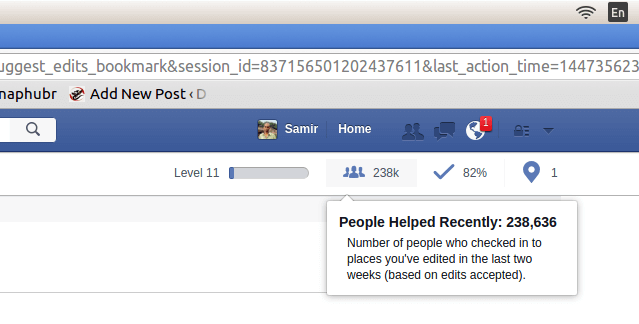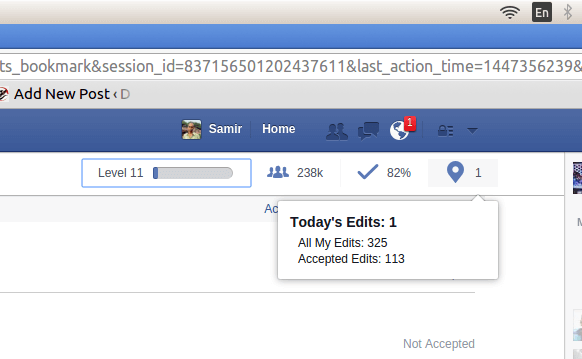 According to Facebook, I have helped over 10 million people within a month by providing them accurate information about various places. Now imagine giving right directions to 10 million passers-by within your entire lifetime!
Seriously – it is a HUGE deal.
Diverting some of your time spent ROFLing and e-Stalking towards this awesome initiative would probably be time well spent. Here's why:
You can learn a lot more about your own and your friends' neighborhoods (yes! You're not shown places at random.)
You can learn about Names, Timings, Street Addresses, Phone Numbers and Zip Codes right there!
Get the License to Correct people's mistakes (hehe)
There's negative scoring for rejected suggestions, so don't get ahead of yourself. Only edit those listings which you are sure about. There's no penalty for passing on a place.
There's no tutorial needed here to get you started. The system is quite straightforward. However:
The 3-dot options button in the working section will allow you to edit more details like Name and other info not mentioned in the options for editing outside.
Make sure you follow guidelines mentioned in the picture above to submit as accurate edits as possible (this is the easiest and cheapest form of public service or even philanthropy!)
You get a T-shirt when you get to level 30.
Not many people know about this yet. Spread the word!
Have you tried your skills at eCartography2.0 yet? Give it a go!
Please share the post with your friends and TELL US what you think :)