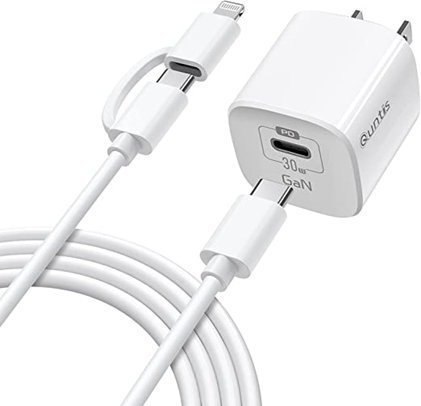 Need a fast-charging charger for your devices?
Every day it is easier and faster to charge mobile devices. With the improvement of the chargers, you no longer need to wait for an eternity to fully charge your device. Fast charging increases the W of charging, so there's an increase over 20W. You may think that buying these types of chargers can be expensive, but you'll be surprised to learn that you can buy one of these chargers for an affordable price.
You'll be able to find a plethora of chargers in the Amazon store, so choosing from so many can be a difficult task. That's why I took it upon myself to look for a fast-charging charger that is safe and also available for less than $30. The Quantis is an incredible universal charger that will work on most cell phones, so you should not worry about compatibility with your devices. This charger is capable of charging 60% of an iPhone 13 in just 30 minutes, so if you compare it to the original 5W charger you will be able to charge your iPhone up to 3 times faster. If you are looking for a charger with these features you would surely like to know more about this product.
Features of Quantis 30W Universal Charger
The Quantis 30W is an amazing universal charger capable of fully charging the iPhone 13 in less than 1.5 hours. The main feature of this product is that it provides fast charging, so you will have to wait less time to have your devices fully charged. Although it is designed to be used on iPad you can also use this charger to charge most mobile phones (Apple and Samsung). Quantis uses a state-of-the-art GaN chip that allows you to increase the W of power and charge your devices in less time. Another important feature of this charger is that they have worked to ensure the safety of the charger, so you should not worry about electrical failures. Whether you use an iPhone or Samsung device, you should know that two connectors are included in a single cable (lightning and USB Type-C). Regardless of the device, you can quickly change the connection mode, saving time and money on adapter cables. You should note that you will not be able to charge two devices at the same time. The charger has a small design so the size has been reduced so you can keep it in your pocket. The cable has a length of 6.6 feet which allows you to charge your device almost anywhere in the house. This charger has gone through rigorous testing, so it will be a high-quality product. The manufacturer offers a response in less than 24 hours in case of a problem.
Summary
If you need a fast-charging charger to charge your iPad, iPhone, or Samsung cell phone then the Quantis 30W is what you need. It is a fast charging charger capable of charging an iPhone 13 in less than 1.5 hours. The compact size will make it easy to transport.
You can buy this item here: Amazon.com: 30W iPad Fast Charger with GaN Tech, Quntis [MFi Certified] 2-in-1 USB C to Lightning/Type C 6.6FT Cord with USB C Ultra-Fast Charging Block for iPhone 14 13 12 11 X iPad Pro Air Laptop Samsung Galaxy : Cell Phones & Accessories
My name is Joel! I love to read, I go to university like most people my age.
In my free time I usually train boxing, I love music, I also know how to play the guitar and the harmonica.