LOS ANGELES, Dec. 15, 2017 /PRNewswire/ — SQUARE ENIX's captivating RPG classic Romancing SaGa™ 2 makes its debut in North America today for consoles, handheld and PC.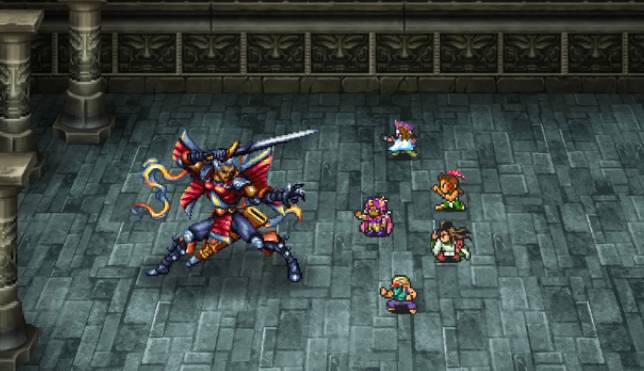 The title has been updated for the current generation of consoles, featuring:
Updated graphics and audio
New character classes for added depth and tactical possibilities for gameplay
A new dungeon with greater challenges
A "New Game+" feature to carry over useful character attributes and items into a new game, enabling players to obtain missed items, or save previously sacrificed lands and companions
Romancing SaGa 2 is now available on PlayStation®4 computer entertainment system, PlayStation®Vita handheld entertainment system, Nintendo Switch™, STEAM®, Xbox One and Windows10 as Universal Windows Platform. Players can receive a 20% discount across all platforms for a limited time through January 8, 2018.
This title is rated T (Teen). Please visit the Entertainment Software Rating Board (ESRB) website at www.esrb.org for more information about ratings.
Romancing SaGa 2 can be purchased through the following links:
About Romancing SaGa 2
Originally released in 1993, the landmark title in the SaGa series has players leading the Varennes Empire in battle against the Seven Heroes. A free scenario system—a hallmark of the SaGa series—enables the player to take command of a variety of protagonists along the line of imperial succession and experience the history of a nation as it grows and changes.
More information is available at: http://www.jp.square-enix.com/romasaga2/en/.
About Square Enix, Inc.
Square Enix, Inc. develops, publishes, distributes and licenses SQUARE ENIX®, EIDOS® and TAITO® branded entertainment content throughout the Americas as part of the Square Enix group of companies. Square Enix, Inc. is affiliated with a global network of leading development studios such as Crystal Dynamics® and Eidos Montréal. The Square Enix group of companies boasts a valuable portfolio of intellectual property including: FINAL FANTASY®, which has sold over 135 million units worldwide; DRAGON QUEST®, which has sold over 75 million units worldwide; TOMB RAIDER®, which has sold over 63 million units worldwide; and the legendary SPACE INVADERS®. Square Enix, Inc. is a U.S.-based, wholly-owned subsidiary of Square Enix Holdings Co., Ltd.
More information on Square Enix, Inc. can be found at http://na.square-enix.com/
© 1993, 2017 SQUARE ENIX CO., LTD. All Rights Reserved.
Planned & Developed by ArtePiazza
ILLUSTRATION: TOMOMI KOBAYASHI
ROMANCING SAGA, CRYSTAL DYNAMICS, FINAL FANTASY, EIDOS, SPACE INVADERS, SQUARE ENIX, the SQUARE ENIX logo, TAITO and TOMB RAIDER are registered trademarks or trademarks of the Square Enix group of companies. Nintendo Switch is a registered trademark of Nintendo. © Nintendo. Steam is a registered trademark of Valve Corporation. All other trademarks are properties of their respective owners.
SOURCE Square Enix, Inc.