We are influencers and brand affiliates.  This post contains affiliate links, most which go to Amazon and are Geo-Affiliate links to nearest Amazon store.
As a website owner, having an archive of your website can be pretty important, especially if you want to possibly revert to a previous version of your website without having to rebuild it all over again. The cost of having someone recreate your site back to a previous version can get pretty expensive if you choose to have someone do it for you, but also can be rather time-consuming as well if you choose to do it yourself. However, there is one solution that can help solve this problem for you. Archivarix, a wayback machine downloader, website downloader, and CMS converter that gives you so much control over the state of your website and giving you plenty of options to make any necessary changes.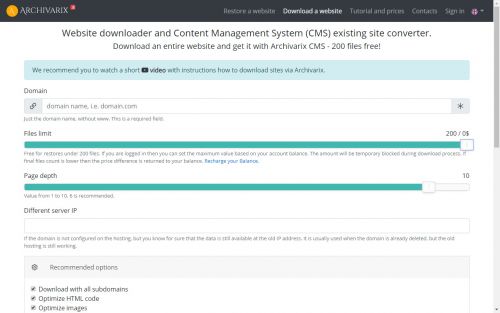 Archivarix does a great job of making all of these things easy straight from their website. You have the option to simply restore your website and revert it back as well as being able to tick some options as customize the way you want your site reverted back to giving you the edge when it comes to making your site the way you want it. When you download your site it gives you a completely workable site that will replace any broken links with dummy ones that you can easily replace.
You can restore up to 200 files on your website for free and a first thousand above this limit will cost you $5 per thousand files. However, this is still a very low-cost solution to being able to basically hit the reset button on your website and being able to start from the ground up and not have to worry about the time it would take to rebuild your website. Another advantage to using Archivarix is the ability to archive an expired domain name that you might have purchased and be able to take files from that expired domain and use them to rebuild your own version of that old site. That way you don't have to just create an all-new site from scratch and take files from the previous version of the site. You even have an option here to be able to create an HTTPS version of a site for those that want their site to run a lot smoother.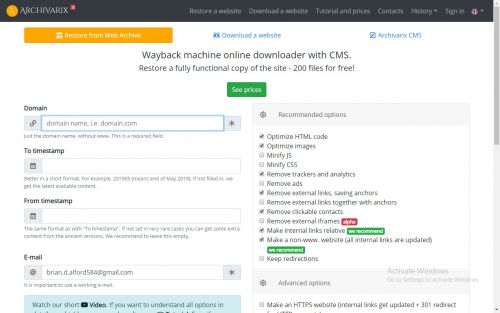 Archivarix is a great tool for those wanting to gain more out of the private blog network by allowing you to take dead websites, recover them and help make better use for your own PBN and get you even better search engine optimization. I would recommend Archivarix for those looking for ways to help recover their own site or even those wanting to gain better SEO at a much better price point and be able to create better content for your PBN.  You can even convert one CMS into an Archivarix CMS to make managing your content even easier.
All in all, I highly recommend anyone to check out Archivarix as a tool that can be used for those needing the options I mentioned above and for those that want to give themselves more content for their PBN which will absolutely give you an advantage on gaining better SEO at a much cheaper price point and very user-friendly with everything accessible on the site.
We are influencers and brand affiliates.  This post contains affiliate links, most which go to Amazon and are Geo-Affiliate links to nearest Amazon store.
I've been writing and covering many forms of entertainment such as comedy shows, and arcade bars as well as reviewing video games and more for the past decade. I love to write and I am blessed to be able to have the opportunities that I have had in the entertainment and technology fields.