We are influencers and brand affiliates.  This post contains affiliate links, most which go to Amazon and are Geo-Affiliate links to nearest Amazon store.
At the beginning of November, I became ill. I was very sick, and the way it was sounding as I came in and out of consciousness, it was pretty serious. I was rushed 2 hours away to a Veteran's Hospital in Northern parts of Texas. I had no phone, but I brought my Android tablet with me.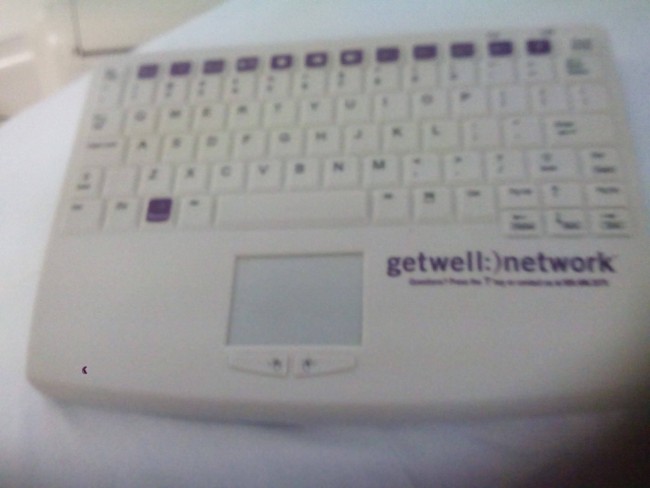 Well, I got to my room and found that there was no Wi-Fi, nor could I make a long distance call to hear even if the charges were reversed. I was concerned since I did not have any way to call my wife to tell her how I was doing.
I looked around and noticed a keyboard covered in rubber on the tray/stand they give you food on, and found that it was a part of a system that allowed me to use the Internet while in the hospital. In fact, the standard device they usually hand you to signal the nurse, was also a part of this system and had extra features added to it.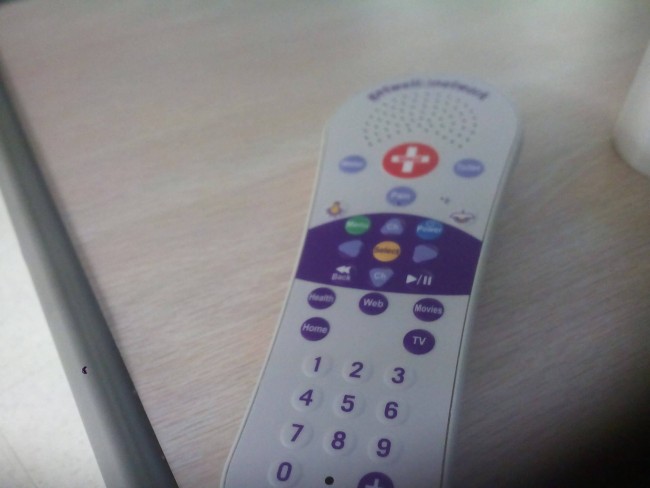 Aside from the normal things like call buttons and TV buttons, there was a button to select movies and connect to the Internet. While most of the features of this system could be done without a keyboard, the internet surfing needed the keyboard and mouse to function correctly.
This system is named "The Get Well Network" or GetWellNetwork. I loved it, and wanted to share what I thought of it with you. I want to tell you first that I did not have a high quality camera available to me when I took the pictures that I did, so this will not be the usual high quality I try to provide with all of my reviews.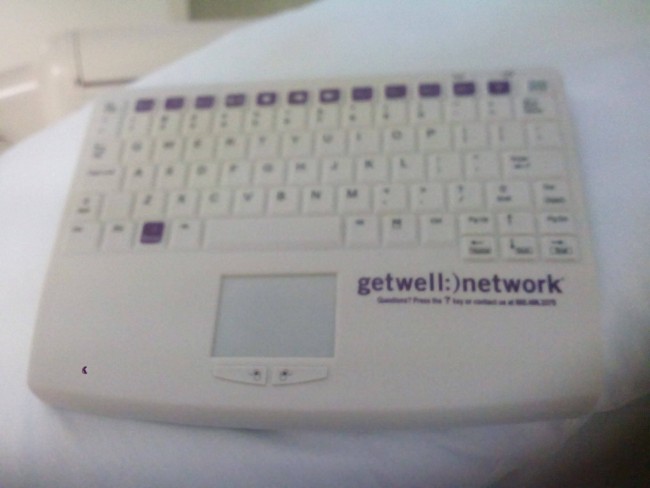 So to start with I will talk about the keyboard. It was lightweight, about the size of a standard laptop but covered in plastic. I presume to prevent spills from getting through to the keys. All of the standard functions were available as well as special buttons to allow me to switch to the tv or movie channels. I had no difficulties using the keyboard. It does use batteries but this is controlled by the nursing staff.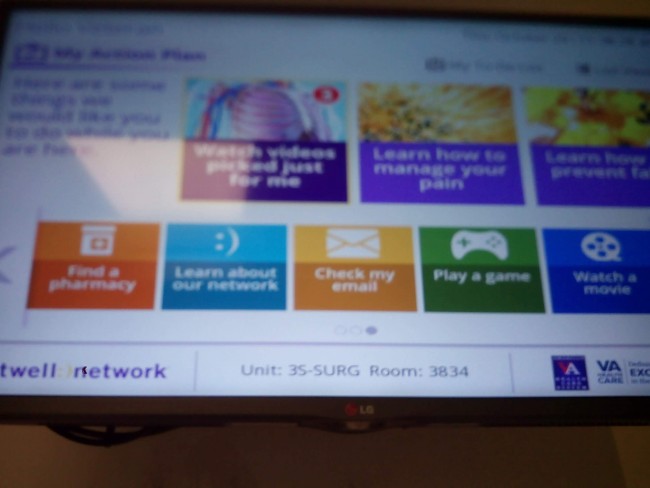 The next thing to talk about would be the nurses call wand. There are a few additional buttons like movies and web. The system allowed for digital movies to be played, and to switch to the web whenever I wanted. Everything I could do on the wand, I could do on the keyboard except call the nurse. For that I needed the wand.
Besides movie channels, and TV access, I had an e-mail option, games, medical services, Chaplin, and a few others. This meant I had access to many services I would not normally have. It was also neat that should the nurse have a message for me, they could stream it directly to my TV and allow me to respond instantly.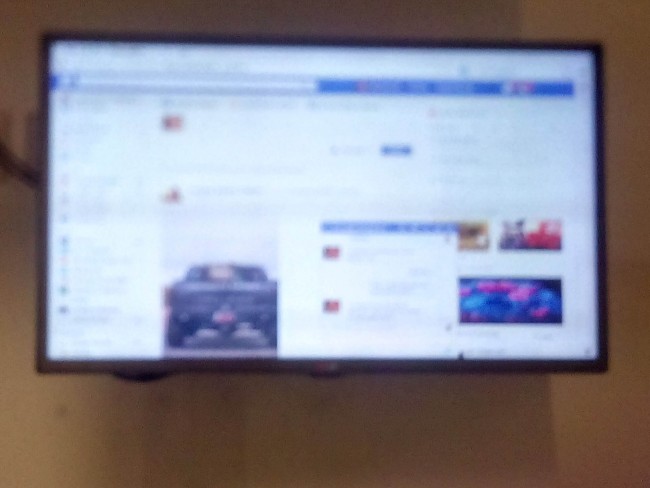 The games were not so easy to play but they did allow me to occupy my time. What I used most was the internet to connect to face book and when not chatting or checking on stuff, I could watch a movie. If I was let's say talking to my wife on Face Book, and decided to take a break I could go back to my movie. If she sent me a new message, and I happened to hear it correctly, there is a sound that signals me that I got a new message. I switch back to the web, and I continue where I left off. Then, if I go back to my movie, it is waiting where I left off.
The system does sometimes clear itself and I noticed on the last day that I was having to log back in a lot to still talk on face book. I see that as a good thing so my log in is not kept logged in once I am no longer a patient. I like that feature even though having to re-enter all the info over and over again was not real fun.
If your hospital does not have this system and you would like to contact the people who made it, getwellnetwork. I cannot tell you the cost, nor how customization works, but I can tell you that for this old man, it was well received, and I do not think I would have recovered as fast as I did if I did not have a way to keep in touch with the ones I love. No one likes being cooped up in the hospital for any length of time, but the Get Well Network made my time in a bit easier to deal with and a whole lot more fun.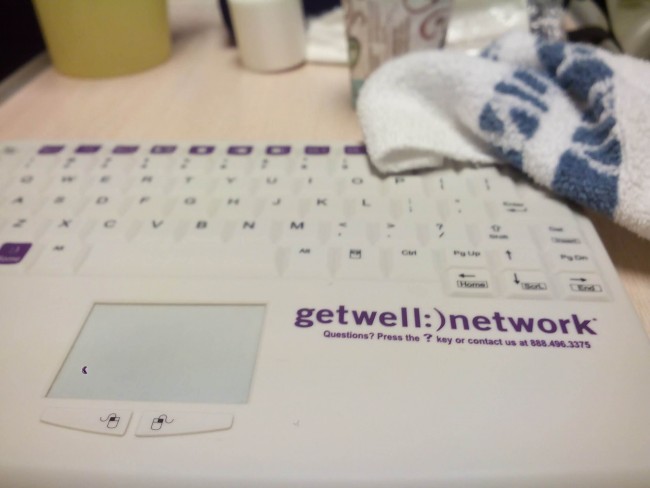 We are influencers and brand affiliates.  This post contains affiliate links, most which go to Amazon and are Geo-Affiliate links to nearest Amazon store.
I have worked in and around many different types of computers. In the Navy, I used a magtape drive computer that was a step down from pen and paper. I later worked for a big computer company and after that, taught computer class's nation wide. I had the privilege of teaching 14,000 students in a 2 years period of time. Afterwards, I owned a small computer training and repair shop for a few years. I have owned C-64's, Pc's of various types, Amiga's, and even Mac's. I now have included the android to my collection. At any time, I have close to 15-20 computers or combinations of computers and game systems in the house. I look forward to more.