My friends over at Havit sent me their Havit HV-8A5U Power Strip to review. This one was the Model HV-8A5U and when it showed up at my door and I opened the brown box. I wasn't expecting the bright yellow box that was inside and I will post a picture of that for you now.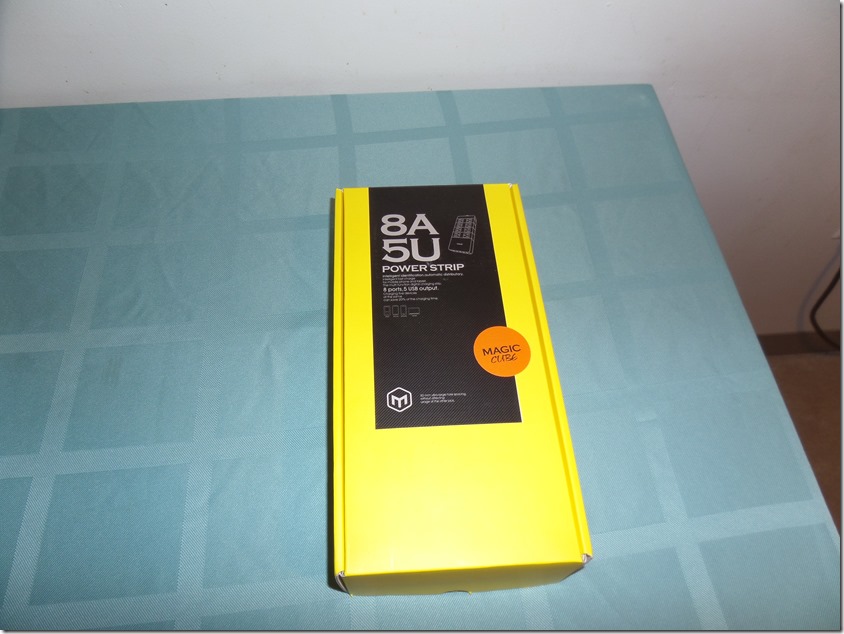 As you can see it is very bright. What was weird is I actually like the color of the box. Now it probably a good thing once you open it  that Havit 8A5U power strip wasn't yellow. My wife would have killed me if it was.(This due to I would have change my whole computer color theme.)
Now inside the box is the power strip, instruction book, and the Havit thank you letter. Pretty much what you would expect in the box.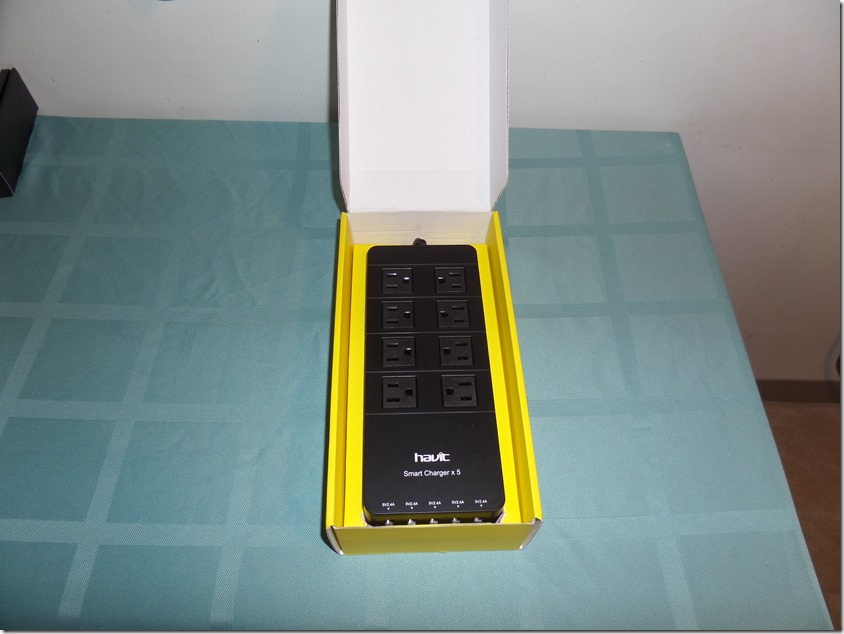 Watch My Unboxing Here!
Now the Havit HV-8A5U  has 8 AC current plug holes and 5 USB plug holes. The 5 USB plug are 5v 2.4A. Using the 5 plugs at once is going to cut back charging time by 20 percent they claim. Now I did do a few tests and it does cut back on some time for sure. That and it is nice to have all those USB charging in one area. Now the AC plugs work well. The have a nice spacing to them but if you have plugs that have large rectangular or square plug units they will block a 2nd plug space, so I do wish they have a slightly larger spacing, but it works out well for the device. Now I know me being me I would have loved to see a cord strap. So you can manage your cords to go in one route, but I don't think they added that because of the USB ports.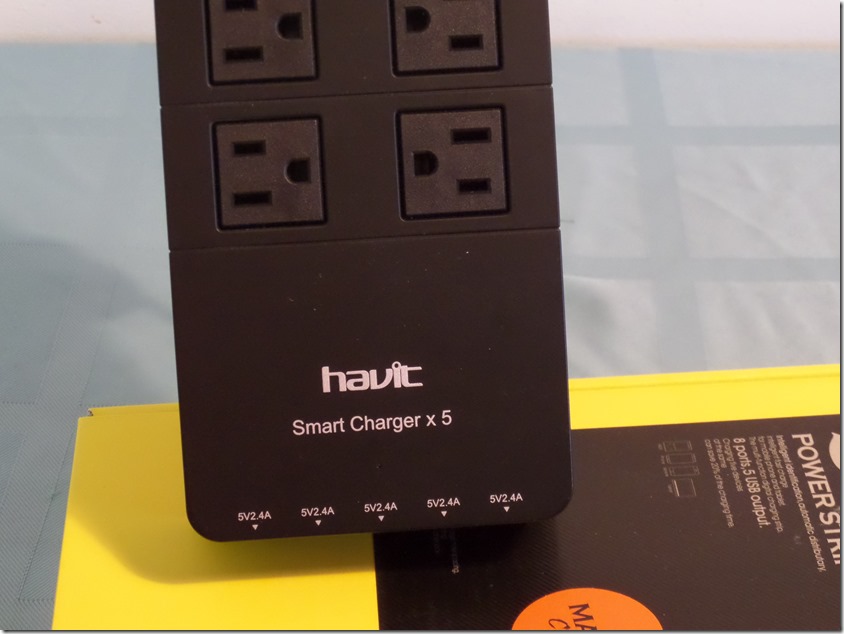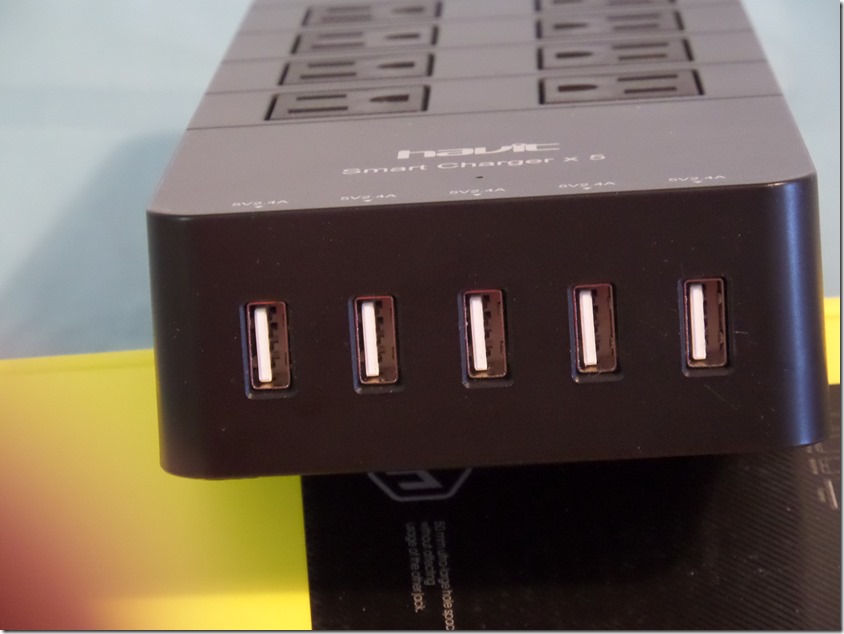 As you can see in this following picture the cords plug nice but with no cord holder, the cords look messy.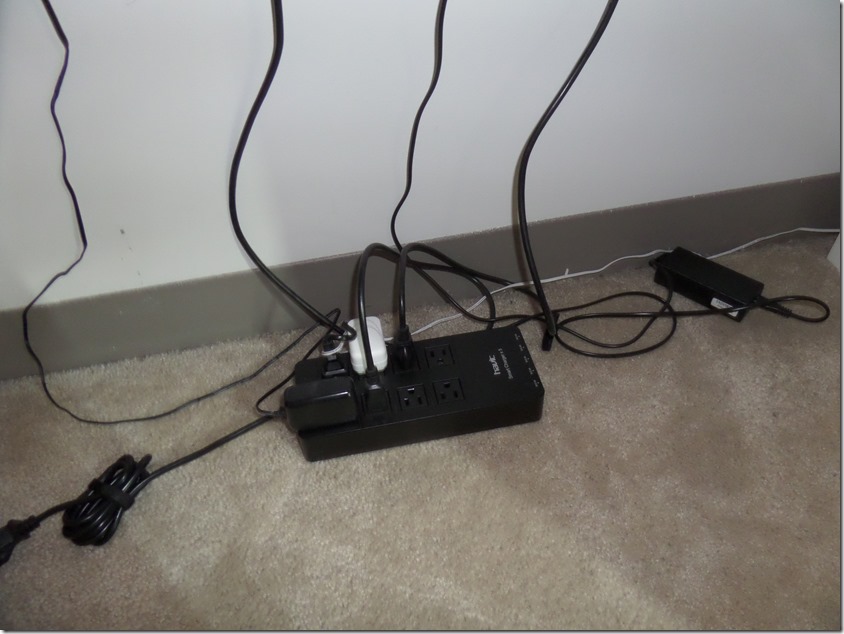 Havit gives you plenty of cord to stretch the Power Strip to the outlet on the wall. There is a good 6 feet maybe and that was just fine with me. They do throw a Velcro strap on the power strip so you can tie the extra length up which was a nice touch. The power bar is not too wide and bulky but works just fine for where I placed it. The Havit HV-8A5U Power Strip has a smart heat detector built in. This make sure that if it over-heats it will trip the circuit so you wont start a fire. That in itself is a nice addition and the surge protection helps keep your AC devices protected, the power strip also has an on/off switch so you can simply switch it off and kill power going to your devices when you are going out of town.
When all is said and done they made a nice product. One I'm glad to have in my tool box of devices.
Disclaimer: All Thoughts are mine and mine alone. Havit sent me the HV-8A5U to  do a honest review.