Having been a Twitch Streamer for well over six years now and when it comes to trying to find ways to monetize your Twitch stream there are several options that all Twitch streamers have. Some people think that you have to be a Twitch Affiliate or even a Partner to make money on Twitch. Well, that is simply not true. Even if you are not a partnered or affiliated stream there are ways in which you can help monetize your channel and I am going to go over those ways as well as how you can earn even more money once you become a Twitch Affiliate.
A tool that I have always used and one I highly recommend any person use is Streamlabs. Streamlabs allows you to log in and tie your Twitch Channel to help monetize it without the need to be an affiliate or partner stream and is extremely easy to set up. All you have to do is login via your Twitch account and then you can head to the Setting option and tie your PayPal account to your Streamlabs account. Once you do that, Streamlabs will provide you with your very own donation link that you can share with your followers/subscribers on Twitch. I recommend creating a "Donate Here" or on my channel a "Tip Jar" image that links to my donation link for people to send money your way. You can also use the Widgets feature if you are streaming from your PC to have an alert pop up during your stream when someone donates and they can even send you a personalized message when they donate.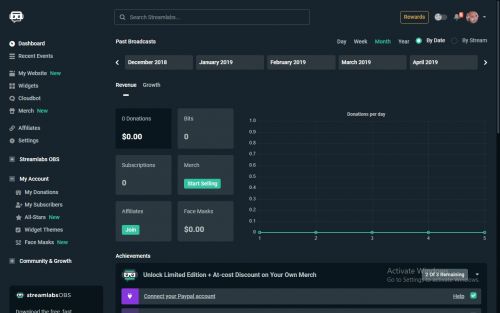 When it comes to being a Twitch Affiliate you have even more options ahead of you. Unlocking the "Path to Affiliate" achievements on your channel allows you to officially become an Affiliate and allows you to let your viewers to cheer Bits, a virtual currency that they pay for and will pop up in your chat for you to give them recognition for, you also unlock a Subscribe button for your channel which is going to be the key to growing your channel. A Twitch Subscription at Tier One costs $4.99 which you split the revenue with Twitch. Those that have Twitch Prime, a subscription that is included for those that have Amazon Prime, are able to use their one free Sub to subscribe to your channel which nets you even more profit than a regular subscription.  This is is a passive income that you earn on Twitch every month as long as the subscribers keep renewing.  Tier 2 is $9.99 and Tier 3 is $24.99 per month which again is a revenue split and right now the only main difference is that people in higher tiers gain access to more emotes that you can create and customize for your subscribers.
Bits are great for when people want to show their support and they can even earn badges depending on how many Bits they have earned in total. There is also a Bits Leaderboard which will appear at the top of your chat on the Desktop version of Twitch and will always show how has contributed the most Bits. Bits are able to be purchased in certain increments by users. You are able to set the minimum Cheer settings so that way if people want to send you Bits there is a minimum of how many they must Cheer for it to be shown.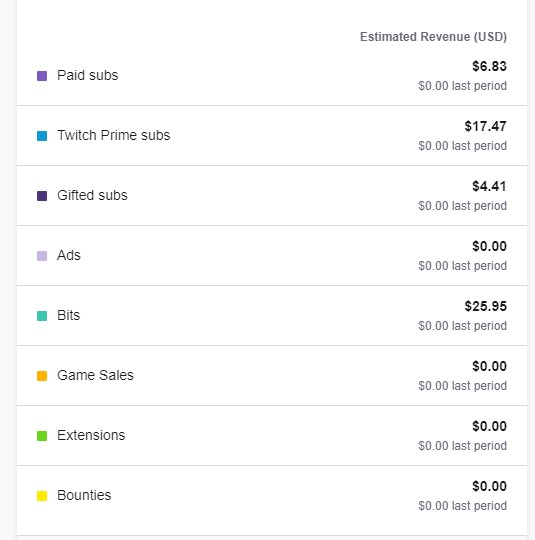 Subscriptions are a great way for those that want to show themselves as loyal to your channel. For those that do Subscribe, they can earn a Sub Badge to the left of their username in chat and that can level up depending on how long they have been a Sub for. You as an Affiliate are able to create emotes for your users to have access to and use in the chat. These are another great way to monetize your channel and to attract people to want to throw some money your way. I also recommend doing giveaways of game codes, as well as even doing an IRL stream and having people send you money for doing things. Some channels that are in the Creative category paint or create art and will send it to their Top Donor of the Month so for those of you that have a creative side you can use Twitch as a means to make money and will greatly help monetize your channel. As an affiliate you can also earn money from game sales, as Twitch links to the game you are playing and if someone purchases it from the link in your channel you could earn an affiliate commission from the game sale.
Bounties are paid sponsorships and less passive income and more actually engaging in sponsorships and accepting them with commitments.
These are all just a few ways that you can make money as a twitch Streamer and ways in which I firmly believe will not only lead to you having a more successful channel, but also a nice addition to your wallet.  You can also learn more at the Journalreview – passive income article which helps provide other non-Twitch methods of earning passive income.
I've been writing and covering many forms of entertainment such as comedy shows, and arcade bars as well as reviewing video games and more for the past decade. I love to write and I am blessed to be able to have the opportunities that I have had in the entertainment and technology fields.