Looks like this is going to be an interesting period for the next 2 to 3 months with most of the leading mobile manufacturers gearing up to launch their best upcoming devices, thanks to Apple's iPhone 5. With the current generation of Apple's iPhone being one of the most popular device, all the mobile companies have been hit in terms of their sales figures.
So it seems like everyone is busy getting ready to take on the iPhone 5, including the HTC, which is planning to launch its upcoming devices today on October 6th.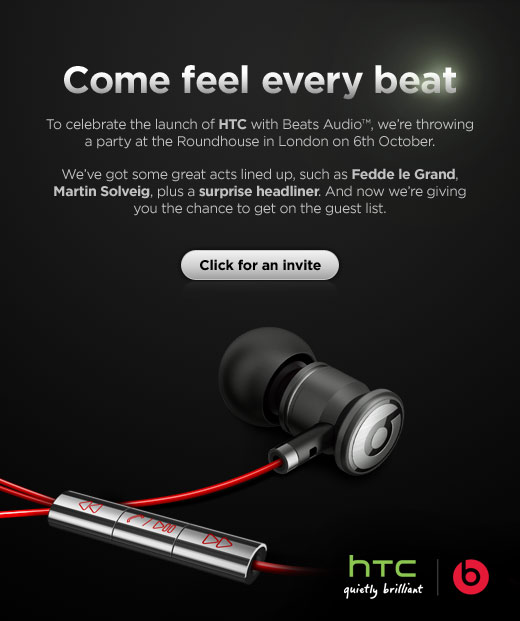 HTC is planning to launch some new smartphones at this special press event which is going to be held in London. So whats so special about these phones? Right now we still dont have any confirmed news regarding the specifications of the devices, but from the invite we can surely tell you that these are the new Beats powered music phones.
HTC has recently collaborated with Beats Audio, the company which is well known accross the world for their famous range of headphones and loudspeakers, to bring out a new music range of smartphones. The new devices will be using Beats Audio technology to give users the best music experience.
The new devices might be the HTC Sensation XE which was announced earlier last month and the HTC Runnymede or Bass, which will probably feature a 4.7 inch display, a 1.5GHz dual-core processor, 8 megapixel camera, HTC Sense 3.5 etc.
Its been an absolutely new and different approach from HTC to partner with Beats, which has been the first time the mobile manufacturer is bringing out a whole new range of music smartphones. Currently the new music phones will be running on Android OS, but we are pretty sure that you can expect one with the Windows Mobile 7 OS too. The phones will also come with Beats Audio in-ear headphones.
So what do you think of HTC's new upcoming music smartphones?