We are influencers and brand affiliates.  This post contains affiliate links, most which go to Amazon and are Geo-Affiliate links to nearest Amazon store.

Hey there.  On more than a few occasions I have had the opportunity to post for a company.  I've done a few that have allowed to me post directly from the confines and comfort of my blogging platform.  Other times, I have to submit the post directly to the sponsor for them to review and approve.  The problem with having to submit my post is that any images that I use in the post must be hosted somewhere online or I cannot use it.  That can be a bummer for me since I'm not that big on image hosting.  But let's be honest here, image hosting is something that I need so I need to make sure that it will get the job done.  Of all the image hosting websites out there, I really believe that ImageNuke is the one the best that's out there.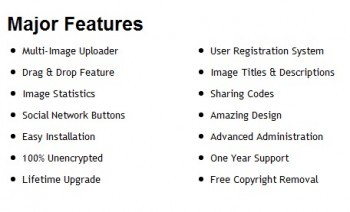 ImageNuke is one of the more easier image hosting sites that I've seen.  I just love their drag and drop feature.  It makes it extremely easy to select pictures from your computer or flash drive and drop them into the uploader.  Aside from the drag and drop method, you can also upload an image you find online by entering the image url.  That will save you the hassle of having to save the image onto your computer and then uploading it to ImageNuke.  Speaking of hassle…  wouldn't it be faster if you can just upload several images at once instead of one at time?  ImageNuke sure thinks so!  You can upload multiple images at once eliminating all that repetitive work.  Another great feature is the statistics.  If you're a numbers guy like me, you're going to love this.  So which image was viewed the most? With the ImageNuke statistics, you can find out the answer!  How awesome is that?  I love that I can go through the images and find out which ones are the more popular ones.  It gives you depth and insight into what your readers love and you can use that information to help direct posts and articles using images similar to the popular ones.
Another great feature of ImageNuke is the sharing options.  With a click of a button, you can share your images to many social networks with extreme ease.  Being an online presence, it's great to be able to share uploaded images with ease.  Anything that can get more eyes reading what I'm doing the better.  And speaking of sharing, once your images are uploaded, you will have access to the sharing codes to post!  Whether you are looking for the HTML, BB, or Link only code, ImageNuke makes it easy for you to copy and paste and get that image out onto the internet.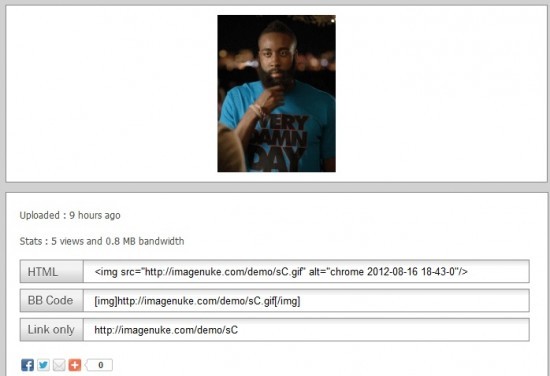 Now, the only downside to ImageNuke is that it's not free.  Yeah, not free.  You will have to pay for the service… BUT…  it is a one time fee.  You will never have to pay for future upgrades or versions of ImageNuke and registration is quick and easy.  Once you purchase and download ImageNuke, you own it for life.  Once you own it, you can even start your own image hosting business!  How awesome is that?!  By utilizing their unique user registration system, you can host images for others and create a strong community of followers.  Imagine that, a download that can actually put some money in your pocket!  You can never go wrong with that!
So what do you guys think of ImageNuke?  Have you had the chance to try it out yet?  If you are not convinced that this is the image sharing host that you need, you can always check out the demo on their website to get first hand experience with it.  Once you've had your chance to try it out, I'm sure you'll want to sign up.  Later!
We are influencers and brand affiliates.  This post contains affiliate links, most which go to Amazon and are Geo-Affiliate links to nearest Amazon store.
This is the Dragon Blogger Guest Bloggers account for author's who want to submit articles and only have credit in the post instead of having to manage their own WordPress profile.