Active Noise Cancelling headsets have been in the market for quite a long time. With the new trend of True Wireless Stereo Ear Buds, companies have now started implementing ANC technology to their earbuds. Apple and Sony are one of the few companies that have launched earbuds with ANC. But the $200+ price point isn't something that everyone can afford. So in this article, we will be checking out ReduxBuds which are a pair of affordable TWS earbuds that come equipped with AI-powered Active Noise Cancelling and much more.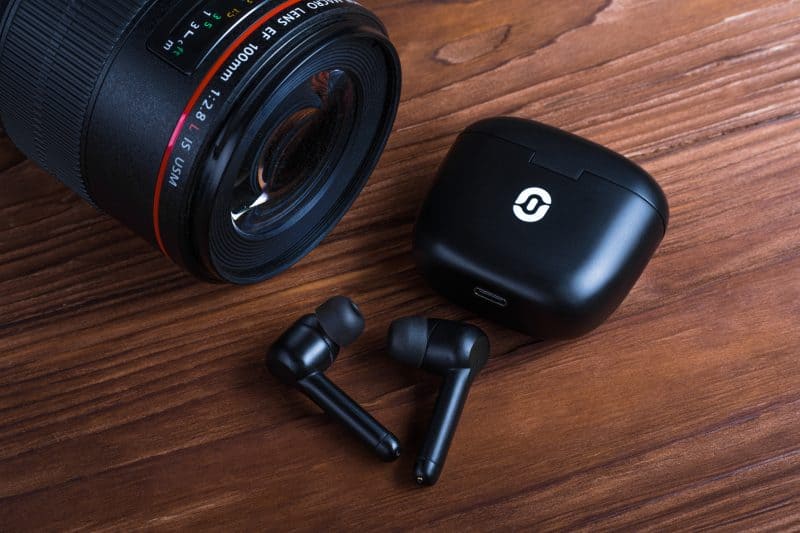 About ReduxBuds
ReduxBuds were first launched on the popular crowdfunding website Kickstarter and were fully funded within the first hour. Over 4000+ backers pledged HK$ 3,064,459 to bring ReduxBuds to life. While the Kickstarter campaign has ended, you can still preorder the earbuds from their website for a discounted price of $125.
ReduxBuds Features
AI-Powered Active Noise Cancellation
ReduxBuds doesn't just simply use ANC and block off all the noise. It uses AI-Powered ANC which filters out the noise depending on your surroundings.  ReduxBuds' AI was developed to recognize over 6000 sound characteristics so that it can filter noise more effectively. So when compared to regular ANC, the AI-powered ANC in ReduxBuds can calibrate the intensity which will in turn reduce battery drain. Compared to Apple AirPods Pro which uses 20db cancellation, ReduxBuds uses 30db cancellation technology which means that you can expect up to 50% more noise cancellation.
Transparency Mode
Transparency mode amplifies the important sounds that you need to hear while still blocking the rest of the unimportant noises. This mode is super useful when you are out jogging, cycling, or if you just want to be aware of your surroundings such as voices, emergency vehicles, alarms, etc, and still block off the unnecessary sounds. So if you are out in the open, you can enable Transparency mode.
Graphene Speakers
Unlike many earbuds that use the old technology used in wired headphones, ReduxBuds comes equipped with 7mm graphene drivers. Graphene is 200 times stronger than steel and 1000x thinner than paper. Graphene creates sound waves more efficiently when compared to coil drivers.
Battery Life
ReduxBuds has an insane battery life of 100 hours. On a single charge, it gives you 10 hours of audio playback while the charging case holds another 90 hours of juice. So you don't have to worry about charging it for at least a couple of weeks depending on your usage. ReduxBuds supports quick charging through a Type-C cable. A quick 15 minutes charge will provide you with 10 hours of battery life while a 2-hour charge will fully charge up your earbuds.
Connectivity
ReduxBuds comes with the latest BlueTooth 5.0 which provides stronger connectivity, security, and range. You can expect zero audio-video lag thanks to BlueTooth 5.0. The earbuds also support auto-pairing and instantly connects to your device once it is out of the case.
Comfort and Fit
No one likes wearing uncomfortable earbuds that don't fit properly or make your ears pain after wearing them for a while. So the guys at Redux Sound did countless hours of study to design comfortable earbuds that will fit your ears perfectly. The earbuds fit in the ear canal securely so that they don't slip out of the ear or provide the user with any discomfort.
Touch Control And Digital Assistant
All of your media can be controlled via the earbuds by using the touch controls. ReduxBuds also supports Google Assistant and Siri so that you can access your favourite digital assistants with a tap.
Conclusion
From all the information that I could read about ReduxBuds, these earbuds look quite promising. Introducing AI-Powered ANC is an interesting take as it blocks the noise according to the environment. The 100-hour battery life along with Type-C quick charging can last you for 2 weeks easily. All of these amazing features for just $125 (limited period) is a pretty good deal. If the ReduxBuds have intrigued you as much as they have me, head on over to their website and grab a pair.
Hi my name is Rohan Jadhav. I am a guy who loves to play games and a tech lover. I like to be updated on all the tech stuff. I enjoy watching movies and I am currently doing a specialization course in VFX.