The iPad Mini was announced today as expected at the Apple Event and what probably was the most shocking for me was the starting price of $329 which puts it way more than the Google Nexus 7 and Kindle Fire 7 HD tablets, but is it really that much better to justify the extra cost?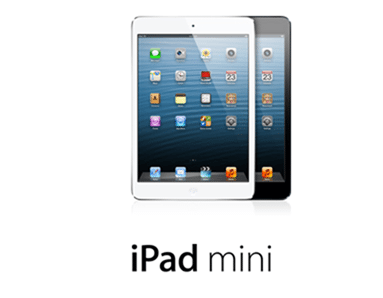 The iPad Mini sports the same dual core A5 processor as the iPad 2 (2nd generation) and the iPad 2 is only $70 more than the iPad Mini.  I love my iPad 2 but honestly if I was in the market for a 7″ tablet I am not sure I would buy the iPad Mini over the Google Nexus 7 which is about $100 less for the 32GB (expected to be out) version of it.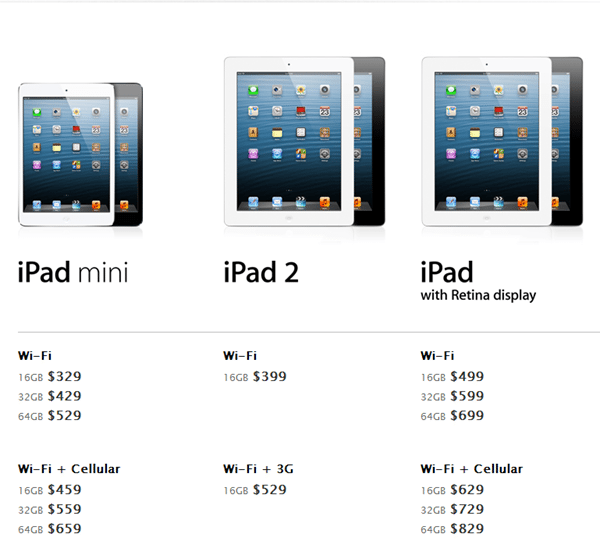 Also, if I was in the market for a tablet the screen size does make a difference and for $70 more I would rather watch movies and engage on a larger 10″ screen than the 7″ screen.  If you wanted to just read books, websites they you wouldn't be wanting to spend that much money on a 7″ tablet anyway and probably would be going for the Kindle Fire HD.
The Google Nexus 7 has better screen resolution, NFC, much better graphics/gaming capability and supports standard microUSB.  The iPad Mini does have both rear and front facing cameras and a better camera but the Google Nexus 7 does Skype video chat just fine.
CNET does a great job stacking up the models specs so you can see for yourself:
http://reviews.cnet.com/8301-31747_7-57537541-243/ipad-mini-vs-google-nexus-7-vs-amazon-kindle-fire-hd/
Note how they messed up and said iPhone mini instead of iPad mini.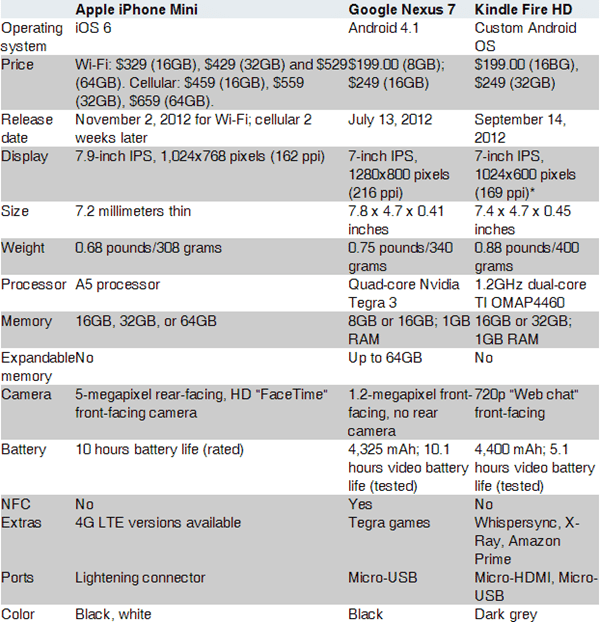 But one inaccuracy is that the $199 Kindle Fire HD has 1280×800 resolution not 1024×600 as the mention, this was the $159 Kindle Fire model.
I don't see Apple producing a clear win with the iPad mini, and honestly I have been an Apple tablet supporter for a long time.  Only the iTunes App store which has a much higher quality and larger list of apps would make me consider the iPad Mini over the Google Nexus 7.
If I were getting new 7″ Tablets to giveaway to my readers in a contest, would you prefer I give away a Google 7″ Nexus 7 or an iPad Mini?