Sounds like a joke, doesn't it? Apparently not! Field Agent is a free iPhone application that pays you to audits for companies. The idea is much like mystery shopping, except it doesn't require you to make purchases, and takes much less time to compete the job.
I first heard about the app through a coupon blogger and was immediately curious. I  thought I might as well check it out, and if it works out, then I'm making money! I was skeptical at first, I've heard of a lot of mystery shopping scams and so I made sure to read the fine print. To my surprise, there was no catch. I downloaded the app and filled in a small profile that included my location so that the app could find jobs that were close to me. Next step to try was actually completing a job.
As I am in a small town, there were only 2 jobs available. I accepted the first job which asked to visit a department store where I would look for a display rack, take a picture, and answer a couple questions. It was very straight forward and easy to understand. The questions were all multiple choice or scales (Ex. Rate 1-5), followed by a small comment box. (I was only able to fit about 2 sentences.) I was done and had submitted the job in about 5 minutes. The second job asked me to visit a grocery store where I would look for a display, take a picture, and then ask 2 questions at the customer service desk in order to answer 2 multiple choice questions and make a small comment. Again, I was done the job in about 5 minutes!
Honestly, I couldn't be more happy with Field Agent. It allows me to make money visiting stores I already shop at and doesn't take up the time I need to use to shop. (With a 4-year-old in tow, time is everything!) I've done mystery shopping in the past and was expecting a lot more to be required for the amount offered for payment. (Payment will vary for each job). My shops after being submitted were approved within the same day and my payment was added to my Field Agent account. Another thing that I was happy to find with Field Agent, is that they will cash out any amount, and will deposit it into your Paypal account within 48 hours.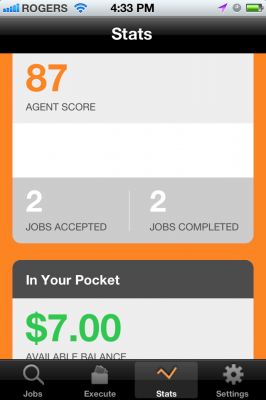 Field Agent is currently available in the U.S., Canada, the U.K, and Australia, and though the jobs will vary based on location (even city to city) the dynamics are the same. If you are interested in becoming a Field Agent and would like to get more information you should go check out their website or search for Field Agent in the App Store.
Field Agent US – http://fieldagent.net/
Field Agent Canada – http://ca.fieldagent.net/
Field Agent UK – http://fieldagent.co.uk/
Field Agent Australia – http://fieldagent.net.au/
Artist / Model / Gamer / Crazy Cat Lady