We are influencers and brand affiliates.  This post contains affiliate links, most which go to Amazon and are Geo-Affiliate links to nearest Amazon store.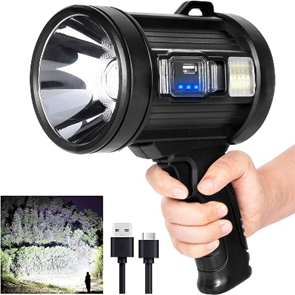 Do you plan to spend time in the woods and need a powerful and easy-to-use flashlight?
If you are one of what usually travels to nature for several days you will know that there is a small problem, electricity is difficult to get when you are away from the villages, so, before venturing on a trip to nature it is important to be well equipped. You can buy a power bank, a portable power station, and many other products that will help you get reliable power to recharge your devices. Something that many overlook is the flashlight, many use the flashlights of their cell phones, but having a powerful flashlight will help you get a better field of vision, so you will avoid the possibility of tripping when you need to walk during the night.
Powerful flashlights usually offer more than 40,000 lumens, which means that you can illuminate a greater distance, which will be of great help in case you are in a forest. There are many things you need to keep in mind before choosing a flashlight. Power is a big deal, but it's not the only thing to think about, battery life is another point to consider if you plan to spend a lot of time away from home. Flashlights that offer thousands of lumens usually consume more power, so make sure the flashlight is rechargeable to save money on batteries.
The MIXILIN rechargeable flashlight is a great option for those who usually venture into nature or those who usually hunt. It is powerful and easy to use so you can illuminate any place quickly and efficiently. For less than $50 it's hard to find anything as good as this. Below, discover the most interesting features of this product.
Features of the MIXILIN rechargeable flashlight
If you usually practice hunting or if you simply plan to spend a few days away from home, then the MIXILIN rechargeable flashlight will be of great help. The main feature of this flashlight is the 90,000 lumens it can offer, which is an incredibly high amount that will surely allow you to illuminate hundreds of meters in a clear way. This flashlight has 3 levels of intensity (high, medium, and low), so, depending on the need you can decrease the power to save the battery. The duration is also amazing, despite offering a power of 90,000 lumens it can work continuously for up to 10 hours (using the highest intensity). Another amazing feature is that you can recharge the flashlight in two ways, you can use the USB charging cable and get a full charge in just 4 hours, and you can also use the solar panel built into the flashlight and get a full charge in 10 hours (the time can be longer depending on the intensity of the sun). Although you don't get a fast charge if you use the solar panel, it will definitely be of great help if you run out of power and need to keep using the flashlight during the night. Finally, 3 different colored lenses (blue, red, and yellow) are included, which is great if you don't like white light, it can also work in case of an emergency.
You can buy this item here on Amazon
We are influencers and brand affiliates.  This post contains affiliate links, most which go to Amazon and are Geo-Affiliate links to nearest Amazon store.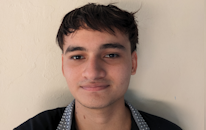 My name is Joel! I love to read, I go to university like most people my age.
In my free time I usually train boxing, I love music, I also know how to play the guitar and the harmonica.