Let's be honest, with May right around the corner, lightsabers are going to be flooding a lot of people's minds.
There is definitely a huge saturation of lightsabers on the market and it can be extremely overwhelming find one that is right for you.
Before you jump into the lightsaber marketplace, let's talk about some important points to consider.
1. The reason for your purchase.
In my opinion, this is absolutely the most important point to consider. I would not purchase a lightsaber for my 5 year old nephew the same way that I would want to add Emperor Palpatine's Lightsaber to my collection.
On the other hand, I also would not want to purchase generic or replica lightsabers to be used for LARPing or reenactments as they might not hold up as well; more on this next.
1a. Purchasing one to be regularly used on your own time or for participation with your local Saber Guild, consider these other points:
Availability of spare parts: heavy use and poor maintenance are leading causes to needing spare parts. If you miss taking this into consideration, you might find yourself having a difficult time finding a replacement part for the saber you really enjoy.
Ease of use: this is a lot more subjective as the features of one saber might be easier to use for one person than another. DO NOT be afraid to explore various options so you can learn what is out there and how to use them.
Maintenance cost: At the end of the day, it also comes down to how much you are able to continually invest in your hobby. Along with the availability of spare parts, costs such as batteries need to be considered since they might affect how and when you use particular features.
Weight: This one can easily be overlooked for many first-time buyers. As most people who train with weapons know, the weight of a weapon directly impacts your performance and ability. A lightsaber (even for LARP or Re-enactments) is just another "weapon" to be wielded. By continually using one that is too heavy can lead to repeated injuries. On the other hand, you might find yourself gripping very tightly for prolonged periods due to it moving around in your hand more.
1b. You are looking for a lightsaber as a gift for a young one, one to add to your collection for specific reasons, or just want a beginner lightsaber to start your journey.
Features: Many manufacturers have similar sound and light features, but they are still different. Consider the kind of features you would like and be sure to take the time to compare a few of them.
Read the reviews: Every manufacturer is different, so don't rely on the experiences of one lightsaber to another. Many times, the reviews will let you know important points such as battery life.
Price: Some lightsabers run higher or lower depending on many different factors. Consider this when also thinking about features.
More than a gift, but less serious/frequent than LARP: review the points over in 1A. They may help you to consider where and how to begin.
Check out the lightsabers below that various members of the Dragon Blogger team have tested out for you. If any of the lightsabers interest you, follow the "Amazon product page" links below each image to go directly to the product.
Without further ado, here are some lightsaber recommendations from the Dragon Blogger team to use as gifts or to begin your journey.
Manufacturer: Ciel Tan
Product Dimensions: 42×1.1×1.1 inches, 1.95 lbs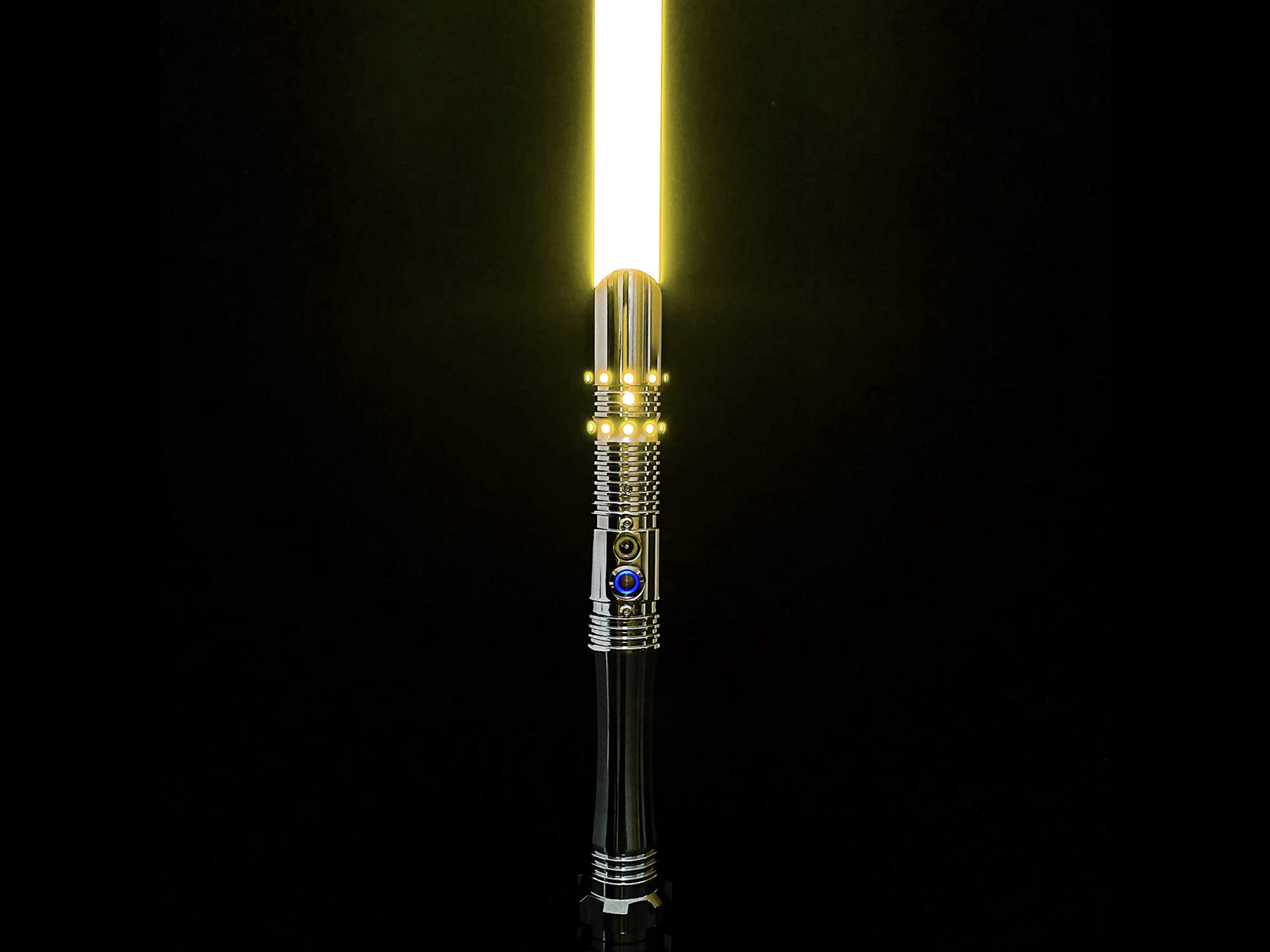 Image from the Amazon product page
– 1 Lithium Ion Battery required (also included)
– Handle Color: Silver
– Sound Fonts: 5 Sets Volume Adjustable
– Blade Size: 77 cm length, 2mm thickness, 1 in outer diameter
– Charging: 4-8 hours USB fast charging, 5V max
– LED: 9 Watts RGB LED with 12 colors
– Frosted aluminum alloy hilt.
– 3 month warranty.
See our video review of this lightsaber in action
Manufacturer: NSABERS
Product Dimensions: 30.5x3x1.8 inches, 1.45 lbs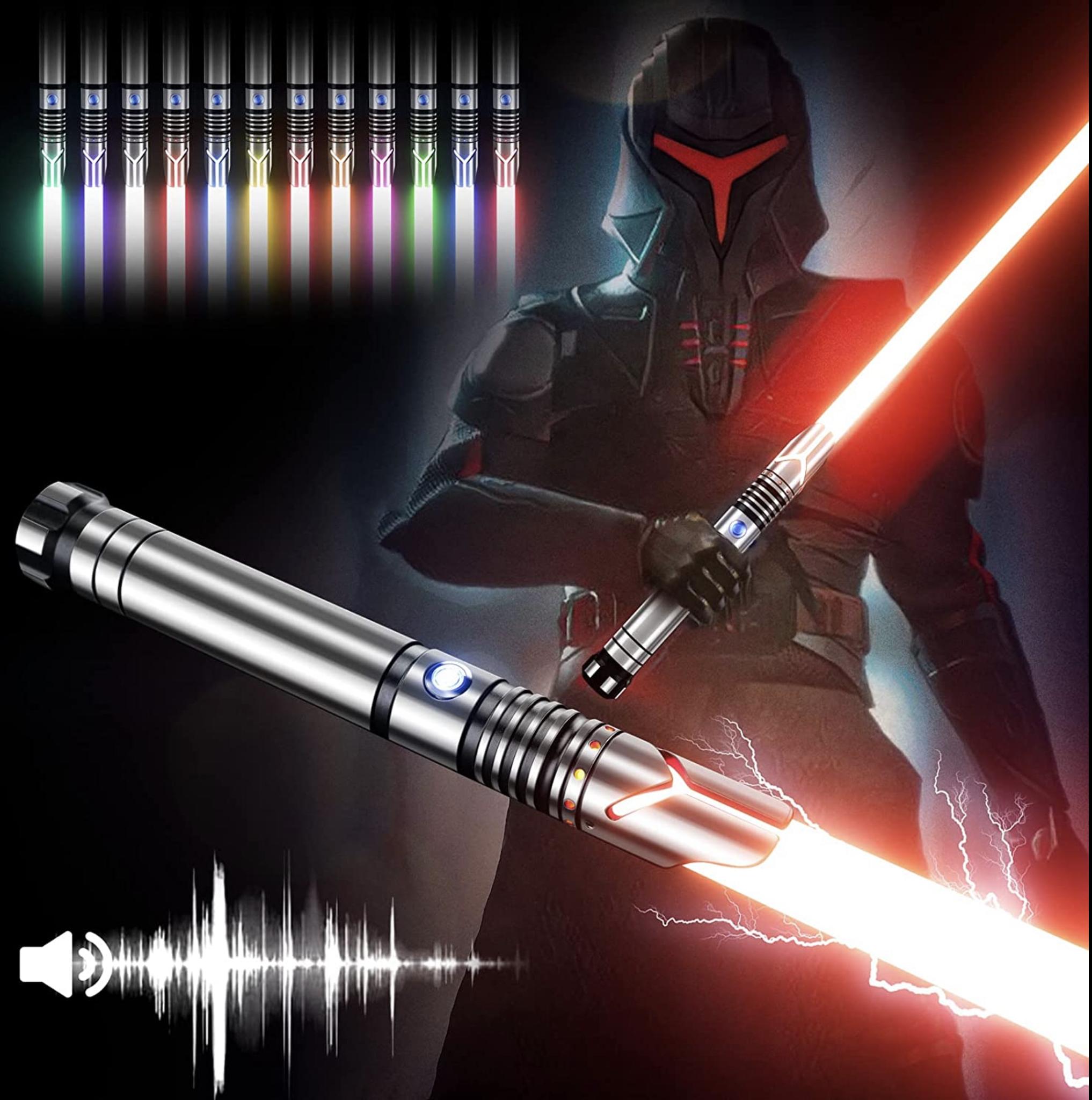 Image from the Amazon product page
– Color: 12 colors available
– Sound: 10 sounds available
– Battery: 2000 mAh
– Blade length: 30.3 in, high-grade polycarbonate material
– Hilt length: 10.6 in, premium quality aircraft aluminum
– Battle Features: flashes when swords are clashing
See our video review of this lightsaber in action.
Manufacturer: CVCBSER
Product Dimensions: 35×1.2×1.2 in, 1.35 lbs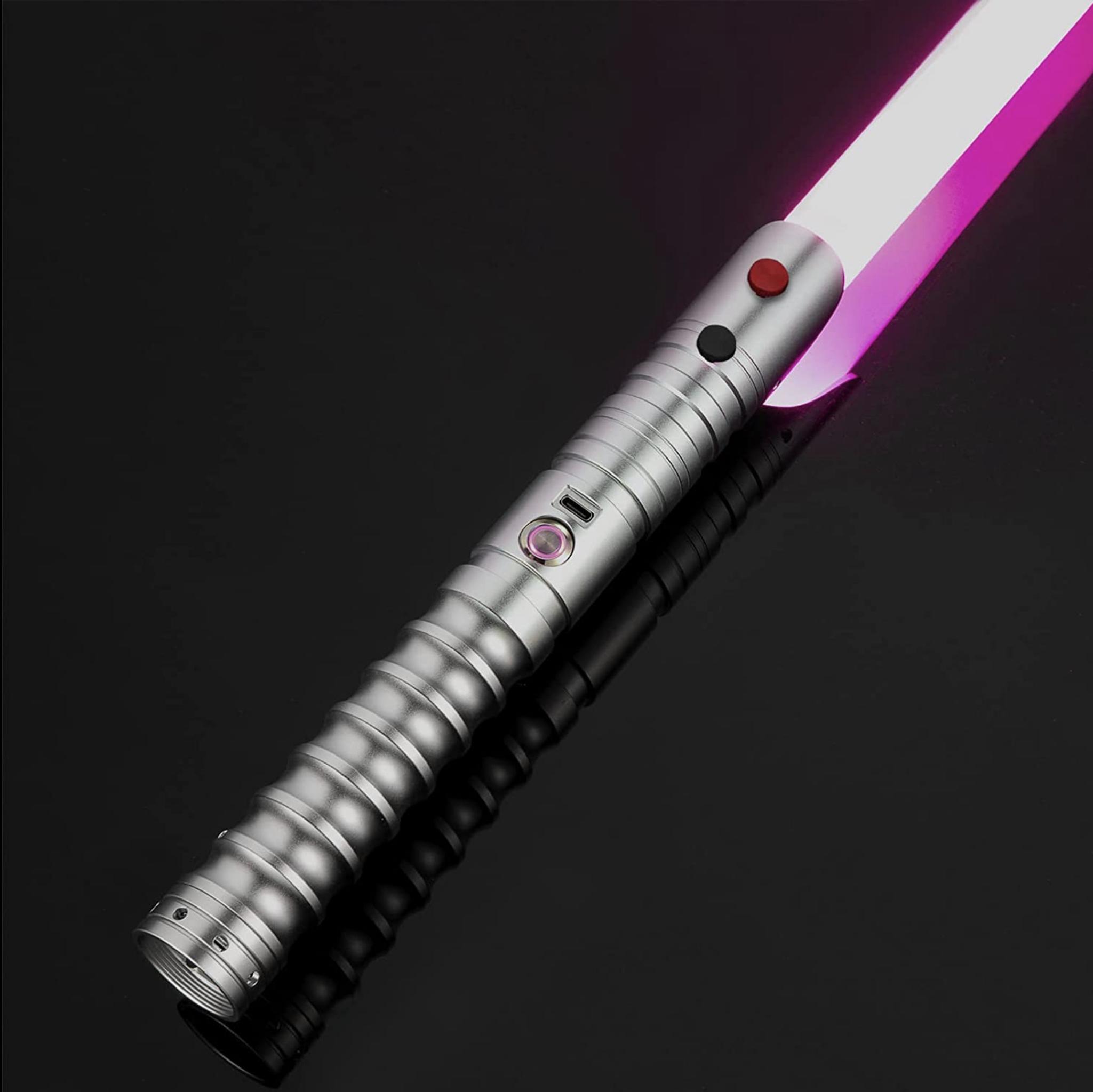 Image from the Amazon product page
– 1 lithium ion battery required, USB charging
– Blade: 36.22 in, Sturdy PC blade
– Hilt: 10.24 in, metal aluminum.
– 12 sound fonts
– 3 light effects: steady, pulse, unstable.
– 12-month warranty
See our video review of this lightsaber in action.
Manufacturer:​ Tigoola
Product Dimensions: 41.8×11.7×1.8 inches, 3.39 lbs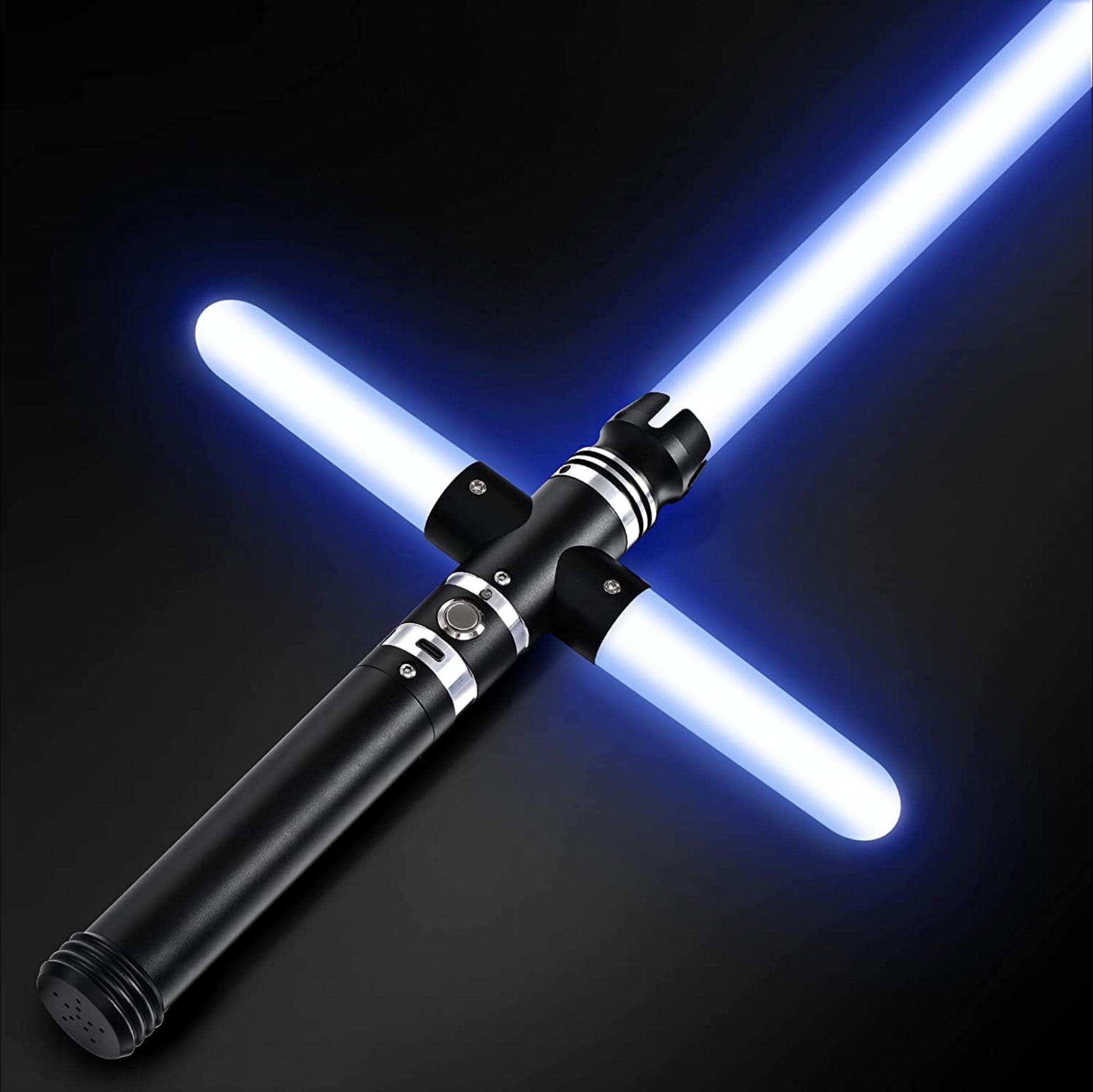 Image from the Amazon product page
– 1 lithium ion battery required (included), 3-4 hours Type C fast charging.
– Blade: 29.9 in, high impact PC blade
– Hilt: 10.4 in, frosted metal handle
– 13 colors and 5 modes
See our video review of this lightsaber in action.
Manufacturer: Hasbro
Emperor Palpatine Force FX Elite Saber
Product Dimensions: 3.62x40x7.5 inches, 4.7 lbs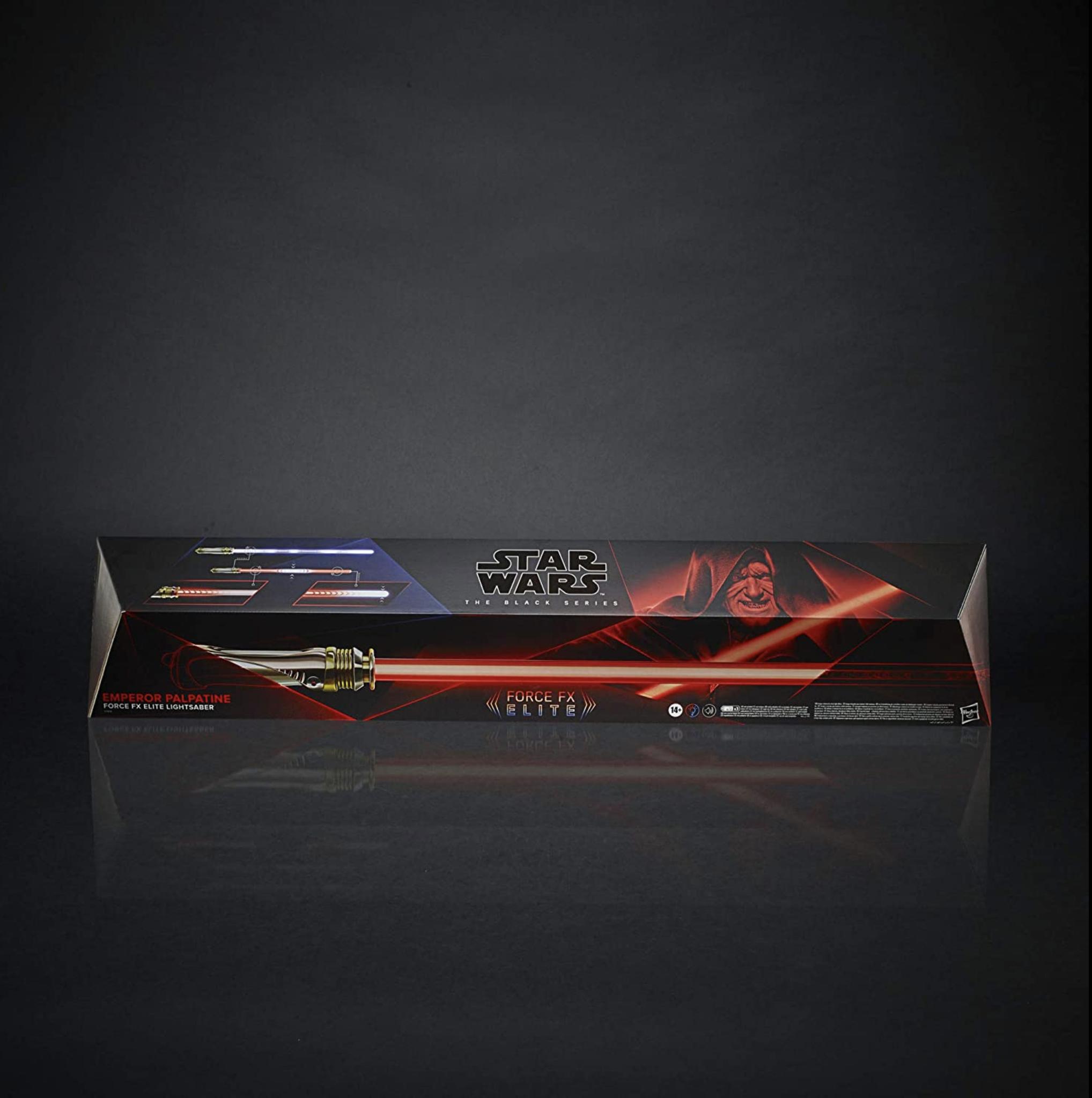 Image from the Amazon product page
– 3 AA batteries required
– Advanced lights with sound effects
– Real metal hilt
– Removable blade with stand
– Movie-inspired effects: progressive ignition, battle clash, wall-cutting, and lightning.
See our video review of this lightsaber in action.
There you have it, we've covered some points to consider when purchasing a lightsaber and even recommended a few to get you started with.
– – –
A little shameless plug from Jayson's Corner – If you haven't watched The Mandalorian, go check it on Disney+ so that you can join us in revering the adorableness of Din Grogu. Not sure who that is? Perform a Google search. You will not be disappointed.
For our gamers, Star Wars Jedi Survivor is being released on April 28! This is the direct sequel from Star Wars Jedi Fallen Order, following the story of Cal. The game will be released on PlayStation 5, Xbox Series X|S, and PC.
– – –
As always, we would love to hear from you. Let us know about your experiences with lightsabers and what some of your thoughts regarding the lightsaber market are.
Until next time. May the Fourth be with you.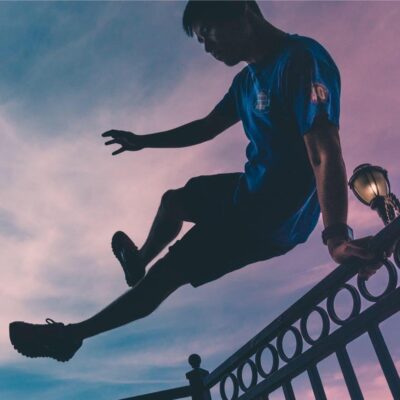 Jayson Wyler began with Dragon Bloggers in 2021 at the invitation of Justin Germino. He started with gaming content on their Twitch channel and eventually product reviews.
After a media hiatus, Jayson has returned and hopes to bring his passion for gaming, tv/movie, and music industries through quality content.