We are influencers and brand affiliates.  This post contains affiliate links, most which go to Amazon and are Geo-Affiliate links to nearest Amazon store.
It seems that every other month, or every 4 months Logitech comes out with a new mouse.  Some fade out as quickly as they came in and some have an ever lasting effect and captures the hearts of gamers.
The Logitech G402 is Logitech's latest entry, but will it capture your heart or fade out in a brief puff of smoke.  Check out the specs and this review and you be the judge.
Specs and Features
Fusion Engine hybrid sensor
Adjustable DPI through LGS or through the physical DPI Up/Down buttons. Adjustable DPI range from 240 ~ 4000 DPI.
Ability to save profiles to onboard memory or on the computer, also automatically detects the game being played and adjusts the DPI how you set it in the profiles through On-the-fly DPI Switching
8 Programmable buttons
32Bit Arm Processor powering the Fusion Engine
Accelerometer and Gyro
Adjustable lighting to control brightness and breathing
Rated for 20 Million clicks
16G Max Acceleration
Max speed 500 IPS
Delta Zero technology sensor acceleration
7 Foot USB rubber cable, not braided
125, 500 and 1000Hz polling rate adjustable through the Logitec Gaming Software
A ton of specs listed here, but let's get to the looks of the mouse and the unboxing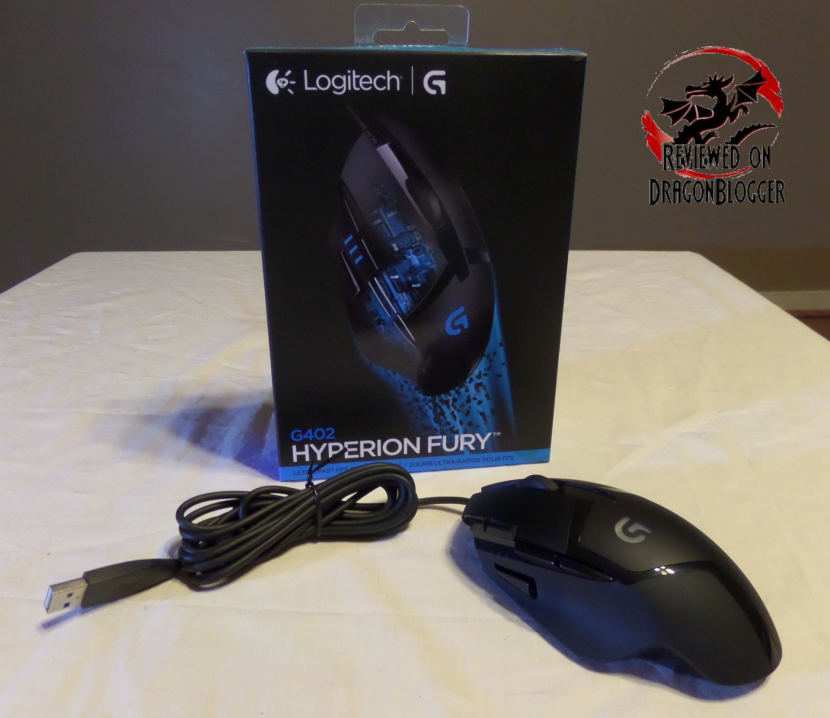 This is a lower priced mouse so it does not include a ton of accessories, or any in the box but accessories do not a good mouse make.  The 7 foot USB Cable is a standard rubber cable, not braided so it is said it would kink a little more than braided mice, but I have had this mouse for about a month and the cable is still fine.  The weight also cannot be adjusted, but honestly the weight feels just perfect.  Adding to the perfection, the mouse fits perfectly into my hand, like it was made just for me, it feels amazing.
So let's get back to what this mouse does include.
The Logitech Fusion engine is a 32bit ARM processor that communicates with the accelerometer and gyro; yeah it has those… in a mouse.  In the event that the mouse moves too fast and the optical sensor fails it would automatically switch over to taking sensor readings from the accelerometer and gyro.  The Accelerometer and Gyro are not as accurate as the optical sensor which is why it does not always use them but it uses them as a failsafe, when movements come back down again enough for the optical sensor to function properly it will switch back to the optical sensor in a 10th of a second.  A very nice feature that usually mice that cost around this price might not bother including.
Though, I am not too sure how much this capability is needed since the mouse can track speeds in excess of 500 IPS.  That 500 Inches per second, can you move that fast?  If you are not too sure, the software that you have do have to download includes a little speed-o-meter if you will that tracks your movements and tells you have quickly you move the mouse.  I miss spoke when I read it out during the video showing the software, the settings are IPS and M/S, its meters per second.  Because of this 500 IPS, Logitech claims it to be the world's fastest gaming mouse.  Just remember, speed is not only measured in DPI.
Aside from the ability to change the DPI by clicking the keys, it has a very nice feature called "DPI shift".  DPI Shift to me is a new feature that allows you to adjust the DPI to a predefined by you setting while you game, just press and hold it and it will adjust to your setting.  Just think about it for a second, this setting is perfect for games where you snipe or need a bit slower movements but just as precise like when you are snipping.  When you let go of the DPI switch button, it will resume back to the previous DPI, a nice new feature.  That is what the orange sensor is for in the LGS.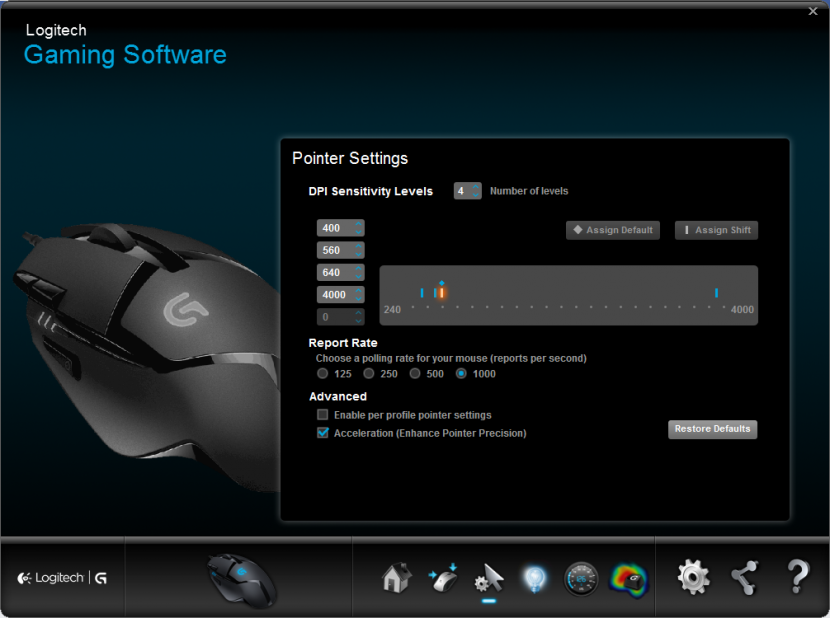 Check out more of the Logitech G402 software and how it works.
When I was testing the software, I was using software version 8.55, but there was an update that brought me to 8.56.109.  One thing that kept me from using this software initially and for a bit was a bit of an odd bug I found.  The bug was mentioned to be related to Visual Studio re-distributable installer that caused my PC to freeze during installation.  I uninstalled all of that plus the VC++ run times and finally resolved it but then I had to reinstall VS2012 and the VC++ runtimes, not a huge issue, just a bother and after the install there was no issue reinstalling those pieces of software and the LGS software worked fine as well.
Updating the software brought a new feature named "Input Analysis".  This software can be used to track what keys you hit the most then also assigning these keys to a G-Key using the command editor, so a macro recorder.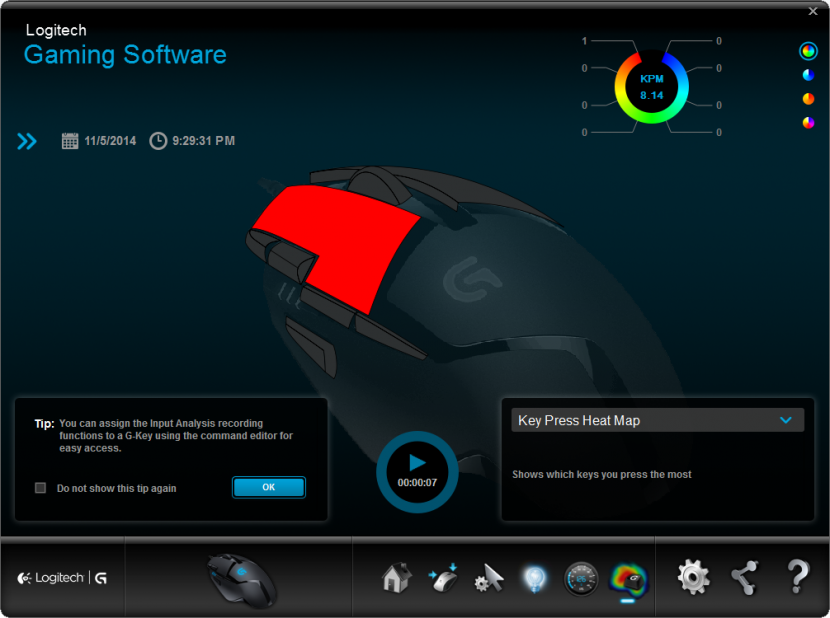 Some pros and cons of the Logitech G402 based on my testing.
Pro
Affordable
Feels amazing in my hand
Software is amazingly detailed offering tons of features
Has a very long cable
Amazingly accurate and has features to enhance that accuracy
Amazingly fast, DPI aside
Mouse works perfectly fine without the software
Firmware is upgradable through LGS
Updating LGS software potentially brings about new features
Cons
While not a common issue as my scouring the web and Logitech posted no results, the LGS installation kept me from using the software for over a week
Cable was not braided, but that's not a deal breaker in my book
DPI Shift button and DPI Up/Down button are really out of the way, hard to get to
Non adjustable weighting system
With more Pro's than Con's I will give this mouse a 4.5 out of 5, the software issue I had really kept it from being a five, the others were not huge issues.
I struggled between a 4 and a 4.5 for some time, while there are a few cons, my major thing here that makes me love this mouse is the price, how it feels in my hand and the accuracy.
My final note, this is the most comfortable mouse I have ever used.
We are influencers and brand affiliates.  This post contains affiliate links, most which go to Amazon and are Geo-Affiliate links to nearest Amazon store.
I have spent many years in the PC boutique name space as Product Development Engineer for Alienware and later Dell through Alienware's acquisition and finally Velocity Micro. During these years I spent my time developing new configurations, products and technologies with companies such as AMD, Asus, Intel, Microsoft, NVIDIA and more. The Arts, Gaming, New & Old technologies drive my interests and passion. Now as my day job, I am an IT Manager but doing reviews on my time and my dime.