Are you annoyed with advertisements on your Android device? Are you looking for a solution to make your Android device free from annoying banner advertisements? Then you are at the right place. Now Android users who rooted their devices can enjoy an advertisement free experience on their device, all thanks to AdFree for Android by BigTinCan. AdFree removes most of the ads in the browser and other apps. It does this by nullifying requests to known host names in the system hosts file. There is also an option to revert back to default hosts file if something goes wrong.
Prerequisites:
Rooted Android device (v2.1 and above)

Internet connection (Either WiFi or packet data)
Installing AdFree in your rooted Android device:
The installation process is really simple as 1-2-3.
Go to Google Play Store and search for 'AdFree Android'.

Click on 'Install'.

Click on 'Accept and Download' in the dialog box that follows.
Setting up AdFree in your rooted Android device:
1. Open the application and Click on 'Boot Normally' in the dialog box.
2. Another dialog box appears which says 'New hostnames have been added to the list, update now to block them'. Click on Ok.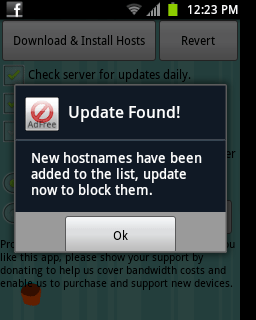 3. Make sure you have WiFi or Mobile Data activated. Click on 'Download and Install Hosts' on the top.
4. The app searches for available hosts. With in few seconds you should see a success message which shows that your Android device is now AdFree.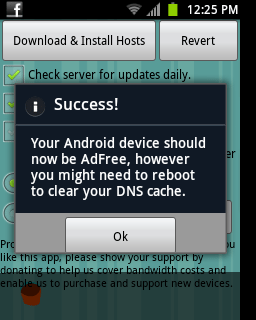 5. Reboot your device once to clear the DNS cache. Enjoy AdFree experience on your device.
Reverting back to default host file:
Before updating to a newer hosts file, AdFree takes a backup of your old hosts file. If you ever wanted to revert back to your device host file, you can do so by clicking on 'Revert' button on top.
Features of this app: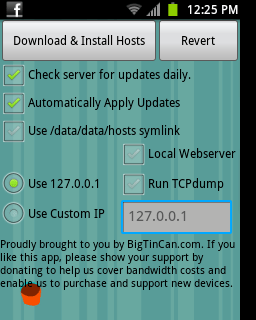 1. Removes almost all the types of ads from the device.
2. Option to use Custom IP address instead of local address.
3. It can be configured to automatically download and apply the updates by ticking the first two check boxes.
This is my favorite app for making Android an ad free environment, if you have any other method you use, app or tricks that you want to share, you can do so by commenting.